FILM
The Incoherents
by Todd Conner


Jared Barel's new indy film, The Incoherents, lovingly micro-brewed in New York City and best enjoyed straight from the bottle, is based on an original story and script by Jeff Auer. The film is the latest must-see, must-hear tale about New York rock-n-roll. It also manages to express something true in the end that is moving about the New York identity, about dreaming, about revolutions, and all that slips past us when we sleep.
This movie is a damn fun, plain-spoken, and joyous 'hail! hail! rock 'n' roll.'
The New York archetypal son Rip Van Winkle is channeled in this film by the protagonist, Bruce (played by Jeff Auer). He opens the film, waking up at work from a dream, a computer keyboard his pillow, his face melted over it like grilled cheese, and maybe just as gooey. Whereas Rip walked up into the mountains one day and fell asleep for 20 years, Bruce, it seems, moved one day into New Jersey, got married, had a couple kids, nodded off, and has been hitting the snooze button ever since, his dream of becoming a rock star in the rear view. But Bruce has an awakening. Wasting no time, he sends a wake-up call to each of his three alter egos, the members of his once-hot band, The Incoherents, and the foursome reunites for a comeback.
These other alter Van Winkles had likewise "fallen asleep," each on his own path. The band's drummer, Tyler (the very funny Casey Clark), has been working fitfully as a wedding band drummer; the bass player, Keith (the ever-likable Walter Hoffman), has sold out to the man and now works for the city. And, just as Rip woke up to find his trusty flintlock rifle just where he left it before nodding off, the band's lead guitarist, Jimmy (multi-talented songwriter/actor Alex Emanuel), retrieves his old electric guitar where he left it, hanging like a relic of past glory in the back room of the bar he now owns. They don't exactly have a loyal old dog to reunite with as Van Winkle did, but they do have the next best thing—their faithful manager, Jules. Jules (the charismatic Vincent Lamberti) goes with them back into the studio, growling, snarling, and barking at them as necessary to pull them together. Finally, they go to town. Things feel familiar, but unsettlingly different, too.
The band finally finds their old sound in a new swagger. At this point, in the climactic scene, just when they know they've made it back to where they should have been all along, we discover the old Van Winkle denouement. They've slept through a revolution. I'll leave that there for the reader to discover in the screening of this terrific film.
The latest must-see, must-hear tale about New York rock 'n' roll.
There is something enduring and even mythic about that old New York character Rip (James Joyce compared him to Odysseus), popping up in this New York story like a ghost. In this city of nonstop revolutions, the soulful dreamer, Winkle, just might be the irrepressible, inevitable character in the New York landscape. New York is a city full of dreamers, and to be able to dream, a dreamer's gotta sleep sometime. Just don't be surprised to wake up and find the next revolution has happened.
Critically imposed archetypal underpinnings aside, this movie is a damn fun, plain-spoken and joyous 'hail! hail! rock 'n' roll!' and to whatever that is, enduring and deep in the character of the New Yorker always on the verge of a comeback.
The women of this film are all spectacular and proof of yet another revolution that came, and some are still waking up to. They are never the ornaments or groupies of the old days; they are crafted to be the brass tacks who keep these dreamers fastened to the current reality. The attractive Kate Arrington, as Liz, plays the part of groupie-of-one for her husband Bruce while remaining the assertive partner he so desperately needs. Annette O'Toole completely nails the role of Mrs. Graham, who runs the rehearsal studios with the moralistic tone of someone who has survived the good old days of smack and roses. Amy Carlson shape-shifts the stereotypical old-school show promoter, Jerry, into a smartphone-slinging, music maven who's as sexy as she is professionally intimidating. Jillie Simon is, as Chrissie, the adorable celestial force that keeps her man from getting picked apart at the seams. Fiona Silver, playing herself, fronts her own band, where it's now da gurlz who own center stage, not just da boyz.
At the end of the day, watching this particular movie at this particular time, there seemed to me something deeper at stake in it, too, and really satisfying. All New Yorkers, especially creatives, are now at the beginnings of another comeback—from a revolutionary epidemic that crept up on us as we all slept. There are big changes afoot as we step back into the city. Who are we to be now? We're the same. We're different. We're New Yorkers. We are not the epidemic. We are endemic Van Winkles. Dreamers. And sleep does happen. But New York City goes on, revolutionarily ever after, ever the same, ever different. But it is always the comeback that counts. Rock on. The rest we'll figure out. Just like The Incoherents.
---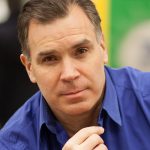 Todd Conner (www.thecariorker.com) is an actor/screenwriter and producer of the story podcast, The Cariorker, which features dramatized audio of Brazilian fiction in english. He can be contacted at info@thecariorker.com.
https://www.theincoherents.com
Also available on
iTunes:
https://itunes.apple.com/us/movie/the-incoherents/id1501037491
Amazon:
YouTube:
Google Play:
https://play.google.com/store/movies/details/The_Incoherents?id=BziHBnUaYE8.P
XBOX:
https://www.microsoft.com/en-us/p/the-incoherents/8d6kgwxn1r7v?activetab=pivot%3Aoverviewtab
Fandango Now:
https://www.fandangonow.com/details/movie/the-incoherents-2019/MMV73DAEDAB1ECBD67065A45964919FE85F1?eci=movies&elc=the%20incoherents&ele=searchresult&eli=0
Vimeo:
VUDU:
https://www.vudu.com/content/movies/details/The-Incoherents/1394393