First, I must apologize to the souls of the house
I am wearing the cheek bones of the mask only
Like a pill bottle whose name is yours
Name tagged on the side of a factory of wrists
Teeth of the mask now
Back of the head of the mask now 
New phase of anti-anthropomorphism fending for real faces
Stuck with one of those cultures that believes I chose this family
I am not creative
Just the silliest of the revolutionaries
                                                                              My blood drying on 
                                                                              my only jacket
the police state's psychic middlemen
Evangelizing for the creation of an un-masses 
An un-Medgar
Blood of a lamb less racialized
or awesome prison sentence
Good God
A right angle made between a point
On a Louisiana plantation
And 5-year old's rubber ball 
3 feet high and falling
like a deportee plane 
to complete my interpretation
(of garden variety genocide) 
I am small talk
about loving your enemies
A little more realistically
About paper tigers 
And also gold…
I need my left hand back 
I broke my neck on the piano keys
Found paradise in a fistfight
Maybe I should check into the Cuba line
Watching the universe's last metronomes
some call Black Jacobins
Just wait…
These religions will start resigning in a decade or two
Some colorfully 
Some transactional-ly
In a cotton gothic society
Class betrayal gone glassless/ I mean ironically/ my window started fogging over too 
Wondering which Haiti will get me through this winter
Which poem houses souls
Which socialist breakthroughs
Breakthroughs like ten steps back
Then finally trying stillness
Like introducing Gabriel Prosser to Thelonious Monk
I remember childhood
Remember the word "Childhood" being a beginning 
Scribbling on an amazing grace 
I rented this body from some circumference of slavery
Remember being kicked out of the Midwest
Strange fruit theater
Lithium and circuses
Likeminded stomachs 
The ruling class blessing their blank checks with levy foam…
                                                                                  with opioid tea 
Sentient dollar bills yelling to each other pocket to pocket
Cello stands in the precinct for accompanying counterrevolutionaries 
My mother raised me with a simple pain
A poet loses his mind, you know, like the room has weather
Or first-girlfriend gravity
"The difference between me and you
Is that the madness
Wants me forever"
A pair of apartments
           Defining both my family
           And political composure
Books behind my back
Bail money paved into the streets
Playing:
Euphoria
Euphoria
Cliché
Bracing for the medicine's recoil
Sharing a dirty deli sandwich with my friends
Black Jacobins
Underground topography
Or grandmother's hands
Psychology of the mask now
Teeth of the mask again
Lower-Class Artist Imagines
Grip my heart tighter, Lord    
Help me write on this sleeve…
like listening to Nina Simone later in life
The poet takes over for
his former self:
The secret to writing poems
is to not deflect.
If you do not know anything fretted about the color blue,
don't go calling yourself a
child at heart.
If you have never improvised
an elevator ride,
don't go calling yourself in
need of prayer.
Grace be to gang tattoos 
a Reagan meeting adjourns and modern plant life begins 
                                    along with dry out-of-body insight
                                    strange fake forest in
                                                 a poor person's bird atrium 
                                                           bark around the Mississippi mixtape or 
Carceral state mythology of a factory's first Black Chaplin
Rotted food staring at a child
The minor progressions of revolution
                       drumming Molotov fills
                       three quarters and a floor stain staring as well
                       white children selling a child
                                             (I mean I was there the night that 
                                                       San Francisco disappeared) 
Think of me when the sun dies
Half man on scratch paper
Half pickpocket with flailing arms
                                    double fisted
                                    Alabama in my Paris
                                    I am an alcoholic in search of history books
ruining the light rail in search of 
history books
(I am limping to poetry)
Along with a caste of haves-adjacent
           A slave deck blossoms sweet baby Easter blood
                                                              Maybe loss of crossroad
                                                              along with unprovable music theory
                                                              (the poem turns into absolute political failure)
You know, not for nothing,
              the way you all like to blame the devil for every fallen intellectual 
                                                                                     every repass fist fight
for every 28 hours in hurricane America
             blame him for every ballot burning
for every shallow pot, pan and murder-man
for every government plant, sloppy musician, and federally-flagged artist
for every floorplan of capitalists' emotive geometry 
                        and private school's private anthems
                        for every kid in a cage
the way you all blame him, man, the devil must be in the sky too
                                              eyes lowered in the land of the blind
a mumbler with a gun/I am the
worst of your weapons, Lord
Won't you
put a
space heater
in my grave
Knees Next to Their Wallets
Fast cash smuggled through my infant torso
I arrived smiling 
Coral check-cashing spots seal my eyes

Hearing voices, 
           but none of them sing to me
I am lucky to be a metaphor for no one
Washing my face with the memory of water
my back to the edge of a chessboard
I mean I'm settling into a petty arrest record
With my face laid flat on an apartment kitchen table
Mississippi linoleum begins
government plants braiding together breathing tubes 
A Greek philosopher takes the path of least resistance
The bronze corporation age dawns
Citizen council rest haven
Coachable white nationalism 
In board rooms, they ask if county line skin 
can be churned directly into cornflakes 
A senate's special chain gang mines 
our neighborhood for evidence of continent unity
Makes a mess of the word "kin"
Makes a war report 
out of a family's secret chord progression 
Makes white people geniuses
Lynch mob freaks rehearse their show tunes 
in the courthouse walls that they take for mirrors
Rehearse for a president's pat on the head 
A pat on the head
that they take for audience laughter
A lot of "sir"s in the soup 
A lot of speed
Treaty ink stained teeth 
write themselves a grin
Imperialist speech writers' grins 
boil over in my ink-riddled mind 
A non-future dripping with real people
I mean, real people…Not poem people 
A street with no servants somehow
A soul singer/somehow in the west
Consolation eternity
or
The poor man's fish order
This half of a half of a spirit 
Or husk of a messiah
Religious memorabilia made from the wood of a
prison farm fence 
For sibling domestic colonies and the not-for-profit Tuesday meltdowns
We do straightforward time

dehydration takes hold of the police state
every 28 hours
the house dares the slave
doesn't matter if you name a building Du Bois a thousand times 
What really turns you into a sergeant mention
              Turns you into a landslide of sirens 
                         layout sketches passed between deacons
Plot twists provided by white beggars
In a Black city
The fathers who Reagan flicked 
Kicking garbage thinking about rates of production
Notebooks dangling out of car windows
System makes a psychic adjustment
We Go the way of 
Now-extinct hand gestures
Mediterranean sandals and underground moods 
in tandem
I mean, whoever I am today is still your friend
Crooked cops and crooked news junkies
Amaudo Diallo is your mind on military science
              Mario Woods the gang enhancement they even put on God 
If you turn down the television low enough, you can hear San Francisco begging for more war profiteering

We will not live forever, but someone out there wants us to
As mice pouring through an hour glass
                                                                In Olympus, Babylon
                                                                Or Babylon, Olympus
subway car smoke session
making its way into an interrogation room
(Maybe it is all just one room.
It's definitely all just one smoker)
Live from your 
monotheistic toy collection 
Poor people writing letters 
near books about Malcolm X
Ice pick in the art
new floor boards for
Watts prophesy 
Pen twitching over scrap paper
Pen tweaking while
Smoothly a bus driver delivers incarcerated children 
The Lord's door opens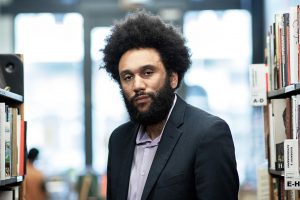 Originally from San Francisco, TONGO EISEN-MARTIN is a poet, movement worker, and educator. His latest curriculum on extrajudicial killing of Black people, We Charge Genocide Again, has been used as an educational and organizing tool throughout the country. His book titled, "Someone's Dead Already" was nominated for a California Book Award. His latest book "Heaven Is All Goodbyes" was published by the City Lights Pocket Poets series, was shortlisted for the Griffin Poetry Prize and won a California Book Award and an American Book Award.