PRINTED MATTER
by Liz Axelrod

Descent
Lauren Russell
Tarpaulin Sky Press
I'm in awe of Descent, its timeliness, and what Lauren Russell illuminates by writing through her personal family history.
In 2013 Lauren Russell acquired a copy of her great-great grandfather's 1889-1894 and 1917 diaries. Over the course of a year she transcribed the 225 pages.
In the 1880 census, Robert Wallace Hubert is living with Peggy, whose
full name was Margaret. She is listed as his servant, and their six "mulatto"
children are identified as his. Peggy is only thirty, younger than I am
as I sit writing this. She had started bearing children by eighteen.
Russell has given us a primer on how to revisit the atrocities our ancestors put upon us and knit together a community.
Our history dictates so much of our present. With Descent Russell has given us a primer on how to revisit the atrocities our ancestors put upon us and knit together a community based on the desire to overcome and understand the past. History is replaying those atrocities right this very minute, with permission and encouragement from the White House (and yes, that name does not go by without sadness and anger for what the current administration has made it stand for).
"Every other week, it seems, a video of police shooting an unarmed black person will go viral. The tension is pervasive: The Confederate flag tee-shirt at the Fourth of July fireworks display, the 'All Lives Matter' contingent drowning out Queers for Racial Equity at my last Madison Pride Parade. Sometimes the tension will feel almost solid, and I can imagine John Brown hacking into it with his broadsword, Nat Turner's band with their axes and scythes."
Descent is a hybrid poetic tale of strength and resilience. When reading this beautiful and harrowing work you understand how it connects to the struggles we face today. Perhaps you will come away feeling stronger and better able to handle our current trauma. The rest we'll leave up to Lauren Russell:
Were you a tear in her life, the kind
that starts with a moth hole and rips
to the seam overnight? She was sixteen
and newly freed, your cook and once
your slave. Was she peeling potatoes, shelling
peas, bent over an open flame in some back-
house kitchen when you came from behind
and prick!—your beard like brushfire
at her neck, how in battle exploding shells
set the wilderness and shrieking wounded alight.
Russell begins the book with backstory on her great-great grandfather, Robert "Bob" Hubert, who, after returning from the Civil War, fathers 20 children with three of his slaves; and one in particular, Margaret, called Peggy, her great-great grandmother. Historical records and documents are displayed throughout the book, showing details of the family history. She then writes into that history with stories of her present and the past to create what she calls her "Biomythology."
In my high school US
history class, when we
got to the part on the
inhumanity of slave
holders, I said,
"Actually, I am
descended from slave
holders." For some
reason nobody stated
the obvious: that I am
also descended from
slaves.
"I come to this project in search of Peggy, but it is my life, too, my family's life, I find expunged from the record," says Russell.
'I am not writing a history of what happened, which I cannot know. I am writing in the silences, the omissions.' —Lauren Russell
There are pictures of Bob Hubert's diary, pictures of gravestones, a few newspaper articles sprinkled throughout the narrative and poems. What strikes us and hits us in the gut are the handwritten texts, the way Russell uses them to write in-between the history. "I am not writing a history of what happened, which I cannot know. I am writing in the silences, the omissions, what has been left out." She calls them silences, I call them screams.
Bob
Can I be your lazy eye, your wander-
lust, your grave without a headstone,
your bleeding gums, your buck teeth
and your walk bowlegged at the knee? Can
I be your fortune hunter, your glimpse
of wild geese, your red russet shoes
that poison the feet? Reckon this is the best
of my seed. Been stripping cane and blind
robbing the bees. Reckon you've thought
of swimming the creek. Last night they came
on horseback, white hoods like phantoms
scanning the trees, burning torches, shattering
sleep. I dragged the shotgun from the door
and stepped squinting onto the porch.
Peggy
Today I plucked a whippoorwill from down
the bottom of the well. Her neck was broke
but still she hollered out her name. "Get.
The burst of freedom came in June. Go yon
der way." I said.
Once when she was sixteen, Peggy finished cooking the
hominy and drew pictures with ashes left in the hearth.
As I read Descent, I was struck by how much Russell's telling of her personal family history matters to us all. We're locked in our homes trying to escape a pandemic, and we're out in the streets protesting racist atrocities, standing up to make sure the police are held accountable and Black Lives Matter. So much of what is happening right now is reflected in Russell's history; reflected in her descent from a white slave owner and the slave woman he had children with, and reflected in the words and documents shown on these pages that, quite frankly, made me want to cry, scream, and rage at the ongoing injustice of our world.
"At the bottom of my loneliness I see a rope swinging overhead, sometimes dipping into the well. 'It's a noose,' warns Peggy. 'No, a ladder,' Bob says."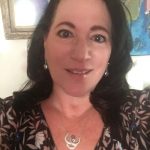 ---
Liz Axelrod (www.yourmoonsmine.com) received her M.F.A. from The New School in 2013. Her work has been published in Yes Poetry, The Rumpus, The Brooklyn Rail, Electric Literature, The Ampersand Review, Counterpunch.com, and more. Her chapbook Go Ask Alice was a finalist in the Finishing Line Press New Women's Voices Competition. She is an adjunct English instructor at Central New Mexico Community College, University of New Mexico, and SUNY Westchester Community College.
Lauren Russell (https://laurenrussellpoet.com/) is also the author of What's Hanging on the Hush (Ahsahta Press). A 2017 National Endowment for the Arts creative writing fellow in poetry, she has also received fellowships or residencies from Cave Canem, The Wisconsin Institute for Creative Writing, and the Millay Colony for the Arts, among others. Her work has appeared in The New York Times Magazine, boundary 2, The Brooklyn Rail, and the anthologies Bettering American Poetry 2015 and Furious Flower: Seeding the Future of African American Poetry, among others. She is a research assistant professor in English and is assistant director of the Center for African American Poetry and Poetics at the University of Pittsburgh.