Fast Speaking Woman Tribute for Anne Waldman, on her 70th birthday, April 2015.
by Alystyre Julian
A
n "Outrider" film outtake (2015) for Boog tribute to Anne Waldman (2020). In March 2015, Alystyre Julian requested poets to each film themselves (pre-covid!) using their iPhones, reading a page (runs in order of actual text) of "Fast Speaking Woman" by Anne Waldman (City Lights Publishers). Cover photograph by Sheyla Baykal, 1974.
This video was projected as a surprise at Anne Waldman's 70th birthday, in her backyard. (She was surprised!)
---
The Fast Speaking Woman Collective (in order of appearance):
1-Reed Bye: "let me try you with my magic power"
2.-Pat Steir: "the artist dreaming inside her house"
3-Vincent Katz: "I'm a fast speaking woman"
Interludes: Eva Hunt: "flowers that clean"
4-Alexis Myre: "I'm a sapphire woman"
5-Lee Ann Brown: "I'm a Southern-Cross woman"
6-Sarah Riggs and Layla Mae: "I'm a bird woman"
7-Omar Berrada and Safira: "I'm a nervous woman"
8-Laird Hunt and Eva: "I'm the doe-eyed woman"
9-Steven Taylor: "I'm the cataloguing woman"
10-Grazia Della-Terza: "I'm the woman with colorful threads"
11-Douglas Dunn: "I'm the woman with scales"
12-Jules Bakshi: "I'm the jaguar woman"
13-Bob Holman: "I'm the big-hearted woman"
14-Nicole Peyrafitte and Kush: "I'm the pink dawn woman"
15-Pierre Joris and Kush: "I'm the resonating woman"
16-Cecilia Vicuña: "I'M THE POET DREAMING INSIDE HER HOUSE"
17- Selah Saterstrom and HR Hegenaur: "I'm the Infanta, I'll get my way"/"I'm the Shakti
18-Karl Leone: "I'm the raised-on-jazz woman"
19- Rachel Levitsky: "I'm the visceral woman"
20-Tracie Morris: "they say it's like softness there"
21-Kristin and Sophie Prevallet with Andy Indiana Spears, JenMarie MacDonald and Travis McDonald: "I'm the woman with the keys"/"I'm a fast-rolling woman"
22-Alystyre Julian: "I'm a rolling-speech woman"
23-Alystyre Julian: "I'm the citti-patti woman"
24-Eileen Myles: "I'm the celebrity woman"
25-CA Conrad and Melissa Buzzeo: "Mincy, mincy, mincy, mincy she cried"
26-Brenda Coultas: "the Woman-Who-Does-Things"
27-Max Davies: "I'm the woman traveling inside her head"
27-Thurston Moore: "busy woman to light up the day!"
28-Eva Prinz: "I'm the woman who walked to Nepal"
28-Toni Oswald: "I'm the woman over the next peak"
29-Nicolas Van Egten: "I thrive on passion"
29-Ambrose Bye: "I can out-boast all of you"
30-Marcella Durand and Ishmael: "with me it's pleasure weather style"
31-Eleni Sikelianos: "I'm the woman who dreams"
Last line-Eva Hunt: "I'M THE ARTIST INSIDE HER MAGIC HOUSE"
Steven Taylor: outro beats
---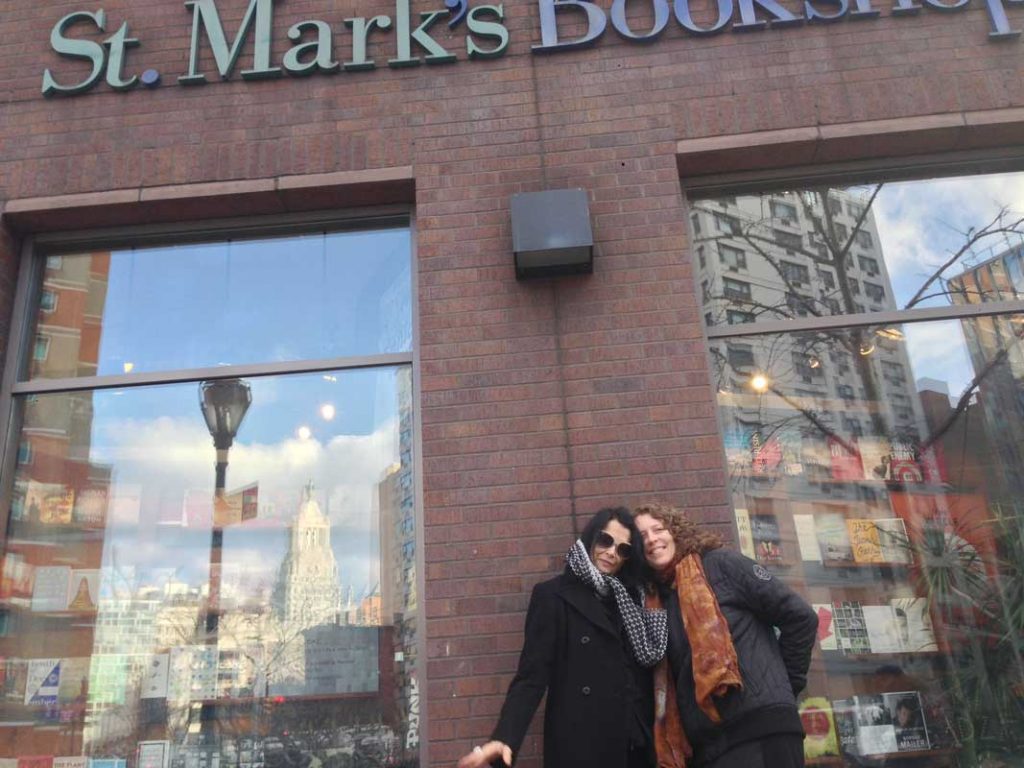 Alystyre Julian (https://www.facebook.com/outriderfilm) has documented Anne Waldman's work-in-action for over a decade, and is currently in post-production for Outrider film. She is also a writer, photographer, and yoga teacher in New York City.
With Anne Waldman and at St. Mark's Books, 2014. No Land photo.