by Bill Considine

Brokedown Palace
Maggie Dubris
Subpress and Furniture Press Books
"The poets say time is a river.
But I'm a poet. And I say time is an ocean
riddled with whirlpools. Salty and violent. Drowning
everything around. Then spitting me
soaked and ragged, into the sea
to be drawn down again."
Maggie Dubris explores the turmoil of life through precise memories of her many years of service as a paramedic, driving an ambulance through the Times Square area for a hospital in Hell's Kitchen. (The place names are evocative, as if in a magical fiction.) Her book Brokedown Palace brings to life that humanitarian work in wondrous detail. The story teems with people in distress and danger, the city's poor, the injured, and the ill, in a worn-out place and bankrupt era. Spanning decades, the book is epic in scale. It includes many heroes and heroines, doing what they can with limited resources, to help people in need.
A recurring theme is the transience of memory, the small moments recalled with uncertainty out of the ocean of years. Dubris plays in a band at the Pyramid Club. 'Five years from now, half the men on the dance floor will be dead.'
It is very timely as a portrait in miniature of the vast problems facing us now in a pandemic. The underfunding of health care, the lack of a safety net for people in distress, and the daily courage and dedication of medical personnel echo resoundingly today.
The book combines prose and poetry. It is vivid and lively, while also contemplative about the transience of memory and of life. "Sometimes I feel like none of my memories are actually mine," writes Dubris. "I've been an actor in other people's stories, rushing in at the critical moment, but I don't know what came before, or after, for them. I only know what came next for me, and, for most of my adult life, it was just another emergency."
The Brokedown Palace was St. Clare's Hospital, on W. 52nd Street and Ninth Avenue in New York City. "When I write about St. Clare's in the 1980s and '90s, no one can believe there was a hospital like that." St. Clare's was on the edge of financial collapse, in a neighborhood stressed by poverty, homelessness, alcoholism, and drug abuse.
"St. Clare's is the only hospital I know of
Where it's perfectly normal for the patients
To be physically brawling with the staff."
Then the AIDS epidemic hurried people through the hospital's doors in terrible need.
The descriptions of faulty equipment and make-do circumstances are shocking. Paramedics between alarms sew their own repairs to frayed blood-pressure cuffs. There are no mechanics, so janitors and cooks double as mechanics. For months, when a call comes to a "bus" (ambulance) parked waiting at 45th and Broadway, a paramedic must get out, open the hood, and jump-start the engine. Going upstairs on a call, they leave a sandbag on the gas pedal, so the bus would still be running when they come down. An acquaintance of the author remembers visiting a patient at St. Clare's and recalls it as "homey." Upon reflection, the acquaintance thinks it was because the dim lights made it seem you were in someone's living room, not an institution. Dubris thinks the lack of medical equipment also contributed to the "homey" feel.
Brokedown Palace is an engrossing, moving memoir of dedication and workaday heroism, of life on the edge, in a threadbare time and city. It is heartfelt writing, and it finds beauty again and again in a harsh world that is only human and oh so fallible.
"Did anyone love St. Clare's as much as I did? It would never love me back. But for 20 years I built my life around that hospital: St. Clare's was my rabbit hole, a portal into the deepest crack of the times I lived through."
"…[T]hat place was a dump.
Run-down, short-staffed, eternally lacking some vital piece of equipment
and populated by skels who reeked of wine and ancient socks.
We were indeed the shabbiest, stinkiest hospital in all of Manhattan."
Yet many of the staff loved it there:
"For me, even when I was driving around in August
in an ambulance with no air-conditioning,
I knew I was exactly where I should be. Woven into
my times as purely as a wee rabbit into the Unicorn Tapestries.
Cruising down the Deuce with the windows open
the air thick with pot smoke and roasting pretzels…
waiting for the night to break open.
Waiting for us, only us, to dive in."
She brings to life local personalities, including a former DEA agent who infiltrated a major drug gang at the cost of getting strung out ended up roaming the neighborhood streets. Two old men come every night to the waiting room to take the best seats to see into the emergency room, since they have no TV. A man sells cheesy, used things on the sidewalk in front of the hospital every day. When he dies, the hospital president pays for his burial. A nearby neighbor had a colorful history as a composer, but he lives in a dilapidated house with strange manifestos posted on the fence. He hangs used clothing for sale on a fence in the park. In the settlement of a wrongful death action against the hospital, a man is given the right to live in the hospital. He runs the elevator as a volunteer. When a modern TV is added to the waiting room, he sits there every night, staring at the screen.
The hardest workers were the nurses' aides, washing patients in the emergency room, but
"… paid less than any of us.
That's how it always goes."
St. Clare was a friend and colleague of St. Francis and founded a monastic sisterhood, the Order of Poor Ladies, known today as the Poor Clares. The hospital itself was started by a different order of nuns, but St. Clare is among the female precursors whom Dubris researches and discusses, along with Katie Henry, an Irish woman who emigrated to the U.S. in 1896 and first worked as a laundress, then became a nun. As Mother Alice, with six other nuns, she started the hospital in 1934. Another antecedent was Dubris' own great-grandmother, for whom she is named, Maggie Owen, an Englishwoman who emigrated to Canada in the service and uniform of the Gospel Rescue Mission, ministering to the poor.
As for Maggie Dubris herself, in this lineage, "I took a bus from Michigan to New York when I was 17, and became a poet. Not exactly like being a nun, but I did take a vow of poverty. Or, wound up taking one."
Among the paramedics, her first nickname was "Little Bit," for her small size, but soon it was "Mad Maggie" for running up nine flights of stairs to a "shots fired" situation and for her speedy, fearless driving.
A recurring theme is the transience of memory, the small moments recalled with uncertainty out of the ocean of years. The book moves back and forth through time, as scattered memories call to mind others.
"This palace is a hall of mirrors. I stumble across moments
captured in light."
"Sometimes I think that none of this was real. Twenty years working the busiest medic bus during the crack years. Then go home and never talk about it." She does remember, "How my boots looked standing on a toilet seat as I lifted a dying man off it."
"Sometimes I feel like I'm mixing it all up. Did I really open the bag and see the foot in it, under the Conrail? Or was that some other leg we found to reattach. It had red painted nails."
She remembers a New Year's Eve shift:
"every stretcher filled, the hallway lined
with puking drunks, bloody noses, slashings and broken wrists,
the memory of a homicide from an hour before still burnt in my mind…"
In 1982, she tends to a young man in a basement apartment.
…"He's pale, with purple blotches
like pomegranate seeds, on his face and arms.
So weak he can't walk. …
No one knows what's wrong with him."
It's Kaposi's Sarcoma:
"… A previously rare
and benign cancer of elderly Italians.
Now showing up in an apparently mutant form in young gay men.
On the West Coast, doctors are calling it GRID.
Gay Related Immune Deficiency. Very rare.
Four hundred fifty-two cases in the United States. Four hundred fifty-three, now."
In March 1983, Larry Kramer reports in New York Native, that it's "1,112 and Counting." The number of AIDS cases in the City quintuples in less than a month. Eighty-six percent of the men who get it are dead within three years. There is no effective treatment. The major press ignores the epidemic. Dubris plays in a band at the Pyramid Club. "Five years from now, half the men on the dance floor will be dead."
Arriving at St. Clare's in late November 1985 to start the first dedicated AIDS unit on the East Coast, with 15 beds, is "a wrinkled old nun/ who barely comes up to my nose, Mother Teresa!" With her are six Missionaries of Charity, "little bitty women … in blue and white saris." They live in tiny rooms in the hospital. On Christmas Eve, they bring over three AIDS patients from Sing Sing prison, black men convicted of robbery, each in their 20s or 30s.
She quotes a photographer who volunteered in the hospital's AIDS unit:
"It was a horrible, hard death then.
There was no hope.
It was coming for them
and everyone knew it."
By 1987, the state considered making St. Clare's an AIDS-only hospital. The idea was not pursued, but "For the next 20 years, St. Clare's is known in the neighborhood
if it's known at all, as, "the AIDS Hospital."
The descriptions of the AIDS unit are surprising:
"It's a free-for-all, up there on the AIDS floor.
A doped-up, poker-playing, smokey-crazy ball.
The docs make deals. Pay 'em to stay,
X amount of narcotics a day.
So the dying won't sneak away,
get high, have sex, and spread it around,
that sweet, sweet poison icing they found.
Aren't we all dying anyway?
But not today. Just not today."
By 1994, the AIDS ward at St. Clare's "looks like a dimly lit SRO hotel."
There are no signs. "There's no nurses station. No medical equipment."
There's a large room filled with junk
"…and a bunch of guys smoking cigarettes
who seem to be running the place.
They lounge around in hospital gowns
playing poker, drinking and cursing at one another."
In the early 90s, crack vials are underfoot on the Avenue:
"The white jinni, born of smokeless fire.
Imprisoned in a crack vial. …
Crack that vial open
Let the jinni rumble."
The paramedics know nothing of blood-borne pathogens. "The worst thing you could catch from a patient was fat gray lice." No one uses latex gloves. Dubris treats bleeding injuries in the ambulance wearing knit, fingerless gloves.
"And maybe someone would remember to put a paper mask
on the boy with AIDS, to keep him from catching TB
from the crackhead in the next bed."
Dubris is injured herself in 1994, hit by a car while paused for a stop light, skating in the street in Midtown. A St. Clare's "bus" is flagged down, and she's admitted to St. Clare's. The nurses warn her away from most of the doctors, but still the care she gets is less than ideal, as is the eventual food for a vegetarian: unsalted peas and carrots. She must pull strings to get attention and must wait through delays for days before her surgery. She is amazed that with all the special help from staff, she still barely escaped with her leg.
In 2001, she is diagnosed with Multiple Sclerosis. Working part-time, she does not have prescription coverage. Her legs go numb. "I think, anything can happen, last year I was healthy or thought I was. This year I have MS which is in this bunch of diseases that people always say along with AIDS and cancer, and I feel it all the time."
Hearing the boom of a plane hitting a tower, she walks to the World Trade Center, through ashes, papers and dust. She finds firemen looking for their buried friends and gives them water and rinses their eyes. She knows their friends are dead, buried in rubble. "All I did was walk around in the dust." She is only sure that she was at Ground Zero on 9/11 because she's there in a photo, with some firemen at the base of a huge pile of wreckage.
She estimates that she made around 20,000 ambulance calls. She recalls being, "Exhausted in the morning, my mind full of stabbings and crackheads."
The newspapers report in 2006 that St. Clare's is one of five hospitals that are slated for closing. The staff get their termination notices in July 2007.
"The places I worked are mostly gone now.
The homeless hotels, the old elevated West Side Highway
and abandoned rail-tracks. All the things that had been so alive
are just barely memories I can barely feel anymore."
Dubris was intent on finding what happened to the chapel in the hospital, when the building was demolished. She wanted to know what relics had been kept there, did they really include a piece of bone attributed to St. Clare, and where are the relics now? It takes a lot of research and effort. I won't reveal her discovery, but it is yet another amazing story, with more names from magical fiction, but all too real.
Brokedown Palace is an engrossing, moving memoir of dedication and workaday heroism, of life on the edge, in a threadbare time and city. It is heartfelt writing, and it finds beauty again and again in a harsh world that is only human and oh so fallible.
---
---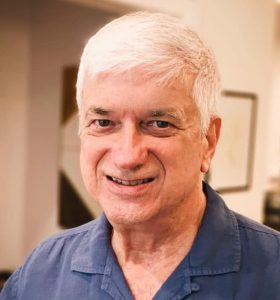 Bill Considine (www.williamconsidine.com) worked for over a decade in the neighborhood near St. Clares Hospital, in the 1980s and 1990s, as set forth in his piece, "Times Square Taxi," anthologized in From Somewhere to Nowhere, published by Autonomedia.
Maggie Dubris (https://www.maggiedubris.com/) is a writer and sound artist based in New York City. She worked for 25 years as a 911 paramedic in the Times Square/Hell's Kitchen area, as reflected in Brokedown Palace. She has also worked as a professional hypnotist and a martial arts health care specialist for Kids Kicking Cancer and is currently employed as a paramedic on film and TV sets. Dubris is also the author of In The Dust Zone (with artist Scott Gillis), Skels, Weep Not, My Wanton, and WillieWorld. For most of the 1990s, Maggie was a main songwriter and guitarist for the all-female extravaganza, Homer Erotic, which released two CDs, Yield and Homerica the Beautiful. She continues to write songs and create soundscapes.