To Lewis
I was fortunate enough to spend my undergraduate and graduate years working with Lewis at LIU. My first ever workshop was with Lewis and he was the first reader on my M.F.A. thesis, not to mention a constant figure in my life while in school for those seven years. I will miss him more than any words can express.
A poem for you, Lewis, and a list of some things that you taught me:
Loathe anything cute and avoid all clichés.
Read poems backwards or bottom up – just for fun.
Always imitate.
Learn a language.
Have favorite words like lacuna and milieu.
Read Frank O'Hara's Lunch Poems.
Look for the deeper meaning.
Seek conversation.
Stop by the office for a chat and leave with To the Lighthouse.
You gave me a copy of The Origin of the World for my 21st birthday.
Don't forget that titles matter.
Punctuation counts and don't be afraid to play with space on the page.
Go volunteer at the Poetry Project: Corinne is there. She is great.
One person has to love another more than the other in a relationship.
Search to startle yourself from time to time. It is important to stay awake.
Read a book or two or three at once. Why not?
Drink too much wine with friends and laugh or
gossip on the 4th floor balcony while having a smoke.
Never stop acquiring books
Bill Kushner
Bernadette and Anne
Methods of Birth Control
Allen and Ted and Alice and Akilah
Have you heard of Bolaño?
Go to P-town in the winter it's beautiful.
Spend time by yourself.
Walk the bridge and read Whitman. We have to read the classics.
Spend time combing through old memories.
Always keep a journal and write things down.
Explore new neighborhoods.
Walk the Bowery like Baudelaire and absorb everything.
A memory connected to a smell lasts longest.
Languages are important to know, aren't they?
Nail a legendary eye roll.
Appreciate the ummms between breaths.
Give a mild shoulder punch or a side hug from time to time.
Ask, yes?
Get out. Go to readings. Go to museums. Go to parks.
Travel. Explore. Enjoy.
Get together and start a press!
Go to Naropa. You'll love Boulder.
Take that class with John, with Akilah, with Barbara, with Brenda, with Jessica…
You can't just be a poet, you have to find something to pay the bills.
People do all sorts of things to make money.
And carve out time for writing.
Give yourself assignments. You will miss assignments one day,
you said.
How do we live in a world without you, Lewis?
In all your brevity you showed length and strength and wisdom in your words. Your web stretches wide. Lewis and Poetry are inseparable to me. I will carry with me your kindness and grace and many fond memories. Thank you for always lending an ear, a book, a comment, a look, and for teaching me to fall in love with language. Rest in Peace.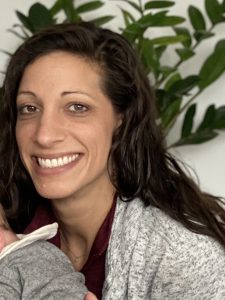 CHRISTINE GANS graduated from LIU Brooklyn in 2007 (B.A.) and 2010 (M.F.A.). She spent her post-grad years teaching as an adjunct professor, coaching youth soccer, and eventually working at an all-girls Catholic high school. Her work has appeared in various issues of Downtown Brooklyn, Brooklyn Paramount, and other local independent publications. She currently lives in Brooklyn with her partner and their daughter.