Excerpt from Winter Letter to NY: Now I Know (no)
for Lewis Warsh
Now I know what they mean by NY minute.
I just figured it out a minute ago.
It took me a million minutes to get it straight. And bent.
The host at Junior's looks like Roger Federer from a different place.
He looks like he is making a Vogue Pose.
Like Roger, he's seen it all before. But vogueing.
Lewis just got a cell phone a couple months ago. WOW he said.
Anselm got one in 2004 shortly after I moved here to NY from Buffalo,
a place where you didn't feel like you needed one so much.
My co-worker at the non-profit film place just got one about six months ago.
I was also there when he was figuring out the buttons
and when it arrived in the mail.
I know all the people who "just" got cells.
Now I know what NY minute means.
A million bagel baggers in slow motion.
The Junior's waiters with egg creams on trays balanced like you know what.
Think of the most precarious thing ever.
The very fortunate students to my left on the train.
Like no worries there.
The fashion designer on the platform who will be a CEO at 25.
Because it looks like he doesn't worry. Ever.
And never looks like anything is wrong.
One paper sack the NY minute way.
One hand snapping out an open paper bag
In slow motion with a locked loud sound like when you popped bags for fun in grade school
But this is the authentic real deal.
There's your NY minute in from of you.
But multiplying this times 100 in slo-mo.
NY minutes don't have seconds. They just ARE.
Congrats Federer. Again.
We know everyone wanted to see Nadal play you.
Now I know
Anselm told me that it's been said the Poetry Project is too square to be hip
And too hip to be square.
Now I know
There are apartment buildings between warehouses in Woodside.
Sometimes I wonder who lives there when it's so loud during the day.
With delivery trucks. Are they there?
And so quiet at night. Can they hear themselves talk or do La Guardia's planes
drown out their thoughts in a way
that they wouldn't when the trucks are delivering.
Now I-
No.
Is it necessary to have a cell phone?
Robert at my job who's been there since 1980
is the only one left with me who doesn't have a cell.
Before that at least I knew Anselm, I knew John at work.
Lewis didn't have one either but I didn't know.
Maybe that would've been nice to know for a few months.
Who knows?
I don't feel like I'm NOT not surviving.
Do you think I'm not surviving?
I should ask Lewis maybe.
I'll ask him in the immediate present.
But since the immediate present is always past,
I'll probably never get around to asking.
**
From Miles Champion
Mon 10/20/08 12:01 PM
Dear Stephanie: I meant hoss in the nicest possible sense, of course (and I look forward to its literary manifestation)! I–again, of course–failed to finish a/the poem over the weekend and don't have anything of recent vintage knocking about. What should I do, I wonder–dust something older off?
Share and Discover the Best of NYTimes.com
EVERYBODY'S BUSINESS
You Don't Always Know When the Sky Will Fall
MEGA MILLIONS
WHAT'S YOUR DREAM BUBBLE
Today the city was foggy.
It was guilty.
You can always tell if you look at the skyline from the cemeteries
Through the Kosciuszko Bridge.
Today: guilty.
Yesterday: sneaky guilty
Only 1/2 the building tips were shining
Partly guilty.
The Chrysler Building isn't even peeking beyond
The Middle Village headstones. Planes slip through
The clouds like faint white flying bats.
Other days you think the city is open and telling the truth
When the sun hits just so, you think all is hopeful.
Insert lovely cliché here
A MILLION HALLMARK GREETING CARDS
Like, we'll give you the time of day in the Diamond District.
Everytime I've tried to get the time of day there
(When I forget my watch)
Nobody never stops.
All the highways are clogged between Queens and Brooklyn.
In other words: BQE
VOTE NOW OR SKIP TO CURRENT RESULTS
So know I know (no.)
I saw a window above an office of the NYC Health Dept.
It was an office that faces a busy street
I can picture it in my mind but can't say what color it is
Don't Stop Believin'
In the Tracks Bar
In Penn Station
Missed the 8:49 by one minute
Don't Stop Believin'
A still as statue song from the '80s holding
Up in the quiet-loud backdrop
A still as a statue office worker next to me
Hasn't moved since I sat down
I wonder how many if any have been laid off
The couple to my right
They rule
They are the regulars
Two bartenders have greeted them
The guy down the bar
Slamming to Don't Stop Believin'
Don't Stop Believin'
Daydream Believer plays on a sloggy sluggy 9:10 at night
In the Tracks Bar
In Penn Station
Nobody taking the subway
From the 1, 2, 3 lines
Stops in the bar for a drink.
It's just steps away.
The regulars even in this transient place
Know each other
It's 9:14 pm
The music is telling me to Don't Stop Believing and
To be a Daydream Believer
Here at this negative night
How do you become a regular in a transient place
Regular in a xient place
NYorkers are and are not a mystery
**
Dispatch: GreenpointMaspethGreenpointMaspeth
I have a friend, who, when he first moved here, lived in Greenpoint, worked in Maspeth, lived in Greenpoint, worked in Maspeth, lived in Greenpoint, worked in Maspeth, lived in Greenpoint worked in Maspeth: he moved to NY but didn't go to NY even though he was of NYC because he lived in Greenpoint, worked in Maspeth, lived in Greenpoint, worked in Maspeth: he said, Man I was here, but I was at this auto-mechanic job and, but you know I wasn't all there man, I wasn't there, I wasn't here, that's all I did, you can see, just look here on the map, I was just going between Greenpoint and Maspeth on my bike, that was all that I was doing, I didn't go anywhere else. This diagonal line here [pressing hard on both Greenpoint and Maspeth til the paper crinkles]– I didn't go anywhere else off it, man.
**
See Ann Rower:
It all starts with phone calls.
1992: A sign in the Lower East Side says:
"Stop warehousing apartments."
See Eileen Myles:
On New York: "You know that no matter how many things are going on, it's sort of like so many things are going on that it also kind of does stand still."
See Anne Waldman:
"No, the thing about NY is that it never changes."
**
(2008)
**
This poem excerpt previously appeared in Poems By Sunday.
Lewis + Poem notes: This excerpt is from a long poem that was written around 2007-08 where it started in Lewis' long poem class at LIU and continued beyond the class until it finally felt done (and I've continued to tinker with it here and there, over the years until one day it gets fully published). It was Lewis who said to include emails, letters, correspondence, overheard dialogue, train rides and more in the long poem. This poem is 30 pages. I include parts here that mention Lewis and our NYC poetry community. It was Lewis who said to bring in people you know. I had never really thought to bring in an email before to a poem. (And I now I know (no pun intended) from Sarah Anne Wallen that Lewis printed every single email, a fact you can see in Sarah's beautiful poem in honor of Lewis in the most recent issue of Poems By Sunday.) I had been mostly writing more image-portraits and word experiments. It was Lewis who slyly (but not really) suggested adding PEOPLE to the poem. It finally dawns on me now that Lewis' instructions go with everything he is about—he was about people and community, day in and day out, week in and week out, year in and year out.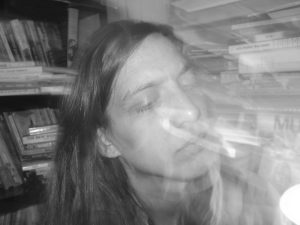 STEPHANIE GRAY is the author of seven poetry collections, including the chapbook Words Are What You Get/You Do It For Real (above/ground press) and full-length Shorthand Electric Language Stars (Portable Press at Yo-Yo Labs),