Remembering Lewis
It's the first day of spring
It doesn't feel like it, or it does
It's warmish and sunny but still chilly
The energy of a person still with us
Even though he has gone on into
Other energy, body transformed,
Back to the universe, he is so
Present in so many relationships,
Bodies of writing streaming
Forth through space, poetry,
Fiction, we see them all
An old song on the radio
Transformed through
The jazz of interpretation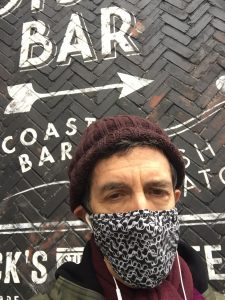 VINCENT KATZ (http://vincentkatz.net) is a poet and translator. He is the author of the poetry collections Swimming Home (Nightboat Books) and Southness (Lunar Chandelier Press). His most recent publication is a book of poems, Broadway for Paul (Alfred A. Knopf, 2020). He curates Readings in Contemporary Poetry (https://www.diaart.org/program/program/readings-in-contemporary-poetry), which, this season, pays tribute to the life and work of Etel Adnan, Norma Cole, John Godfrey, Anne Waldman, and Will Alexander.