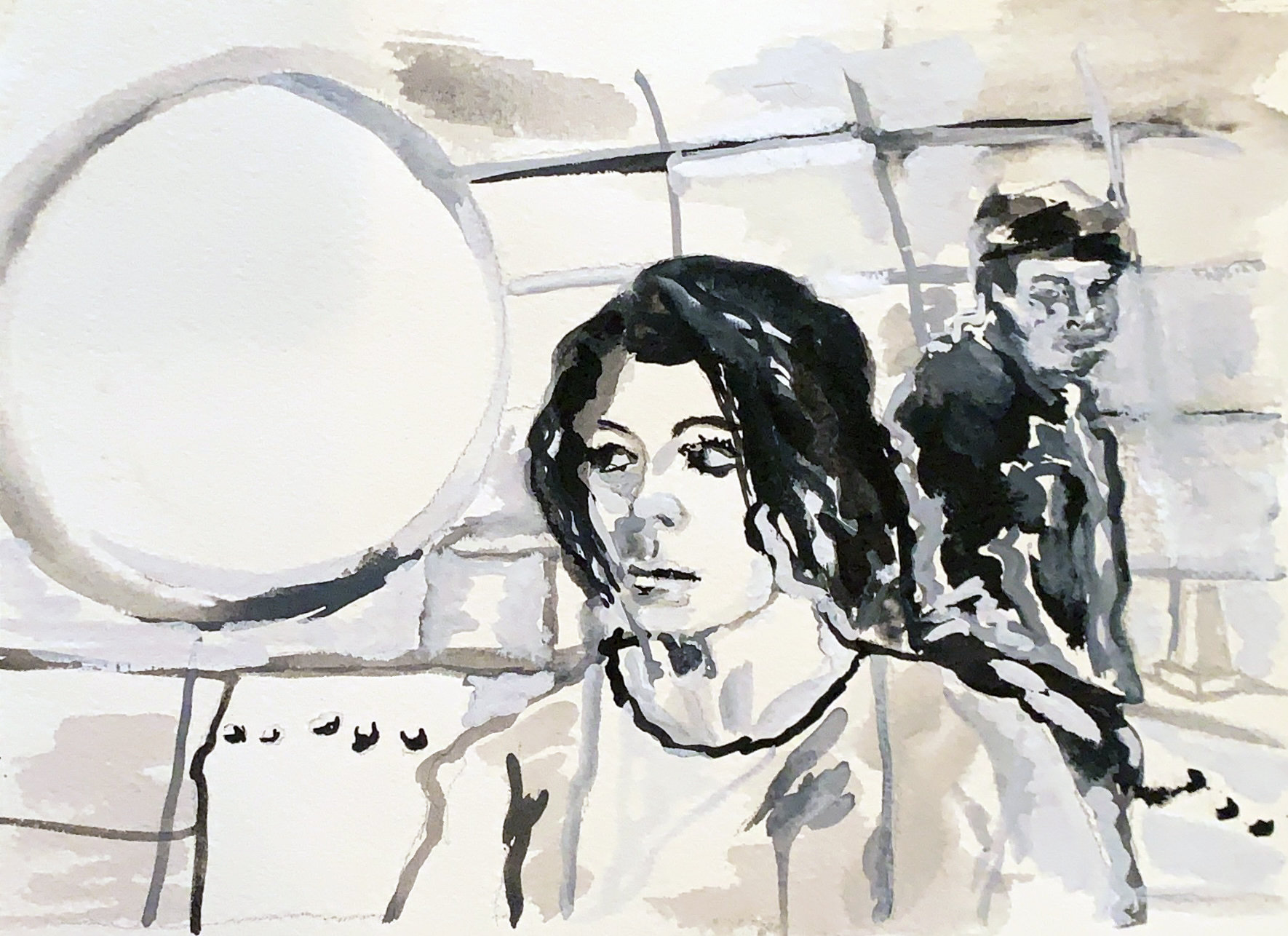 Excerpt from A Place in the Sun
      Everybody loves Lewis, but he's not been given his due. I've just reread A Place In the Sun. I enjoyed it before and I enjoyed it again reading clearly and admiring how he brings his disparate characters together in what at first seems a very loose work of gossip, a fast fun sexy surprising read with riveting relentless sentences that catch one's breath moving on to the next, held together by his talents. I did tell Lewis that I loved the book, but I wish now that we had talked more particularly about it. Everybody has their favorite; A Place In the Sun is my masterpiece at the moment because it is perfect and I'm certain it will continue to be read by many more than me. –from Don Yorty's piece originally published in the Brooklyn Rail
      The novel A Place In the Sun was previously published by Spuyten Duyvil with full contents including six sections: The Russians; Secret; A Place in the Sun; Mysterioso; Endless Embrace; and Harry Cray. The below is excerpted from the section A Place in the Sun.
For Monty & Liz
1
He started taking barbiturates after he finished filming A Place in the Sun.  He began to fall down unexpectedly, and his friends didn't know what was wrong. They used to carry him home and when he got there he would crawl up the stairs to his room on his hands and knees. He would visit his old friend Libby Holman at her estate in Connecticut and they would take drugs together. Libby Holman's first husband had committed suicide and her son had died in a mountain accident. At the time, some of Monty's closest friends included Greta Garbo, Karl Malden and Roddy McDowall. Older friends, like Thornton Wilder, stopped coming around when they realized that Monty was addicted to pills. Monty was nominated for an Academy Award for his role as Clyde Griffiths in A Place in the Sun but he lost out to Humphrey Bogart for his portrayal of Charlie Allnut in The African Queen. Marlon Brando was also up for an Academy Award for his role as Terry in On the Waterfront.  Monty's friends claimed that he didn't care whether he won the award or not. When they called him with the news he shrugged his shoulders. "I'm better than both of them," he said. Apparently Elizabeth Taylor had called him the night before the awards ceremony and told him she was sure that he was going to win. That Brando was a big phony. And that Bogart was too old.
It's possible he looked in the mirror and saw something he didn't want to see. His sexuality was a source of confusion, did he prefer men to women?
2
It's possible he looked in the mirror and saw something he didn't want to see. His sexuality was a source of confusion, did he prefer men to women? Most of his fans were teenage girls who would be brokenhearted, to say the least, if they knew he liked to sleep with men. He always had a few women trailing after him as a kind of protection against the fear of anyone thinking he liked men more than women. The people who ran the movie studios would have fired him if they knew he preferred men. Some people say that this was one of the reasons he started drinking, but I don't think it's true. He could still function as an actor even though he was drinking heavily. He was already an alcoholic by the time he started preparing for the role of Prewitt in From Here to Eternity.  Every woman who ever acted opposite him–Elizabeth Taylor, Jennifer Jones–fell in love with him. Jennifer Jones couldn't believe that he didn't want to sleep with her. It was possible for them to have sex without even speaking, as far as she was concerned. People get angry when they don't get what they want. When Monty rejected her, Jennifer stuffed a mink coat down the toilet, a present from her present husband, Vittorio De Sica, the director of the movie in which she and Monty were costarring. There was a vial of sleeping pills in her purse and she thought of swallowing all of them as a way of proving to Monty that she couldn't live without him. She rehearsed in her mind what she could possibly say to Monty to seduce him into sleeping with her; but when she finally said it: "If you don't make love to me, I'll die," he laughed in her face.
It was his habit, while working on a movie, not to drink during the day. He was studying for the role of Prewitt in From Here to Eternity. He must have read the book about ten times, making notes in the margin about the motivation of the character.
3
He liked to buy books but rarely had time to read them. He went to Brentano's on Fifth Avenue with Thornton Wilder and bought books by Kierkegaard and Camus. He began taking classes at the Studio School with Lee Strasburg and boxing lessons at Stillman's gym. It was 1947, two years before he began work on A Place in the Sun. "The more an actor knows about himself," Strasburg said, "the more he will be able to make use of himself." Monty resisted some of Strasburg's better-known techniques, especially the exercise called "Private Moments." Monty, when he performed the exercise in front of a class at the Studio School, would strip naked and ramble on about his mother, how his mother wanted to control his life. But it was hard for him to let go, especially in a room full of strangers. The point of the exercise was to break down inhibitions. The more you could express yourself the easier it would be to get under the skin of someone else's character. Monty felt that the problem with method acting was that most of the actors ended up playing themselves and what he wanted to do was disappear inside the body of some other person. He was too much himself as it was, and acting was a way of escaping. Motivation was everything. This person whose role I'm playing is not myself. He used to go out for coffee with Marlon Brando after class. Both of them were born in Omaha, Nebraska, but other than that they had little in common. Brando liked to brag about all the people he'd slept with, while Monty never discussed his personal life with anyone. He'd disappear for a few days at a time and no one would know where he was. He returned to New York from Los Angeles in between movies so he could carry on his romantic life in private. As far as the public was concerned, he was dating a young actress named Terry Moore. There's a photo of them staring into each other's eyes which gives the impression that they just spent a week in bed together. But in fact they never even touched. The Barbizon Models of New York voted him the most eligible bachelor of 1948, the same year he was arrested on 42nd Street trying to pick up young boys. When he was first told that he was going to play opposite Elizabeth Taylor in A Place in the Sun, he said "Who the fuck is she?" He had read the novel by Dreiser, An American Tragedy, on which the movie was based, and was excited about playing the part of Clyde Griffiths. At the same time, he was offered the script of Sunset Boulevard, which Billy Wilder told him he had written "just for you." He was also offered leading roles in The Naked and the Dead (screenplay by Lillian Hellman), High Noon and Look Homeward Angel.  He always came back from Hollywood complaining that he wasn't treated like "a person" or "an actor" but "a hot property," the heir to Tyrone Power and Rudolph Valentino. But he was too sensitive to do what was necessary to become a star. Not ruthless enough. 
It's also hard to feel free of the need to be around other people, easy to become addicted to their need for you, to become dependent on their need.
4
By the time he started shooting A Place in the Sun, Monty was getting drunk every night. Yet he was still able to wake up early and get to work. He would stand in a cold shower for ten minutes and drink a glass of orange juice with vodka.  Often he was required to wake up before dawn. No matter how much he'd had to drink the night before, he was never late. In a way, drinking was his way of relaxing when he finished working on a movie, but as usual he went too far. This is what impressed Elizabeth, who also liked to take everything to the limit, but often didn't have the nerve. 
     They were living in a hotel in Lake Tahoe, filming A Place in the Sun.  Elizabeth shared a room with her mother but Monty often coerced her to sneak out late at night. They would sit on the wooden steps of the hotel and stare at the moon. He would pass her the bottle of Jim Beam and she would take a quick sip, wiping her mouth with the back of her hand. During the day her mother never left her side and at night she had to wait until her mother was asleep before she could sneak out of her room to meet Monty. "My mother would kill me," she said, "if she knew I was meeting you." Both Elizabeth and Monty were sick of their mothers, that's one thing they had in common, but Monty didn't want to talk about personal matters while he was working on a movie. He wanted to discuss A Place in the Sun. She couldn't believe that anyone could take acting so seriously. She wanted to become a better actress so she could impress him, so he would fall in love with her like most of the other men she had met in her short life. She couldn't understand why he wasn't attracted to her, didn't attempt to touch her, or kiss her, or even take her hand, that he was content just to sit on the steps of the hotel smoking cigarettes and talking about acting. It was cold in Lake Tahoe, there was snow in the air, and she wore a jacket over her nightgown. They talked about George Eastman and Angela Vickers, the names of the characters in the movie, based on the characters Clyde Griffiths & Sondra Finchley in the novel An American Tragedy by Theodore Dreiser. Sometimes, when her mother was asleep, she would sneak out and go to his room. She would knock on his door and when no one answered she would open it and look inside and stare at the empty bed and the pages of the script scattered over the floor. When she asked him, the next morning, where he had been the night before, he shrugged mysteriously and said "out," making it clear that it was none of her business. It never occurred to her that he might be interested in men. "You have the greatest tits," he would say. They both had overbearing mothers. Elizabeth had bushy eyebrows; her arms were covered with hair. People around them, the other people working on the movie, assumed they were sleeping together. Someone started a rumor: he had seen them making out in a parked car. Or she had seen them emerging, hand in hand, from the forest late at night. Some people, like the gossip columnist Hedda Hopper, assumed that they were going to get married. 
     It was after he finished work on A Place in the Sun that he began taking pills: tranquilizers, vitamins, antidepressants, diuretics, barbiturates.  He would swallow a handful of pills with a glass of wine over dinner. He kept the pills in the pockets of his jacket. He would empty the bottles of pills which his various doctors prescribed for him into his jacket pockets before he went out. He would order expensive dinners at restaurants and not eat anything. When he did eat, he lifted the food with his hands, ripping apart pieces of raw meat. Then he would stuff hunks of food into his mouth. He would drink and eat and swallow pills almost simultaneously as the people around him pretended not to notice. People were frightened of admonishing him for taking too many pills, for drinking too much. They were frightened he might become angry and they didn't want to risk losing his friendship.
She alternated between violent types (Hilton, Todd) and passive types (Wilding, Fisher), but that all changed when Burton entered her life.
5
Elizabeth Taylor met Nicky Hilton during the filming of A Place in the Sun.  He was twenty-three. She was eighteen. Elizabeth's mother was overjoyed. Conrad Hilton, Nicky's father, was worth $125 million, a lot of money in 1949. He himself had been married to Zsa Zsa Gabor and was presently going out with singer-actress Ann Miller when his son introduced him to Elizabeth and her mother. Some people think that Conrad tried to seduce his future daughter-in-law but Elizabeth denies that this ever happened. One of the reasons she was attracted to Nicky was because he encouraged her to continue her career, unlike her former boyfriends (former Notre Dame football star Glen Foley and a businessman from Florida) who had insisted that she quit her career and become a housewife. At least that's what Nicky told her when they first started sleeping together. Everyone ignored rumors that he had other girlfriends, that he liked to stay out all night drinking and gambling. All that mattered to Elizabeth's mother were the millions of dollars that he would someday inherit. Nicky kept a crucifix next to his bed along with a gun and a stack of porno magazines. The reality of being married to someone as famous as Elizabeth Taylor began to surface on their honeymoon. Wherever they went there were crowds who wanted an autograph or a photograph and Nicky was lost in the shadows. He began staying out all night gambling. When Elizabeth wanted to sleep with him he pushed her away. "I'm sick of looking at your face," he told her. She was frightened of confiding in her mother; she knew about her mother's expectations and dreaded the moment when she would have to tell her that her marriage wasn't working. Fuck the money. Nicky hated being known as "Mr. Elizabeth Taylor." She had thought he was proud of her for being a famous actress, but in the end all he wanted was a traditional housewife. While filming Father's Little Dividend, the sequel to Father of the Bride, which she started working on when she returned from her honeymoon, she discovered she was pregnant. One day she fainted on the set but by the time she got home she had already miscarried. This angered Nicky even more; he thought it meant that she would never have another baby. Never be able to. While she was recovering from the miscarriage, he went deep sea fishing with his friends. Although her mother advised her to give him "one more chance," Elizabeth filed for a divorce a month after she lost the baby.
6
A Place in the Sun opened in August 1951 at the Capitol Theater in New York. The National Board of Review of Motion Pictures named it the best picture of the year but it lost the academy award to An American In Paris. The film critic Andrew Sarris wrote that "Cliff and Taylor were the most beautiful couple in the history of cinema." In the fall of '51, Elizabeth moved back to New York and she and Monty began to see each other every day. Elizabeth had become engaged to the English actor Michael Wilding. Again, as she had done before her marriage to Nicky Hilton, Liz said she would call off her marriage to Wilding if Monty was willing to marry her. At the time, Monty was living in a duplex apartment on 207 E. 61st Street  with a young actor, giving him money, helping him with his career. All of Monty's other friends insisted that the actor was "just using him." When he couldn't sleep, Monty would climb to the roof of his building and stare into the windows of other people's apartments. He would stare at people as they undressed or had sex. He would walk around Times Square, make eye contact with a guy in a doorway, and take him home. On weekends he visited Libby Holman on her estate in Stanford, Connecticut. His medicine cabinet was filled with antispasmodics, muscle relaxants, antidepressants, anticonvulsants, pain killers, paregorics and decongestants. For two years after he finished work on A Place in the Sun he didn't make another movie. Then, almost overnight, he signed contracts to star in I Confess (directed by Alfred Hitchcock), Terminal Station (directed by Vittorio De Sica) and James Jones's From Here to Eternity. There were long periods of lucidity when he felt perfectly normal. He could act normal, even if he wasn't. From looking at him, you couldn't tell that he had just swallowed a handful of antidepressants. Part of his charm was to get you to tell him your life story, but if you asked him a question about his personal life he changed the subject. He made it clear that he wasn't going to answer any personal questions. When he said good night to his friends–that's when his real life began.
'I don't care what people think about me as long as I have my children, my new husband, and my friends.' Taylor said. 'I can't worry about 50 million other people. What do I owe my public? Do I owe my life to them? No, I owe exactly what they see on the screen, and if they don't like it, they don't have to pay to watch me act.'
7
It was his habit, while working on a movie, not to drink during the day. He was studying for the role of Prewitt in From Here to Eternity. He must have read the book about ten times, making notes in the margin about the motivation of the character. He began taking trumpet lessons. He would spend days trying to figure out the phrasing of a single sentence. During the filming, he spent his nights drinking with James Jones and Frank Sinatra. Sinatra had just broken up with Ava Gardner (she had left him for someone else) and was threatening suicide, but Monty talked him out of it. He was good at giving advice to his friends about their problems, but he had no way of solving his own, and no one could help him. When he wasn't drunk, Monty would coach Sinatra on his role of Maggio in From Here to Eternity. "Monty had a special kind of pain," Jones once said. "A pain he couldn't share."
     "He wanted to love women," Deborah Kerr said. She was his costar in From Here to Eternity, the woman on the beach with Burt Lancaster. The woman who rolls around on the sand in a bathing suit with Burt Lancaster. It's the famous scene where they run out of the water and begin making love on the sand. "He wanted to love women," she said, "but he was attracted to men." In those days he would collapse at parties from too much drinking and too many pills. When he finished filming From Here to Eternity, he went to Cape Cod and stayed with Mary McCarthy in Wellfleet. She diagnosed his behavior as "hebephrenic schizophrenia." One night he broiled a steak in the fireplace and then carved it into small pieces on the shag rug and served it to the guests. Monty was again nominated for an academy award for his role as Prewitt in From Here to Eternity but lost to William Holden. At the time, the new young star in Hollywood was James Dean, who claimed that Monty was his idol. Dean would call him constantly when they were both in New York just to hear the sound of Monty's voice on the phone.
     When he was in Hollywood he stayed with Elizabeth who was pregnant with her second child. He usually stayed with her when her husband, Michael Wilding, was off making a movie. They would stay up all night and she would complain to him about her relationship with her husband. When he had too much to drink he would lean over and kiss her on the side of the neck and tell her how beautiful she looked. It was just like the old days, when they worked together on A Place in the Sun.  She would ask him if she had changed a lot since they first met. She would let him touch her breasts, like he used to do. They would sit on the couch and he would rest his head on her lap and they would stay up all night talking. Sometimes he would fall asleep with his head buried between her breasts and she wouldn't move for fear of waking him. She would stay up all night watching him sleep, his face pressed against her breasts like a baby.
     He would get drunk and end up in bed with someone, man or woman. He often passed out and whomever he was with had to undress him and put him to bed. When he was in New York, Elizabeth would call him from Hollywood every night. She and Michael Wilding were breaking up, and she needed Monty's advice. She was frightened that she was going to end up living alone with two children. He and Elizabeth and Michael Wilding had spent so much time together in the last few years that people assumed that they were all sleeping together. She convinced Monty to come to California so that he could talk to her husband and convince him that they should separate, that no matter how much he loved her they could no longer live together.
     On May 12, 1956, Elizabeth and Michael had a party at their house in the hills above Los Angeles. They invited Monty but he didn't want to go. Just the night before, Wilding had visited him to talk about Elizabeth, to tell him how much he was in love with her. How impossible it was for them to live together. They were telephoning Monty on alternate nights; first Elizabeth would call, then Wilding. For some reason they assumed he could help them. He had a hard time falling asleep, even on the best of days, but it was impossible to fall asleep after listening to the litany of a failed marriage. The last thing he wanted to do was go to the party at Elizabeth and Michael's but both of them called and begged him to come, just for awhile, just to put in an appearance. Wilding had back trouble and spent most of the party lying on the couch. Elizabeth, distracted by her problems, the fear of living alone with two young children once her marriage ended, could barely pour the wine without spilling it on the rug. Monty sat in the corner and didn't speak to anyone.
     The accident occurred on the road leading out of the canyon. Kevin McCarthy, Mary McCarthy's brother, was in a car directly in front of Monty's and Monty kept bumping him from behind. It was as if he'd fallen asleep at the wheel and had lost control of the car. Before leaving the party, Monty had gone to the bathroom and taken half a dozen pills, mostly tranquilizers. Suddenly, McCarthy said, the lights of the car behind him disappeared and he heard a crash. He stopped his car and ran back to find Monty's car twisted around a telephone pole with Monty crumpled beneath the dashboard. He drove back to Elizabeth's and ordered someone to call an ambulance, but Liz insisted that she return to the scene of the accident.  She pried open the back door and cradled Monty's bloody head against her breasts, stuck her fingers in his mouth to pry out his two front teeth which were lodged in his throat, then rode with him in the back of the ambulance to the hospital. The front of her dress was covered with blood. After Monty was wheeled into the operating room she collapsed in the hallway outside his door.
     It took more than nine weeks for Monty to recover, nine weeks (most of it spent in traction) before he could imagine going back to work. When the accident occurred, he was filming Raintree County with Elizabeth, the first movie they had made together since A Place in the Sun. His nose was broken, jaw crushed, teeth had to be reconstructed. A cerebral concussion. Somehow one of his friends smuggled a bottle of whiskey into the hospital. He drank martinis through a straw. He was anxious to get out of bed and finish work on Raintree County. Half the movie had been shot before the accident. Monty tried to convince himself that he looked the same, but his nose was bent out of shape, his mouth was twisted. His upper lip had been torn apart by the accident. His eyes were filled with pain. Once he started work he had to give himself shots of codeine every few hours. They were filming in Natchez and Elizabeth's health began to deteriorate as well. She suffered from heat exhaustion (her corset was too tight) and hyperventilation. A doctor prescribed chloral hydrate but Monty was the person she called for advice in the middle of the night. Mike Todd, her new lover, had proposed marriage: should she do it? It was a scene they had already repeated dozens of times in the past and Monty was tempted to slam down the phone when he heard her voice whining at the other end. "You're the only person who can make me happy," she would say.
Who was the person who invited people to his townhouse on the Upper East Side of Manhattan and then passed out while all the people around him pretended that nothing was wrong? These people literally stepped over his body as if falling asleep on the living room floor was a normal thing to do.
8
It's hard to live in this world and not feel an insatiable craving for objects and money (for all the objects money can buy). The most expensive jewelry can be yours if you want it. The ability to acquire things makes people feel good about themselves. It's also hard to feel free of the need to be around other people, easy to become addicted to their need for you, to become dependent on their need. All the drugs one requires in order to sleep for even a few hours and then the pills one also requires to get out of bed and function during a day that might require you to recite lines which you supposedly memorized the night before. All the pills and alcohol one needs to get through the day. Richard Burton, Elizabeth's fifth husband (don't forget Nicky Hilton, Michael Wilding, Mike Todd and Eddie Fisher) woke at two in the afternoon and drank a vodka with orange juice for breakfast and then continued drinking until he fell into bed next to the most beautiful woman in the world, or so some people thought, but who had recently (to everyone's horror) tipped the scales at 180, and whose triple chin made her the butt of a million Joan Rivers jokes on late night TV:
     "I took Elizabeth Taylor to Sea World, but it was so embarrassing. Shamu the Whale jumped up out of the water and Liz asked if he came with vegetables."
     "I won't say she's fat, but she had a face-lift, and there was enough skin left over to make another person."
     "She has more chins than the Chinese phonebook and loves to eat so much she stands in front of the microwave and yells 'Hurry'."
     One reason why people get divorced is because one or both members of the couple loses interest in sex. This is true of everyone. Desire fades with familiarity. You have to renew your feeling of desire or sublimate it so that you can accomplish other things. One way of renewing desire is to appeal to the other person's fantasies. Many people are too shy to confess what they would like to do in bed for fear that the person they're with would reject them or think they were crazy. You never know how another person is going to react to what you want to do in bed. For many people, what happens inside their fantasy world is more interesting than real life. Going to bed with someone who you fantasize about is often a big disappointment. 
     The need for freedom is often stronger than the need for security (in this sense freedom means freedom to sleep with whoever you want), and it seems to be a fact of life that you can't have both. As a reaction to her marriage to Nicky Hilton, who beat her up in the shower and refused to sleep with her, even on their wedding night, she married a man twice her age, pipe-smoking Michael Wilding, an alcoholic as well (she didn't have a husband who wasn't addicted to alcohol or pills), and it was just a matter of time–in this case, a few years and two children later–before Wilding came home and found Liz ("don't call me Liz") in bed with Victor Mature. It's amazing that each of Elizabeth's husbands didn't assume that at some point she'd be unfaithful to them, or get tired of them, or find someone who (at least in the moment) seemed more interesting, or that the need to fall in love again (to experience the exuberance that accompanies meeting someone you love) would eventually become a more insistent need than creating or maintaining a relationship long past the initial excitement was over. Why bother? Eddie Fisher could make love twelve times a night but Elizabeth still wasn't satisfied. Richard Burton bought her the most expensive diamond in the world. It cost him 1.1. million, but she still wasn't happy.
9
She kept meeting men, falling in love, and getting married. Most of her marriages (Nicky Hilton, Michael Wilding, Mike Todd etc.) overlapped: she began sleeping with her new husband while she was still married to her old one. She went off to make Cleopatra and Eddie Fisher came along as companion/nurse but it didn't stop her from starting a new relationship with Burton. Everyone was aware that Burton and Taylor were attracted to one another, including Fisher, but there was nothing anyone could do to stop them. Burton himself was married to Sybil Williams but his wife accepted the fact that he often went off and seduced young actresses. Possibly "accept" isn't the right word. While Burton was away she would have an affair or two of her own, or so people say, and when she and Burton eventually split up she married a young musician named Jordan Christopher. The idea of a woman making love to a man twenty years younger was shocking to a lot of people, who assumed that something was wrong with the man for preferring an older woman when he could be with someone his own age or younger. 
      It was just a matter of time before the gossip columnists, Hedda Hopper and Louella Parsons, found out that Richard Burton and Elizabeth Taylor were having an affair. They were seen huddled together in conversation at a party and that was enough to get people talking. Someone saw them standing alone on a balcony. Someone saw them kissing in the backseat of a taxi. There was a rumor that at a birthday party for Rex Harrison, who played the role of Julius Caesar in Cleopatra, they went into the bathroom together and didn't come out for twenty minutes. Someone said they saw them get into the backseat of Burton's limousine and drive into the country and park at the end of a deserted road. Someone thought they saw them leaving a hotel in the south of France.  It was possible to say anything about anyone and then read about it in the gossip columns the next day as if it was true. Elizabeth and Eddie would go to parties together and she would go off with Richard and Eddie would try to find her and force her to leave, but she would laugh in his face. She would humiliate him publicly. Once Eddie caught them fucking in a back bedroom at a party and moved into a hotel for a few days but Elizabeth found out where he was staying and ordered him to come back. She denied the fact that she and Burton were involved even though Fisher had seen them together with his own eyes. "We were just drunk," Elizabeth said, as if that excused everything. They were always drunk, so what did it matter, and of course Eddie returned, if Liz asked him to do something he did it, even though everyone referred to him (as people had done with Nicky Hilton and Michael Wilding) as "Mr. Elizabeth Taylor." Possibly the attraction of being married to Elizabeth was the idea that you were doing something every other man in the world fantasized about doing and maybe all the husbands knew that the marriages weren't meant to last but decided that a few years or a few nights with Elizabeth was worth it. No one cared about getting Nicky Hilton's autograph; he might as well have been Elizabeth's chauffeur for all anyone cared. It was hard not to pale in comparison when you were around Elizabeth; the only husbands with any real stature were Mike Todd and Richard Burton. And there was also the fact that she was "great in bed," or so Eddie Fisher reported, "totally pornographic." He said she used to crawl around on the floor and he would fuck her from behind. Eddie Fisher, who received amphetamine injections three times a week, was capable of making love twelve times a night. Five minutes after having an orgasm he was ready to fuck again. He had left his wife, Debbie Reynolds, to marry Elizabeth. Everyone thought that he and Reynolds had an idyllic marriage but in fact they fought constantly and rarely slept together. Elizabeth was blamed for breaking up a marriage that was about to end or shouldn't have existed. Elizabeth didn't mind if he slapped her around—she seemed to like it—while Debbie wouldn't even let him go down on her. What a bore. Eddie had been the best friend of her third husband, Mike Todd, who was killed in a plane crash flying from Burbank, California to New York on the night of March 21, 1958 in an airplane called Liz. After Todd was killed, Eddie visited Liz every day. She was Todd's widow and he was Todd's best friend so it made sense for them to try to console one another. At least that was the role he decided to play. No one's quite sure how long it took before they started sleeping together. Todd was like Hilton: he thought that women wanted to be abused. He would insult Elizabeth publicly, put his hands down the front of her dress in the middle of a formal dinner party, cup her enormous breasts in his palms in front of a hundred guests. He would refer to her as "my cunt"  and complained to anyone who would listen when she started gaining weight. They liked to fight publicly as a prelude to going to bed together. Elizabeth would turn on anyone who tried to stop them and tell them to mind their fucking business. Sex was better if it was preceded by a fight. Todd didn't hit her, like Hilton had done; he preferred humiliation, forcing her to beg for sex if she wanted it, and then denying her anyway. Todd hid a tape recorder under their bed, turned it on when they were fucking, and gave copies of the tapes to his friends. With Fisher, she was in charge; it was her turn to humiliate him. She alternated between violent types (Hilton, Todd) and passive types (Wilding, Fisher), but that all changed when Burton entered her life.
10
After the car accident, the studio suspended production of Raintree County for nine weeks –long enough, they hoped, for Monty to recuperate. In fact, the injuries he suffered during the accident never totally healed. During this time Elizabeth and Michael Wilding broke up. There was a rumor that she was having an affair with Frank Sinatra, that she had become pregnant again, and that Frank was the father.  Libby Holman, who blamed Elizabeth for Monty's accident, called her "a heifer in heat."
     She was having an affair with a cameraman named Kevin MacClarny and they were contemplating getting married when McClarny introduced her to his boss, Mike Todd, who at the time was seeing Evelyn Keys, an actress who had played Scarlet O'Hara's younger sister in Gone With the Wind. Keys, before she met Todd, had been married to both King Vidor and John Huston. Mike Todd had been married a few times as well, first to Bertha Fisher, who stabbed herself accidentally when she was chasing her husband around the house with a steak knife, and a second time to the actress Joan Blondel. When Todd and Taylor met they dumped all their current lovers.
     In order to alleviate the pain from the accident, Clift was taking more pills and drinking more than he had done before, if that's possible. One night he was arrested for "indecent exposure."  He took off his clothes and walked down the main street of Danville, Kentucky, where the film was being made. When he was arrested, the police found 250 vials of assorted pills in his hotel room.
     Todd called Elizabeth every day when she was filming Raintree County. He sent her a bouquet of 200 long-stemmed roses. He sent her a $30,000 black pearl ring. He flew her to Chicago in his private plane. Of all her friends, only Monty tried to discourage her from getting married yet again. He advised her against marrying someone so much older than she was (as Wilding had been), but after her marriage to Nicky Hilton she was wary of younger, volatile types, though in a way Todd was more like Hilton than Wilding, a stay-at-home pipe-smoking Englishman (at least on the surface) who, according to his friend Stewart Granger, had his "balls busted" by Elizabeth. Elizabeth and Monty didn't see much of each other during her marriage to Todd. 
     On a yacht near Miami, Elizabeth injured her back and ruptured two spinal discs. Surgery was only partially successful and she had to spend two weeks convalescing. 
     Todd's idea of women was that they liked to be mistreated. He used to drag Elizabeth around by the hair. With Wilding she had played the role of dominatrix, but with Todd she would be submissive. She preferred taking orders to giving them. Her marriage to Todd was her third in five years.
     "I don't care what people think about me as long as I have my children, my new husband, and my friends." Taylor said. "I can't worry about 50 million other people. What do I owe my public? Do I owe my life to them? No, I owe exactly what they see on the screen, and if they don't like it, they don't have to pay to watch me act."
11
Even the people closest to Monty Clift were unable to understand why he acted the way he did, and after awhile he stopped trying to analyze himself. The so-called psychiatrist who was supposed to help him ended up prescribing pills and medicines that only made his problems worse. Who was the person who invited people to his townhouse on the Upper East Side of Manhattan and then passed out while all the people around him pretended that nothing was wrong? These people literally stepped over his body as if falling asleep on the living room floor was a normal thing to do. 
      By the time she began filming Cleopatra in 1960, Elizabeth Taylor was suffering from headaches, toothaches, eye strain, back spasms and coughing spells. She was also accident prone, breaking her leg or pulling a muscle in her leg, and when she was filming Elephant Walk a shard of glass flew in her eye and she was in the hospital for a week. There was never a time when she wasn't taking pills, painkillers and sleeping pills, drinking nonstop, and demanding everyone around her to do whatever she wanted, including her husband–in 1960, it was Eddie Fisher–who had to accept, as well, that she might be sleeping with someone else, which was invariably a fact of their life. One could only imagine what might happen if he was ever unfaithful to her. "I never dreamed about sleeping with anyone else," Eddie said. "Being Elizabeth Taylor's lover is a full time job." 
Cover art from A Place in the Sun (Spuyten Duyvil) courtesy Pamela Lawton. Solaris, 9″ x 12″, ink on paper, circa 2008. www.pamelalawton.com.
Click here to read an Excerpt from The Russians from The novel A Place In the Sun.