United Artists 40th Anniversary Celebration, NYC
February 1, 2007
Although Lewis Warsh said United Artists Books hadn't been around for 40 years and of course Angel Hair Books didn't last that long ("I guess it's my 40th Anniversary," he said), David A. Kirschenbaum's Boog City presented "A 40th Anniversary Celebration of United Artists Books" at ACA Galleries in NYC. 
It was a fine event anyway, well-attended with cheap books and even door prizes courtesy of Charlie Vermont (winners got to take any four UA titles home). The gallery's exhibit of Ralph Fasanella's busy paintings (it's like Grandma Moses meets Where's Waldo?) was a perfect backdrop for the readers.
Lewis Warsh served as MC and read last. The readers were Barbara Henning, who also read a poem by Harris Schiff; Mitch Highfill; Bill Kushner, who read a section of Ruth Altman's "Things I Miss," which included Bill's hair, clearly gone; Bernadette Mayer included a new poem about Eliot Spitzer's inauguration; Dennis Moritz presented four very short theater pieces performed exquisitely by Matt and Anna; Tom Savage even sang; Anne Waldman read from Blue Mosque, a new piece, "Corset," and a poem by Reed Bye; and Lewis doing Charlie Vermont.
The event was part of David's ongoing series "d.a. levy lives: celebrating renegade presses." images and text by Dan Wilcox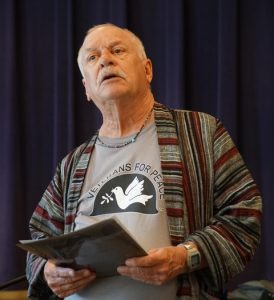 Although DAN WILCOX (https://dwlcx.blogspot.com/) once worked as a dishwasher and as a short-order cook, he has never driven a cab. For most of his career he worked as bureaucrat and wrote poetry. He was named one of the 2019 Literary Legends by the Albany Public Library Foundation. He claims to have "the World's largest collection of photos of unknown poets." Currently he organizes poetry events in Albany, N.Y. and is an active member of Veterans For Peace.