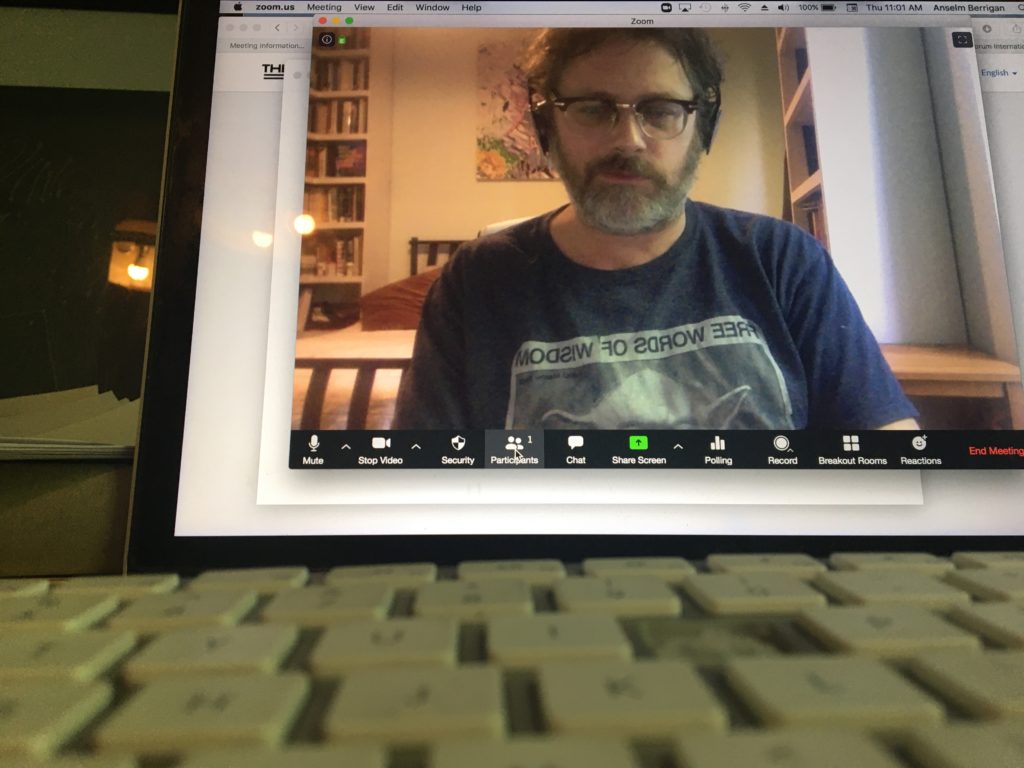 Excerpt from Shoe, or Tree?

* * * *


                November 30 & I'm wondering
                if curiosity, in me, can win out
                over despair, at least for a while
                longer. I like the looseness of a
                while. When despair approaches
                I get even, but low-level feel
                for the self-destruct button.
                Which turns out to be another
                um-bilical hernia. Doctor Hof-
                stetter playing wack a hole with
                my belly the size of which is hard
                to gauze (I prefer loose clothing).
                One anti-despair image I retain
                having invented it just now is
                wearing an over-sized flannel
                shirt at the age of sixty-five.
                When I'm helpful I'm surprised.
                When I'm grateful I burst into
                tears. I'm told I don't talk about
                my feelings enough, but I know
                on the inside how self-absorbed
                I am, & the poets let it flow
                with buzzing fracked apology
                incisions (Nesh vomiting foam)
                the live ear has no room not to
                take, this poem may be inter-
                upted by cat surgery soon, R.
                Smithson was just a baby when
                he died you don't know, Piper
                digs Empson enough to let me
                what, distract myself in theory
                by planning a tribute, do you
                really need more of my feel-
                ings? Emphasis takes care of 
                yeah she has that option. An
                aside that concludes things.
                Leniency deserving no norms.


* * * *

if anyone has any spare time & would like to help fold, staple, & mutilate, please let us know

it is rare when a real writer becomes also a real restaurateur

& form is all beautiful & typical & unread & self-destructive in complete & enjoyable fashion

admired by a giant who likes them

and yet, dude, the soundtrack did not invent silence

or, baby, maybe it did did do that that

it's when you sprinkle a little ground conspiracy on the proceedings

write a poem called "impractical advice" that begins "lay back in relation to certain people" we texted ourselves recently

make a map of z one & done

some people support disagreement in principle without realizing it

some of those people like to hang out after readings

the places that still let you hang out afterwards are where you'll find them

I saw no hands during the zoom meeting but knew they were all wringing

hoody production meets obstinate website

we screamed 57 times in five-and-a-half minutes

hard not to talk about that at the critique

placing bonus succulent has proved elusive

to be elusive vs I forgot about possibility

between pages only one page may prove attainable or retainable

depending on our sense of what tainable might mean

disAnselmed disanselmed

the practice test validated repetition

when we took the title IX course five years later all the situations were unchanged

we felt awful that the bullied office worker was still crying tears of frustration in his car, & that his bullying co-worker remained oblivious and at large

completing the on-line course at multiple institutions was no consolation

one of those institutions may be taking transformation seriously, according to minutes

handed the old language as template for new situations

we're all (interrupted)

& yet when therapy points to our powerlessness we gap

we gasp?

we gap

we don't want power, we have too much on the inside, the interior, the temporary source

uninterested in outlasting

now decide where surface & source meet

end the night with pop songs & other songs

end the night

it's only 5:59 pm & we have to make dinner so but to the last thoughtless

can't pick up presents when the untouch is in command

everyone can reply


* * * *

        They tell you what they're doing in order to steer you into submission

        They look perennially for the incompetent replacement

        The dominant incompetent administers anger elliptically

        Waking up begins to feel unsafe


* * * *

        Your footnotes lack persona — a foot rub might help

        Children's Dresses, Boys' Suits, Underwear, 2A Bar, Novelties

        They overdosed on failing better after mail broke the demagogue


* * * *

        The conversation between gratitude & irony is where realism goes to listen

        He's offended only when the phone rings

        The poems become photographs to avoid publication


* * * *

This month you're averaging fewer steps each day than you did last month

    You're averaging fewer steps a day this year than last year

        The pandemic has reduced your daily steps by 2,500 on average at least this year

            You're clearly not pacing enough at home

                It's hard to pace in a small apartment

                    Pacing also often requires privacy

                        Privacy is not your friend any more
ANSELM BERRIGAN (https://www.wavepoetry.com/products/anselm-berrigan) has been contributing to Boog publications and reading at Boog events since the late nineties, and in 2000 was the baseball editor for issue eight of their litzine Booglit. A chapbook, Shoe, or Tree?, containing the whole poem for Lewis Warsh, will be out later this year from Boog City.

Berrigan is the author of many books of poetry: from Wave Books, Something for Everybody, Come In Alone, and Notes from Irrelevance; from Edge Books Primitive State, Some Notes on My Programming, Zero Star Hotel, and Integrity and Dramatic Life; and Free Cell from City Lights Books. He is also the editor of What is Poetry? (Just Kidding, I Know You Know): Interviews from the Poetry Project Newsletter (1983–2009) and co-author of two collaborative books: Loading, with visual artist Jonathan Allen (Brooklyn Arts Press), and Skasers, with poet John Coletti (Flowers & Cream). His chapbooks include Pregrets (Vagabond Press), and Sure Shot (Overpass Books). He is the poetry editor for The Brooklyn Rail, and co-editor, with Alice Notley and Edmund Berrigan, of The Collected Poems of Ted Berrigan and The Selected Poems of Ted Berrigan (both from U. California, 2011). 

A member of the subpress publishing collective, he has published Selected Poems of Steve Carey and Hoa Nguyen's Your Ancient See Through. From 2003-2007 he was artistic director of The Poetry Project at St. Mark's Church, where he also hosted the Wednesday Night Reading Series for four years. He is co-chair, Writing at the Milton Avery Graduate School of the Arts interdisciplinary M.F.A. program, and also teaches part-time at Brooklyn College. He was awarded a 2015 Process Space Residency by the Lower Manhattan Cultural Council, and in 2014 he was awarded a Robert Rauschenberg Residency by the Robert Rauschenberg Foundation. He was a New York State Foundation for the Arts fellow in Poetry for 2007, and has received three grants from the Fund for Poetry. 

He lives in New York City, where he also grew up.