by Sam Cha
On the Way: New and Selected Poems
by Ruth Lepson, edited by Ben Mazer
Mad Hat Press
There's a poem called "The Poem of J." It's by Ruth Lepson. I encountered it near the middle of her luminous new collection, On the Way: New and Selected Poems (Mad Hat Press), which contains selections from Dreaming in Color, Morphology, I Went Looking for You, and ask anyone, as well as several new poems. ("The Poem of J" is from I Went Looking for You.)
The epigraph to "The Poem of J" says it's "after Harold Bloom and David Rosenberg's The Book of J." Despite the best efforts of numerous instructors at undergrad and graduate institutions, I am an ignoramus, and did not know what The Book of J was. J for Job? Jonah? Jehovah?
Fortunately, though I'm an ignoramus, I do know how to track down copies of books, and so I can now report to you that The Book of J is a translation of those sections of the Bible—including the Garden of Eden story, and large chunks of the stories of Abraham and Moses—thought to have been written by the so-called Yahwist writer, J. So it's J for Jehovah, sort of—the Yahwist/Jahwist is the Yahwist because they refer to God using the Tetragrammaton, rather than Elohim.
Lepson's a master of disguise, of subverting our expectations about the subversion of expectation.
Harold Bloom speculates that J was a woman, a highly placed member of Solomon's court, perhaps even a daughter of the king. He argues that J was one of the first and greatest of literary ironists, interested in "what happens to representation when incommensurate realities juxtapose and clash," whose "particular strength is economy," showing "continually that leaving something out is the best way of compelling the auditor or reader to be severely alert."
This is a description that applies equally well to Lepson, which is why A) I've quoted it at length and B) probably why Lepson chooses to invoke The Book of J.
Thomas Graves, in his review of on the way, calls Lepson a "poet of almost surreal restraint," and that is correct but incomplete. "Restraint" suggests a weight of emotion that is disguised or contained, in the way that a fusion reactor contains, in the grip of a magnetic vortex, an energy that could swallow the horizon. But A) restraint also necessitates a betrayal of restraint, a calculated failure in the project of containment: how else would we recognize restraint when we saw it? And B) if the betrayal's to achieve the fullest effect, it needs to come at the right time. So restraint implies its own architecture, its own dramaturgy: a short walk; a tumble off a cliff.
Many of Lepson's earlier poems do appear, at first, to proceed in this fashion. For example, in "July Morning":
Stuck under the pillow, my hand sleeps.
Uncovered, it blushes, pink next to the dark blue sheet.
Held up, it's a white hand filled with lines.
Her economy is transformative, ironic, uncanny.
The hand, anthropomorphized, "sleeps." It is also "stuck." Since it's stuck "under the pillow," naturally we begin to wonder whether the hand "feels" smothered. Then we wonder who the hand belongs to. Whose feelings these are. Hands don't blush. So: who is stuck. Who sleeps. Who blushes. Whoever it is, they are hesitant to reveal themselves, beyond the use of the first-person possessive. The hand is "held up," but the sentence veils the one who is doing the holding. And the feelings, untethered from the human, suffuse—well, everything else:
Sunlight moves into the room like a feeling—
If sunlight's like a feeling, then the room's like a person. Objects stretch, yawn, wake into life.
All the room tilts like a wheel of color.
Then, finally, there's what looks like a payoff, a reveal, an unveiling:
The next time I wake up I will be married.
In another poet's hands this might feel pat. Was this what it was all about? The point?
But Lepson's much sharper than that, and more slippery. Note, for instance, that the finally revealed "I" is still holding back. Restraint's betrayal's betrayed. We don't know, with any certainty, how the speaker feels about the impending marriage. Maybe there's a sunniness. Maybe there's a blush. So maybe it's joy, this feeling. But it's unnamed. All we know is that "the room tilts," which feels dangerous. And that danger propagates backwards through the poem, through the room of the single stanza, unsettling its colors, making you read again.
Earlier, I called Lepson an ironist. What I mean by that is that she's a master of disguise, of subverting expectations—and then of subverting our expectations about the subversion of expectations. Here, for example, is "The Poem of J":
I asked A about it. He laughed and said I already knew about it,
still, he didn't seem to realize my problems were with me.
I asked B about it and she was very upset and said my life was
hard and her life was hard.
[…]
So I called I about it since of all the people I know he seems to
know most about it, but by the time I reached him I was tired
and couldn't sustain the conversation.

Finally I talked to J about it, who is dying this year, and who
didn't feel very much in his life and invented a persona more
consciously than most of us do and he said he hoped he'd find
feeling and learn to love and learn to die.
I wished him luck, and he was astonished that I was crying,
since we had been out of contact for years, but now all that had
angered me seemed petty.
We have a speaker, an "I," which seems to put us on solid, familiar ground. We know how an I works. Don't we?
But the I is looking for an "it," and we don't know what "it" is, which starts to pull us off balance, and then we realize that the I is running through an alphabet of characters, asking each about "it," which gets us wobbling—who wrote this GRE logic problem? Franz Kafka?—and the simplicity of the language begins to feel ominous, and then we get to the part where "I" is asking I about "it," and "I was tired." At which point we're not able to tell whether the tired I is the "I" of the speaker or the I connoting the person the "I" is calling, and how the hell is the speaker being so matter-of-fact about all of this? The referential structure of language has pulled a Lana Turner! and we, and our interpretations, collapse.
It's really hard to be simple. Ruth Lepson does it sublimely well.
Lepson's economy goes further than containment and the failure of containment and the containment of failure. It is transformative, and it is ironic, and in its irony it is uncanny. One of the great pleasures of reading Lepson is the pleasure of encountering objects that, like Bishop's Crusoe's knife, "reek of meaning." Imbued with the emotions that the speaker either will not or can not own, they have been transfigured. I think of fossils, how the soft tissues and protein muck of the animal changes into hard opaline luster: hyalite and menilite and geyserite milky and iridescent.
But a greater pleasure still is to see those meanings shift. The best example of this is "Saturation," from I Went Looking for You:

I thought it was a bird
it was a leaf
thought it was the phone
it was the shower's overtones
I thought it was you
it was you
It's like reading Ovid in reverse.

after I've left
these trees
their insistent green humming
will shine
and all my emotions
will have been
just that
mine
The collection's editor, Ben Mazer, in his introductory note quotes Bill Berkson, saying that every poet wants to "write clearly […] to simply tell." Well, that may be so. But as any ignoramus can tell you, it's really hard to be simple.
Ruth Lepson does it sublimely well.
SAM CHA is a Korean-American poet/essayist. A winner of the 2017 St. Botolph's Club Emerging Artist award, he's the author of a chapbook, American Carnage (Portable Press @ Yo-Yo Labs), and of The Yellow Book ([PANK] Books), a full-length collection of cross-genre work. Cha lives and writes in Cambridge, Mass.
RUTH LEPSON (ruthlepson.com) has been poet-in-residence at the New England Conservatory for 25 years and has often collaborated with musicians. Her new and selected poems is a compilation of her previous books: Dreaming in Color (Alice James Books) and Morphology and I Went Looking for You (both from BlazeVOX [books]), and some newer, longer poems. She is bending toward ecopoetry to the degree that she can.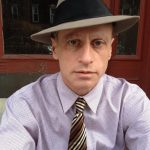 BEN MAZER was born in New York City in 1964, and was raised in Cambridge, Mass. As an undergraduate, he studied poetry with Seamus Heaney at Harvard University. Afterward he completed an M.A. and Ph.D. in literary editing and textual scholarship under Christopher Ricks and Archie Burnett at the Editorial Institute, Boston University. He is the author of 10 collections of poems, including Selected Poems and The Glass Piano (both MadHat Press), and Poems (Pen and Anvil Press). He is the editor of Selected Poems of Frederick Goddard Tuckerman (Harvard University Press), The Collected Poems of John Crowe Ransom (Un-Gyve Press), Selected Poems by Harry Crosby (MadHat Press), and Landis Everson's Everything Preserved: Poems 1955-2005 (Graywolf Press), which won the first Emily Dickinson Award from the Poetry Foundation. This year Spuyten Duyvil will publish Ben Mazer and the New Romanticism, a book-length critical study of Mazer's poetry by Thomas Graves. Mazer is currently editing The Collected Poems of Delmore Schwartz for Farrar, Straus & Giroux (2022). He lives in Cambridge, Mass. Elizabeth Doran photo.