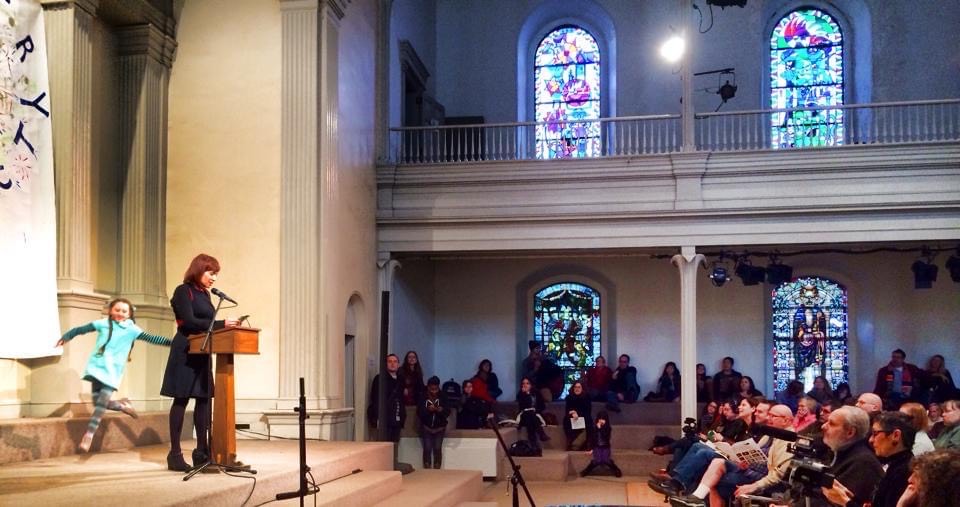 Interview by John Mulrooney
Tracey McTague has been an integral part of Brooklyn's arts scene for years. Her work includes poetry, visual art, and activism at home and abroad. Plus, she mixes a mean drink at Freddy's. I had been looking forward to one of those, but we were relegated to getting together on zoom to talk about life, work, and emerging from the pandemic. 
Boog City: Welcome to Boog City. Thanks for sitting down with us. I'm hoping to talk about Marginal Utility (Trembling Pillow Press) and your visual artwork and how they intersect. But your most recent work is The Book of the New Now (Battle Hill Press), so I thought we'd start there. How did that come about?
Tracey McTague: Well, just being isolated and at home during the first shutdown, and finding a giant box of 1960s life science textbooks for primary school. So yeah, it was a find, and I had been telling these stories that had been growing. It's less poetry, this book than just a way of telling stories. They're kind of biographical stories, I guess. I've only distributed it to a few people so far. I was actually thinking we'd talk about Marginal Utility, as it's the book that's more out in the world.
But there're some things that with language that I enjoy, the not knowing before you know. There's something intuitive your brain knows before you know it.
Yes, well, we all very much look forward to the new now. And yes, perhaps because of the pandemic, I think of Marginal Utility as the new book. although, two years have gone by. One of the things that really strikes me about the book is the way that other languages sort of surface within the text. I see this mostly in the French, which is frequent, but there's bits of other languages, that surface in titles of poems and throughout the text in parts of the poems themselves. There's also scientific language that comes in and well, and there's the title itself which is a phrase we're more likely to see in Barron's than in Boog. How does that work for you?
Well, I think I benefit from displacement a bit. Whether it's geographic, being like a flâneur, or like the photographer Cartier-Bresson, or something, you know, you're, you're wandering in a place that isn't comfortable, but if you allow it, it puts you in that flow state where you're able to actually experience things and hear things – especially language in a different way than you do with your mother tongue. And, when I'm displaced, it's like I'm borrowing language. I think it becomes a little more musical and allows me to access things that might not have been intentioned. It loosens it up for me and so I like displacing myself – it creates a kind of oneness with wherever I am or whatever I'm doing.
I've been reading a lot of [behavioral psychologist Jeanne] Nakamura, and her research into cognitive experience. Her and her colleagues have outlined the cognitive experience of flow – mapping out the way we move through our motivations as those processes relate to our sense of the quality of life. And I've been thinking a lot about that. I think mostly because I'm doing visual art again. The collage work and the painting that I'm doing I've realized are really a process of decolonizing spaces. These cigar boxes that I've been making have little ecosystems in them that I have an uneasy relationship with. And so I've been thinking about, like, what is that urge, with language or with visual art to put myself in a slightly uncomfortable place? It can allow me to become unaware of time and very focused on it. And so, what Nakamura has been doing really speaks to me and seems right in line with what poets, artists, or musicians do. Growing up in New York, there was a constant influx of different languages and cultures. Different classes piling up on each on each other and borrowing from each other. So I think the borrowing of language feels very at home to me, even if it's unsettling. And I've seen in other places too – the Algerians and the Irish live with language mixed together. Maybe more so in other places now. You know, I've felt more at home walking the streets of Beirut that I do in the New York City that exists now.
There's kind of a zeitgeist to it, wanting to seek the disruption and wanting to shut things down.
And so the cigar boxes, I can't explain what started it. It wasn't a didactic exploration of colonization, but they emerged as these little autonomous zones where different forces met. And tobacco I suppose is the perfect conduit for that, you know, it's like the history of tobacco is the history of exploitation – taking land from indigenous people – taking a sacred plant that was used for rituals, and turning it into an addictive commodity, introducing slave labor into the process. And this object that contained cigars becomes a different kind of repository – a place where a child hides their precious things. And the Book of the New Now fits in with this kind of collage work.
Several of these cigar boxes are featured in this issue, correct?
Yes, and I'm making new ones – also cigar boxes – the same materials, but exploring different themes. I've been collecting old school books, medical books – different sources. But working in a similar way – giving myself so much to work with that I kind of get lost in it, far enough that any didactic element fades away. I recently heard an interview with Art Spiegelman, obviously people are asking about Maus (and its recent removal from school reading lists). He made the observation that people thought he created [Maus] to educate people about the Holocaust. And he's like, 'that's not at all what I did.' He says he created it to understand where he came from. So, art is an exploration – it's not a lesson plan. But these things all intersect. It's like the title Marginal Utility, like, I grabbed that name for the book from economics. And this is a bit of an aside, but at a reading at the Plough (The Plough & Stars, Cambridge, Mass.), we had a pile of the books on a table and some guy was flipping through a copy. I asked if he wanted a copy and he looked stunned. Turns out he's an economics student. We laughed but when I first started playing with the term, I didn't even know what it meant. And then, of course, I looked it up and it was resonant enough that I titled the whole book after it. But there's some things that with language that I enjoy, the not knowing before you know. There's something intuitive your brain knows before you know it.
And a term like marginal utility coming from economics, the study of values and resources, transplanted into what we might think of as poetic language or lyric or verse – that is kind of marginalized in there, right? "Marginal," becomes this object example of itself. And you mentioned Algeria and Ireland, places that have languages that have been marginalized by the colonial process. So there's all kinds of ways of thinking about marginality. Does it also allow for a repurposing? And this is something we see in your plastic art, no?
I feel very lucky that I happen to know some really smart, funny, humble people making cool stuff. 
Yeah definitely. The very first cigar box that I made originally had this beautiful image on it – probably 19th century – an idyllic seascape with the boats coming in and the white men getting off the boat and on the shore, and heroically marching in. And so the first thing that I did was to paint the ocean over them in the sand. And it was so satisfying – ruining this tiny little painting in such a specific way. I said to myself, "Oh, well, what should I put in the box?" And the question was wide open.
So, what do you put in it?
Oh, it varies a lot. Right now, I'm going to model shops, where they do train models, and getting the tiny trees and bushes used to create these little …
Simulacra worlds?
Yeah, they're little utopias. I love that word "utopia." It's Greek meaning "no place." But they are little places and there's some language in them too. But the visual element is kind of a break from the other writing that I've been doing.
Yeah, you also have an essay that's coming out in this issue, you're doing other essay work?
No, not really. Essays come to me radically. It's when I think there's something that is very narrative that can't come out any other way. I love much non-fiction writing and research and science, but sometimes I think that stuff gets in the way of writing poetry. Essays are almost like a cleaning cycle for me. It gets all these fascinations with facts and truths and exploration and documenting – it gets it out.
And I think that touch (the essay's main topic) is another kind of margin, no? It's a type of margin between two people or becomes the place where margins break down maybe. Right?
And there's so much that gets explored in the essay about margins between parents and children, spouses, generally and very specifically and the place you find yourself in as a woman writer, and your relationship to writing communities.]
Well, I think I benefit from displacement a bit. Whether it's geographic, being like a flâneur, or like the photographer Cartier-Bresson, or something, you know, you're, you're wandering in a place that isn't comfortable.
Um, yeah, it's such a personal essay. I'm almost reticent to talk about it because it has so much explicated within it. It definitely was cathartic – just writing it – but I really wasn't pursuing bringing it out to a wider audience. But other people I'd shared it with were more pursuing, and really spurred me to getting it out there. And then, you know, I did hear from people who had very similar experiences, that it was helpful. And that kind of made me feel good that it wasn't just my own catharsis, like maybe making other people realize like, oh, wow, I really have felt very marginalized by either an abusive spouse or creative community. A lot of people felt validated by it. So I was like, okay, maybe I should share it with more than just a few friends. But, like I said, it's hard to talk about it, for the content, but also because essays are kind of painful for me in general. It's not poetry. Poetry is fun to talk about. Essays can be bulging with decades of trying to come to an understanding with myself and the world.
And it covers a lot of ground and that ground can be on the surface in a way poems aren't always. But I think your exploration of touch is simultaneously roundabout and thorough in a way that some of the most interesting poems are.
What's also interesting, is that it reflects upon so much of your other reading, its imbued with a sense of putting that reading to work – making the theoretical confront the subjective facts on the ground. And by "putting to work," I guess I mean another sense of utility. Another feature of Marginal Utility that I wanted to ask you about is, I suppose what people sometime call "poetic community." Many of those poems are responsive to other poets – either as dedications or in conversation with them in some way. How does that work for you? Is artistic community maybe the better phrase?
Yeah, I think I do find inspiration from community. That word can be vague. It seems to have quotes around it. But I think my sense of community has expanded since finishing that manuscript, which was like four years ago. There's been an evolution for me – realizing that I'm very inspired by musicians and by scientists and all kinds of other people, actors I know, besides poets or even writers more generally.
There's been an evolution for me – realizing that I'm very inspired by musicians and by scientists and all kinds of other people, actors I know, besides poets or even writers more generally.
I feel very lucky that I happen to know some really smart, funny, humble people making cool stuff. So yeah, community is very inspiring to me. I think I grew up in maybe the last New York ever for that kind of community. It was this block teeming with children from every part of the world with so much happening on any given day, and layers upon layers of different cultures.
And I think because of this I grew up with a sense of almost infinite possibility, of meeting people and being inspired, and learning from them. And so it does give me comfort to write poems to people directly or use their work to help create my work.
I'm going to New Orleans on Monday, and that's been like, one of my biggest alliances. I connect there with this group of incredibly socially and creatively porous, people. It's an incredible scene and very unlike New York, at the moment anyway. They are super supportive, and there's very little judgement about where you've studied, or where you're tenured. At a reading you'll have hat designers, jazz musicians, and maybe a poet or two. And it's a packed audience, no matter what day of the week. I've had some great collaborations with people down there. And I seek that out. New York, it tends to offer less and less actually, in those terms anyway, in terms of a community that is just very present in the work they're doing.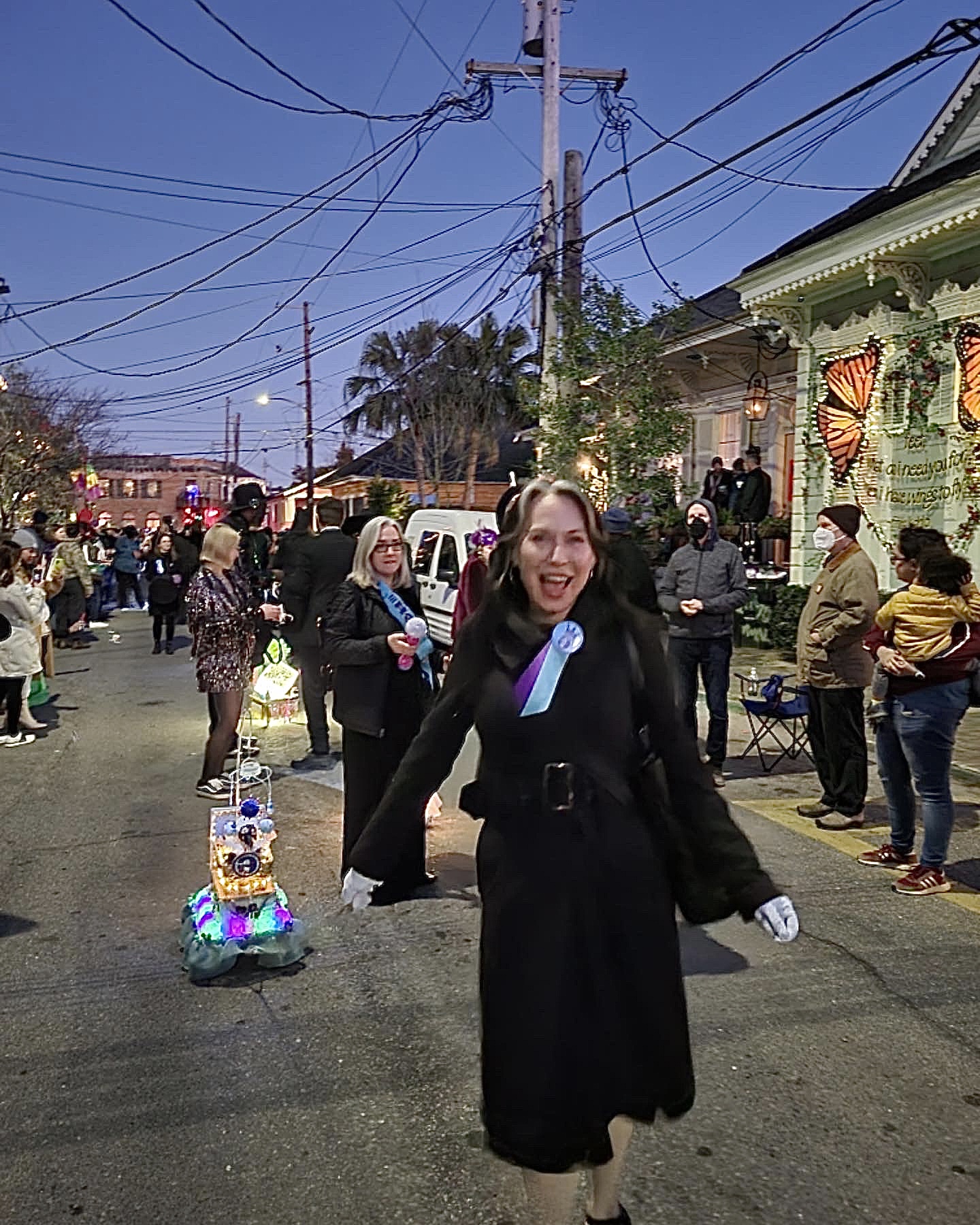 I was gonna mention New Orleans, because I know it's an important place for you and your work. But there're other locations as well. And that's another kind of dislocation, no? Perhaps one that has a different kind of energy to it, right? That one an energy you can draw from? We often apply a negative connotation to dislocation, it's likely the prefix. But it seems there's a way for dislocation to actually be an energy that feeds your work. Does that make any sense to you?
So, it's kind of that flâneur thing again, a sort of dislocation where I do feel very much at home. When I'm in a place that has a lot of cultural layers, like Beirut or Morocco or New Orleans, I feel very comfortable, maybe because they replicate something of the New York I grew up with. It's not the same culture as New York, obviously, in the, you know, '70s and '80s. But there's a similar feeling among inhabitants that systems can't be trusted. This city then was, quote, unquote, falling apart, but culturally, there were amazing things happening. Poetry and art and painting were flourishing and everything that was bubbling up out of them defied the economic prognoses, the other people who looked at the city as dying.
And it was a great time for a kind of dissident in New York. The activists who questioned white supremacy and colonialism – for whom feminism was not a dirty word – they were working class people. It was like a very amazing time for working class people, and I was lucky to catch a little brief last window of that. I think that's why I feel really comfortable in another culture that's going through a transition, economic, political, creative. I love finding my place there – it's like finding maybe a stability in the entropy,
A stability in the entropy?
Kind of like the eye of the storm
That's a great phrase, I might steal it from you.
We can share.
Because one might say there is a kind of entropy happening at several levels throughout the U.S. – the vicious political machinations of recent years and their ongoing manifestations.
Yeah, and when these systems of control break down, you know, people, sometimes start to really question. Right now, it feels like most of the country isn't questioning the systems of control, but there have been little moments, like Black Lives Matter or Occupy Wall Street, little moments where you feel everyone's seeing through the grid. There's kind of a zeitgeist to it, wanting to seek the disruption and wanting to shut things down. And it's exciting to me, when that happens.
You know, the system very quickly tries to correct this, these anomalies, but they can be very energizing culturally. The pandemic itself isn't a positive, there's massive death and pain. But if people go through it and see how flawed, let's say, the health care system is, or the true impact of income inequality, you know, if people start to maybe question the Kardashians, instead of following them – that could be a good thing to come from it, you know? So yeah, so I guess what I'm saying is, John is I love it when things are shitty, like fantastic.
Well, the world will probably accommodate that. Here's to more shitty times.
Cheers.
Click to Visit More from Tracey McTague
—Reading at Welcome to Boog City 15.5 Arts Festival

TRACEY MCTAGUE is a writer and visual artist born and raised in Brooklyn, N.Y. She utilizes a language informed by ecopoetics and the oral traditions of the seanchaí. Gathering from cross-cultural cosmogonic myths from our collective unconscious, she harnesses the micro protests of our ancestral mycorrhizae as weaponized forms of macro survival.
McTague received her education in fine art and film at The New School for Social Research. She worked for Michael Moore on The Awful Truth, harassing CEOs via the art department. She has also worked for the Association for Cultural Equity and in the Allen Lomax archive, helping to preserve and prepare his vast collection of music for the Library of Congress while contacting all living descendants for ancestral reparations for everything we call music. She works for the Irish peacemaker Prof. Padraig O'Malley, who specializes in the problems of divided societies such as South Africa and Northern Ireland. She also created a photo project for an 11-nation secular collective seeking to help empower European Muslim youth through self-expression and socio-political documentation. 
She was an editor and the art director of Lungfull Magazine for 12 years, and hosted the Battle Hill Reading Series for five. Her art, essays, reviews, and poetry have been in The Brooklyn Rail, The Poetry Project Newsletter, and The Poetry Foundation's Harriet Books, among others. She is author of Super Natural and Marginal Utility, both published by New Orleans' Trembling Pillow Press.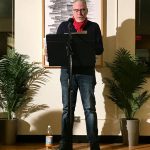 JOHN MULROONEY (canwehaveourballback.org/f/john-mulrooney) Is a poet, filmmaker, and musician living in Cambridge, Mass. He is author of If You See Something, Say Something from the Anchorite Press and co-producer of the documentary The Peacemaker, from Central Square Films. He serves as poetry editor for Boog City. He records and performs regularly with a number of musical groups in the greater Boston area. He is an associate professor in the English Department at Bridgewater State University. His work has appeared in Fulcrum, Pressed Wafer fold 'em zine, Solstice, the Battersea Review, Poetry Northeast, Spoke, Let the Bucket Down, and others.