In 2003, the owners of ACA Galleries, Dorian and Geoffrey Bergen, asked me to start a monthly reading series at their beautiful space in Chelsea. I wasn't sure what I wanted to do, just that I didn't want to do another two-reader reading series. I thought about my trips to visit family in the Bay area each of the past two years and organizing Boog events for each trip, and how difficult it was securing venues.
So I decided we would do a reading series honoring my small press compatriots, that we'd provide non-NYC presses a space each month where we could host their authors and a local music act and they wouldn't have to stress out about nailing down a venue. (And one month a year we'd have a group event saluting local presses.) I named it after one of my poet-publisher patron saints,  "d.a. levy lives: celebrating renegade presses."
ACA graciously hosted us from 2003-2012, and since then the series has taken place briefly at the late Sidewalk Cafe before moving in 2013 to its current longtime home, Prospect Heights, Brooklyn's Unnameable Books.
In our first almost 19+ seasons, we've played host to 114 Non-NYC small presses and 66 NYC ones. One of those presses, in November 2007, was Maureen Thorson's Big Game Books, hailing from Washington, D.C.
I found in my archives recently a copy of Tinyside #19, 99¢ Heart, a 50-copy chap from Ada Limón put out by Maureen and Big Game Books for its 2007 event in the series. You have to love the last line of Ada's bio: "She is very tiny and very much on your side." I remember Maureen giving me a bunch of Tinysides outside the gallery on West 20th Street just below 11th Avenue.
And below this note is a post about the reading from the blog Chicks Dig Poetry, occasional postcards from Washington, D.C. writer Sandra Beasley. In it Sandra mentions a special Big Game Revue that Maureen published 50 copies of for the occasion of this event. I checked with her and asked if she had a physical copy of that she could digitize for all of us, and a few hours later, there it was, pictures of every page of a pretty damn great pub in one lovely pdf, which i've included on this page. Thanks Maureen for the night and for joining me to revisit it all over again.
————————-
November 29, 2007
Postcard from the Wandering
Thanks to everyone who came out to ACA Galleries in Chelsea. What a great reading! Maureen was a snazzy hostess; Ada Limon read some poems that sang, whistled, snapped and sizzled; Logan Ryan Smith came all the way from San Francisco; Shafer Hall was absolutely Shafer-esque. Alex Battles, a.k.a. Whiskey Rebellion, was pretty damn funny and on occasion, heart-breaking. To honor the evening, Maureen assembled a "Big Game Revue" that included new poems from most of the Tinyside contributors; at $5 each, they were a steal. Watch for them to be offered (out of a very exclusive run of 75) at future BGB readings.
My visual art investigates intersections between the seen and heard, and the past's implications for the future. It derives energy from the hidden overlaps of public, private, and secret spheres. For years I've documented participants at literary events, capturing ephemeral moments with images and text. Most recently I've used the visual vocabulary of fantasy cartography to present psychological topographies born from literature and music. Each map is hand drawn and letterpressed in a small edition on archival paper, never to be reprinted. They invite the beholder to get lost within their wild landscapes, each named for a trailblazing writer or musician, and to discover themselves in new worlds perhaps better than this one. They pay homage to the worldbuilding practices of Tolkien's Lord of the Rings, Gygax's Dungeons & Dragons, and Juster's The Phantom Tollbooth. But they owe an equal debt to the earthbound cartographers of the Age of Exploration, like Al Idrisi, Fra Mauro, and Gerardus Mercator. Now that our usual habits, motives, and methods for movement and action have been so disrupted, these maps offer new techniques for travel and adventure.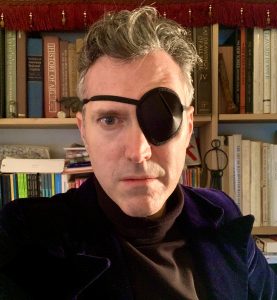 BRENDAN LORBER is a multi-disciplinary artist who uses visual art, poetry, prose, and performance to explore unresolvable tensions, the limits of communication, and the tidal cycles of noise and silences in the immediate environment and the broader Anthropocene. His visual art is in private collections in America and Europe, at Opus 40 Gallery, and in The Museum of Modern Art. His first full-length collection of poetry, "If this is paradise why are we still driving?" came out in 2018. His poems has appeared in such journals as American Poetry Review, McSweeney's, and The Brooklyn Rail. He is the recipient of several grants from The New York State Council on the Arts and The Council of Literary Magazines and Presses. For 20 years he edited Lungfull! magazine, now in hibernation, a literary and art journal that publishes the rough draft of contributors work so you can see the creative process. He's hosted reading series and cultural events, taught workshops, and was the editor of The Poetry Project Newsletter. The people he's met in this long-term role as organizer and instigator have made his writing and art what it is. He lives in a tiny castle across the street from the Green-Wood Cemetery in Brooklyn.