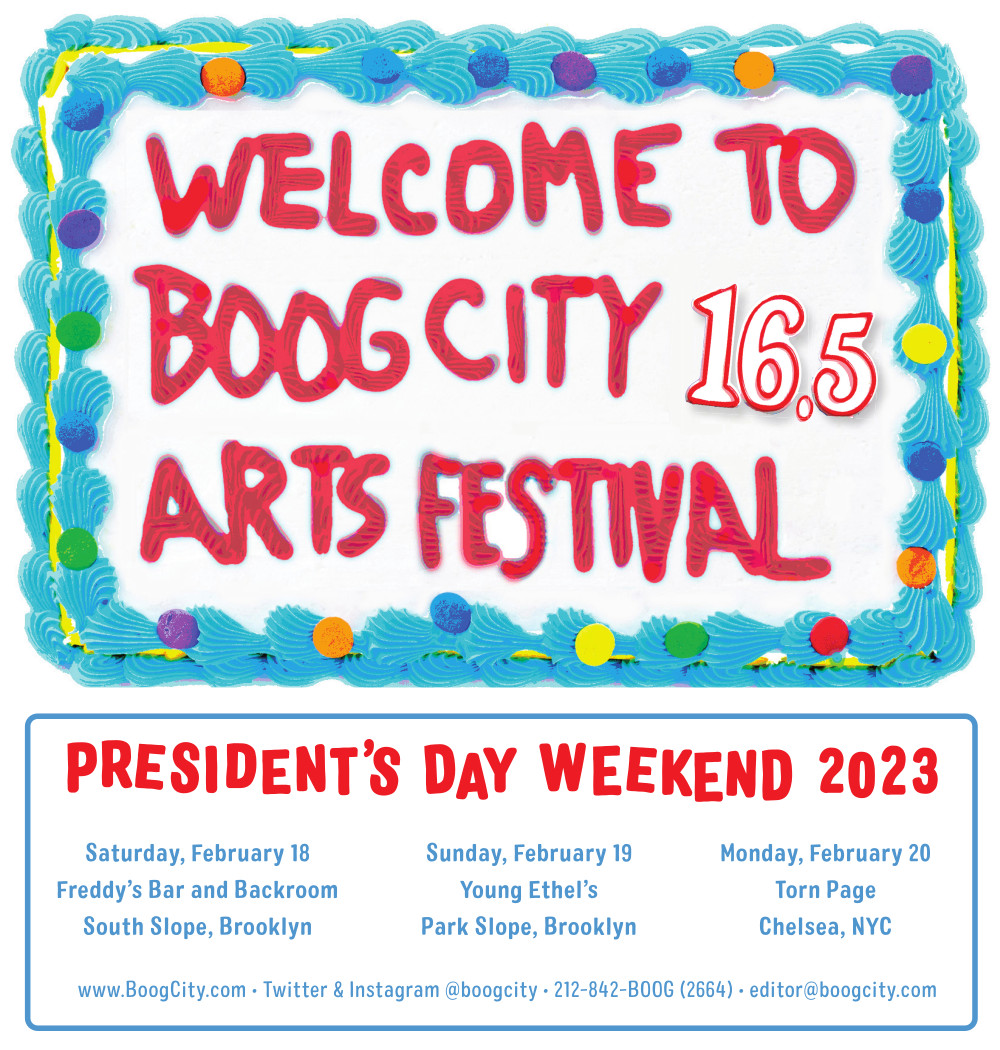 Who's Performing and How and When to Watch
Monday February 20


330 W. 28th St., Apt. 6H, Buzzer 7153
Chelsea, NYC
Directions: 1/9 to 28th St.
A/C/E to 23rd or 34th Street
Venue is between 8th and 9th avenues
https://www.paypal.com/us/home to editor@boogcity.com or 
https://www.venmo.com to David Kirschenbaum.
Thank you for your continued support.
The event will also be streamed via Facebook Live
https://www.facebook.com/groups/115605743040
And it will be available online in full the next day at
https://www.youtube.com/channel/UCGD_RIKdy7P9fdpIugMgoLg/featured
11:00 a.m.
Vincent Katz (poet)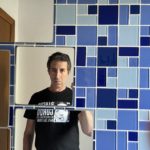 Vincent Katz is a poet and translator. He is the author of the poetry collections Broadway for Paul, Southness and Swimming Home, as well as The Complete Elegies of Sextus Propertius. He has curated exhibitions on Black Mountain College and Rudy Burckhardt and recently co-curated a retrospective of the films of Isabelle Huppert at Film Forum in New York. He lives in New York City.

Bob Holman (poet)
http://bobholman.com/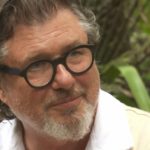 Bob Holman's granddaughter Lenny and Anne Waldman's granddaughter Kora were born on the same day in 2020.

Brian Ember (music)
https://www.youtube.com/channel/UCBw6ddSCNaOecAXhcg5GaYg
@poetry4cowards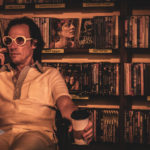 Brian Ember is a poet, composer, and singer from New Haven, Conn. He read and featured regularly in the late '90s at "I Can't Believe it's Not Poetry," Saturn Reading Series, Avenue B Social Club, and the 37th Street Loft. In 1998, he hosted Open Mic Surgery at LaLita Java Cafe on East 4th Street in New York. Twenty-four years later, Brian revived Open Mic Surgery; now a weekly reading series at Volume Two: A Never Ending Books Collective in New Haven. He is hoping to one day die. Ellektra Morrison photo.

Lee Ann Brown (poet)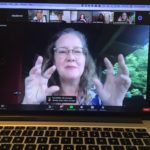 Lee Ann Brown is a poet whose most recent publication is a collaboration with Bernadette Mayer, Oh You Nameless and Unnamed Ridges (1080press). She lives in the Chelsea neighborhood in Manhattan, above Torn Page, where she hosts poetry happenings. She is the editrix of Tender Buttons Press, teaches poetry at St. John's University, and will be guest faculty at the Jack Kerouac School of Disembodied Poetics at Naropa University this summer 2023 leading a workshop on Poets Theater in collaboration with actor and director Tony Torn. Julie Ezelle Patton photo.

_______________________________________________________
Torn Page
435 W. 22nd St. 
Chelsea, NYC

Directions: 1/9 to 23rd Street
A/C/E to 23rd Street
Venue is between 9th and 10th avenues

$8 suggested

https://www.paypal.com/us/home to editor@boogcity.com or 
https://www.venmo.com to David Kirschenbaum.

Thank you for your continued support.
The event will also be streamed via Facebook Live
https://www.facebook.com/groups/115605743040
And it will be available online in full the next day at
https://www.youtube.com/channel/UCGD_RIKdy7P9fdpIugMgoLg/featured
1:00 p.m. Lee Ann Brown (poet)
see 11:00 a.m.

1:10 p.m. Karin Randolph (poet)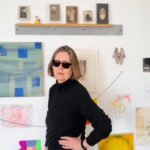 Karin Randolph is the author of Either She Was (a Marsh Hawk Press Poetry Prize Winner, judged by David Shapiro). Most recently Published in New American Writing 38, 39, and 40. She lives in Bushwick. 
1:20 p.m. Brian Ember (poet)
see 11:00 a.m.

1:35 p.m. Janet Restino (poet)
www.janetrestino.com. (coming soon!)
www.youtube.com/c/janetrestino/videos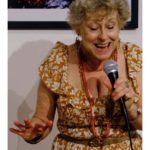 Janet Restino is a "streams of consciousness" multimedia visual artist/writer/performer who likes to burst into song during her readings. Deeply influenced by jazz and blues, she's featured in many notable NYC clubs, cafes, galleries, and art and poetry festivals (HOWL, NY Poetry) sometimes with musicians … since Folk City in the '80s.  She produced Nitty Gritty Summer in the City at the Garden 6th and B and "Heart & Soul," a radio show. She got a grant from the Hell's Kitchen Foundation for her artwork and one from Poets & Writers to Livestream her "Love's Body" book launch. Enid Farber photo.
1:45 p.m. Yerra Sugarman (poet)
yerrasugarman.com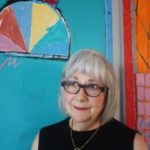 Yerra Sugarman is the author of three full-length volumes of poetry, most recently Aunt Bird (Four Way Books), which won the American Book Fest's 2022 Annual Best Book Award for General Poetry, and was a finalist for the National Jewish Book Awards in Poetry. Her poems have appeared in Ploughshares, The Nation, New England Review and elsewhere. She is an American poet, essayist, and teacher, living in New York City. The daughter of Jewish Holocaust survivors, she grew up in a community of Holocaust survivors in Toronto, where she was born. 


1:55 p.m. Anne Waldman (poet)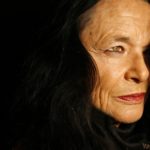 Anne Waldman is the author of over 60 volumes of poetry, poetics, and anthologies, including the 1,000 page epic The Iovis Trilogy: Colors in The Mechanism of Concealment (Coffee House Press), which won the Pen Center Literary Prize for Poetry. Her album Sciamachy was released in 2020 by Fast Speaking Music and the Levy-Gorvy Gallery in NYC, and Patti Smith has called it "Exquisitely potent. A psychic shield for our times." New Weathers: Poetics from the Naropa Archive (co-edited with Emma Gomis) from Nightboat Books, and her hybrid  archive-memoir Bard, Kinetic (Coffee House Press) have recently been released. A new album Ekajati is in the works. Waldman created the libretto for Opera Black Lodge, with music by composer David T. Little, and it had its premiere at Opera Philadelphia last year.  

2:05 p.m. Brian Ember (music)
see 11:00 a.m.
2:20 p.m. Robert Kocik (poet)

Robert Kocik is a writer, prosodist, artist, and design/builder of Podhale Górale descent. With choreographer Daria Faïn he co-founded an experiential field of research called The Prosodic Body and a multi-lingual/racial/generational performance group known as the Commons Choir. Architecturally, he seeks out projects  in need, with social vision or beneficial mission, using methods that countervail the usual violence and exclusivity of the construction process. Over the last six years he has taught a course titled Prosody and the Preciousness of Life, online and live in NYC where he lives. Publications include Supple Science (ON Contemporary Practice), Overcoming Fitness (Autonomedia), Rhurbarb (Field Books), E-V-E-R-Y-O-N-E (Portable Press @ Yo-Yo Labs), and WHAT (Auric Press). 
2:30 p.m. Diana Goetsch (poet)
www.dianagoetsch.com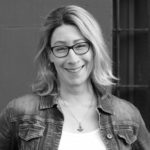 Diana Goetsch is the author of eight collections of poems, including Nameless Boy and In America, and a memoir, This Body I Wore, which The New York Times has called "achingly beautiful." Her work has appeared in leading journals and anthologies, including The New Yorker, Poetry, Gettysburg Review, LitHub, The American Scholar, The Pushcart Prize, Best American Poetry, and NPR's Fresh Air with Terry Gross. Goetsch is a recipient of fellowships from the National Endowment for the Arts, the New York Foundation for the Arts, and The New School, where she was the 2017 Grace Paley Teaching Fellow. She resides in New York City.
2:40 p.m. Amy Barone (poet)
https://www.facebook.com/amy.barone.98
https://www.twitter.com/amybbarone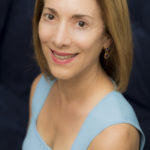 Amy Barone's new poetry collection, Defying Extinction, was published by Broadstone Books last year. New York Quarterly Books released her collection, We Became Summer, in 2018. She wrote the chapbooks Kamikaze Dance (Finishing Line Press) and Views from the Driveway (Foothills Publishing.) Barone's poetry has appeared in Local Knowledge, Martello Journal (Ireland), Muddy River Poetry Review, New Verse News, and Paterson Literary Review, among other publications. She belongs to the Poetry Society of America and the brevitas online poetry community. From Bryn Mawr, Penn., she lives in New York City.
2:55 p.m. Anne Tardos (poet)
https://annetardos.com/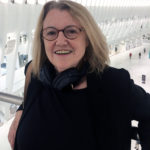 Anne Tardos is the author of 11 books of poetry, and editor of three posthumous collections of poetry by Jackson Mac Low. Her work has been translated and published in dozens of anthologies and journals around the world.

Tardos pioneered a unique multilingual writing style, often complementing her texts with video stills, photographs, and collages. Her writing is renowned for its fluid use of multiple languages and its innovative forms. She has worked in numerous media, creating performance pieces, radio plays, videos, and musical compositions. Her multilingual and multimedia works have been presented at the Museum of Modern Art, New York; the West German Radio, WDR; the XLIV Venice Biennale; and in many international sound poetry festivals, including Festival La Bâtie, Geneva; text- ljud Festival, Stockholm; Scene Wien, Vienna; and Zwischentoene, Cologne.

Among her grants, fellowships, and commissions are The Ford Foundation, Experimental Intermedia Foundation, Judith Rothschild Foundation, New York Foundation for the Arts, and the Emily Harvey Foundation. Her works have been commissioned by baritone Thomas Buckner and the Dominque Lévy Gallery.
3:05 p.m. Andrei Codrescu (poet)
https://www.codrescu.com/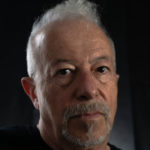 Andrei Codrescu was born in Sibiu, Transylvania, Romania, and emigrated to the United States in 1966. Codrescu is the author of numerous books: poems, novels, and essays. He founded Exquisite Corpse: a Journal of Books and Ideas. He was a regular commentator on NPR's All Things Considered. He taught literature and poetry at Johns Hopkins University, the University of Baltimore, and Louisiana State University. Noah Krueger photo.
3:15 p.m. Edwin Torres (poet)
@Brainlingo_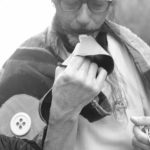 Edwin Torres is an NYC native, and editor of The Body In Language: An Anthology (Counterpath Press). His current book Quanundrum: i will be your many angled thing (Roof Books) received a 2022 American Book Award from The Before Columbus Foundation. Other books include; Xoeteox: the collected word object (Wave Books), The Animal's Perception of Earth (DoubleCross Press), and Ameriscopia (University of Arizona Press). Anthologies include New Weathers: Poetics from the Naropa Archives, The Difference Is Spreading: Fifty Contemporary Poets on Fifty Poems, and Poets In The 21st Century: Poetics of Social Engagement. No land photo.
3:30 p.m. Brian Ember (music)
see 11:00 a.m.
19th Boog Poets Theater Festival
3:45 p.m. Marzia Dessi, The Dord is Sounding
"We need yeast."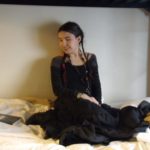 Marzia Dessi (https://www.marziadessi.com/) is the editor and founder of Otherwise Engaged Literary and Arts Journal. She is a German-based writer and former New Mexico public high school world history teacher. Some of her works include The Fish and the Bicycle, The Land of the Summer, and Centipedes Crushed on the Sidewalk. She is pursuing her Ph.D. at the European Graduate School. She takes her inspiration from liminal spaces where the mundane meets the extraordinary and enjoys when theory meets practice.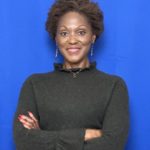 Beverly Gunn is a creative, talented actor, model, talents yet to be developed. She has studied acting at Playhouse West Philadelphia and Michael Howard Studios, NYC; and has performed in numerous plays, films,and commercials.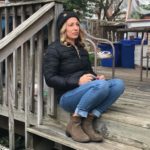 Wendy Leigh is an actor, director, filmmaker, and creative collaborator from Egg Harbor Township, N.J. Over the past three years, Leigh has acted in independent films throughout the Greater Philadelphia Area and also on stage with avant-garde theater group, N1 Theatre, in Philadelphia and New York City.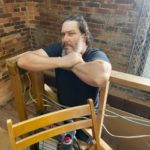 Paul Pirozzi is an American actor, producer, singer/songwriter, technician who has worked with Dennis Moritz for the past 20 years. Wharton has worked around the world as an actor and musician. He has performed in One Flew Over the Cuckoo's Nest, Ibsen's A Doll's House, and Dennis Moritz's Uncle which was performed in New York City, Philadelphia, Los Angeles, and New Zealand. Wharton recently released a 12-song record Americana with the song "Men Among Men" being featured in the latest Ron Perlman's movie, The Last Victim.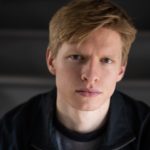 Will Rittweger is an actor, writer, director, and filmmaker from Howell, N.J. Over the past four years, Rittweger has acted in independent films throughout the Greater Philadelphia Area and also on stage with avant-garde theater group, N1 Theatre, in Philadelphia and New York City.

3:55 p.m. Ann van Buren, Author, I AM Memory
I AM Memory threads intergenerational stories of survival and loss that repeat without conclusion.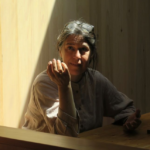 Ann van Buren (annvanburen.com) writes poetry, literary journalism, and freestyle. She holds degrees from Columbia, NYU, and The Palmer School, and she is deeply immersed in contemporary poetry through independent reading and writing and her work as interviewer for the Katonah Poetry Series. She is honored to be part of this Boog City Poets Theater event.
Beverly Gunn, RAntonia
Wendy Leigh   BOita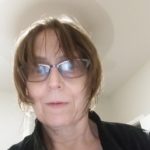 Lesa Reisman, IAnna, is a two D visual artist, has been engaged in different performance realms one way or another since 2015. She does live performance, audio experiments, commercial videography, and art modeling. She recently expanded to acting and mentoring with Dennis Moritz, playwright. She currently engages art by painting and exploring the multi dimensional, personal script studies of Dennis' work.
4:05 p.m. Karin Randolph, Madrid
So Ok I did sometimes look older.
See Randolph 1:10 p.m.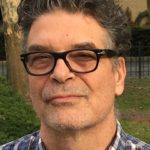 KB Nemcosky is the author of three books of poems, Drift (Ten Pell Books), dear friend (Straw Gate Books), and Early Exits (United Artists Books).
4:15 p.m. Evangeline Johns, The Laser Man
A selection from Vangie's sci-fi epic poem "The Laser Man."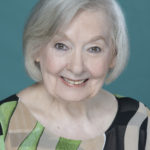 Evangeline Johns is a singer (songs were meant to sing), poet (poems were meant to be read—out loud) actress on the scene for many decades (thankful).
4:20 p.m. Ariana Johns, 17  Restless Ghosts
A memoir of a haunted childhood in the West Village.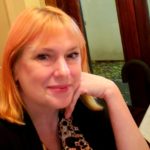 Ariana Johns has written two musicals, has had several poems and stories published, and has recently completed her first book, Portable Strangers.
4:25 p.m. Dennis Moritz, Oprah (1 and 2)
Oprah 1: "have you seen the swifty swifter such a breakthrough, such an easy to use wonder about it technology."
Oprah 2: "blood, real blood."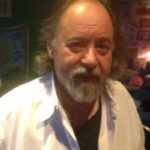 Dennis Moritz writes a lot of plays that get produced and published. Works have been produced on main stage and in  improvised spaces. He prefers to work in bars and art galleries. Angel Hair/United Artists Books published two collections of his theater works, the only plays in their catalog.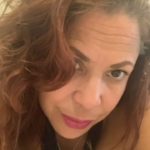 Oprah 1. Melissa Sabater (Anna) is an actor and writer living in Philadelphia.





Oprah 2. Beverly Gunn plays Angel
4:35 p.m. Andrei Codrescu, Philosophers on Laughter
What's so funny about it?
See Codrescu 3:05 p.m.
Beverly Gunn, Wendy Leigh, and Will Rittweger play multiple roles. Paul Pirozzi plays electric guitar.