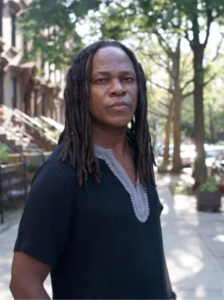 On the Fender
Of the misplacing of
the best kept cultural
secret of a film crew
(trying to get a sponge)
no pussyfooting
with a calabash
(earring and leather in a thesis)
of the striding bass
directing the show
this stuff has nothing to do
with earthly peace
it's raining on the quadrangle
she made you pay
for that chord progression
those street parties
that turned into protests
near a skating rink
a soundtrack that
left you a bit restless
and self-obscuring
cut into the subterranean footage

Come see Uche read on day two of the Welcome to Boog City 16.5 Arts Festival on Mon. Feb. 20 at 8:00 p.m. at Young Ethel's in Park Slope, Brooklyn. Details here:
https://wordpress.boogcity.com/2023/02/13/welcome-to-boog-city-16-5-arts-festival-mon-feb-20-2023/
UCHE NDUKA (https://uchenduka.com) is the author of 13 volumes of poems of which the most recent are Facing You (City Lights) and Scissorwork (Roof Books). His writing has been translated into Italian, Romanian, German, Arabic, Finnish, Turkish, Serbo-Croat, and Dutch. He presently lives in New York City and teaches at Queens College and The New School-Eugene Lang.