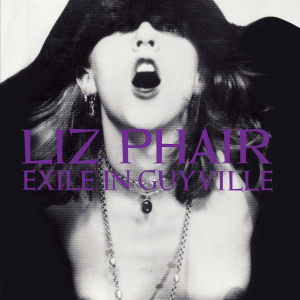 Mama Tried
787 Third Ave. (at 27th St.)
Sunset Park, Brooklyn 
R to 25th St., D to 36th St $8 suggested
As Phair composed each song on her Exile as an answer to the same number track on The Rolling Stones' Exile on Main St., we're opening the show with six poets taking one three-song slot each from Guyville and penning response poems to those songs. Following those new Guyville-inspired poems, we will perform the album, in order, track-by-track.
First, the Guyville inspired poems
**GILLIAN MCCAIN
Gillian McCain is the co-author of two non-fiction books: Please Kill Me: The Uncensored Oral History of Punk and Dear Nobody: The True Diary of Mary Rose, both with Legs McNeil. She is also the author of three books of poetry: Tilt, Religion, and, in collaboration with Jeffrey Conway and David Trinidad, Descent of the Dolls. In the early '90s she was the program coordinator of The Poetry Project at St. Mark's Church, where she originated the Friday Night Event Series.
"6'1""
"Help Me Mary"
"Glory"
RACHEL ALLEN (hypotheticalbooks.com) is a poet in New York, sometimes North Carolina. Recently her work has been piublished by Spectra, Expat, Archqways Editions, The Poetry Project Newsletter, Best American Experimental Writingm and Metyatron, She was previously an editor at Asymptote and Giuernica. Allen assists production at The Poetry Project and operates Hypothetical Books from her backyard in Brooklyn.
"Dance of the Seven Veils"
"Never Said"
"Soap Star Joe"

**REBECCA FAULKNER (www.rebeccafaulknerpoet.com/) is a London-born poet based in Brooklyn. The author of Permit Me to Write My Own Ending, (Write Bloody Press) her work appears in New York Quarterly, Solstice Magazine, The Maine Review, CALYX Press, Berkeley Poetry Review, and elsewhere. She is the 2023 recipient of the Barbara Deming Fund for Women, the 2022 winner of Sand Hills Literary Magazine's National Poetry Contest, and the 2021 Prometheus Unbound Poetry Competition. Faulkner was a 2021 Poetry Fellow at the Saltonstall Foundation for the Arts. She is at work on her second collection, exploring female identity and artistic endeavor. 
"Explain It to Me"


**ORLY BEN DAVID (orlybendavid.com/) has the soul of a poet and the heart of a warrior. Her songs often explore life's darker side, shining a light onto difficult emotional situations with unforgettable melodies and lyrics that combine humor and uncompromising honesty.

"Fuck and Run"


**DIDI CHAMPAGNE has performed on NYC stages for close to 40 years, playing with her band at CBGB'S, The Bitter End, and many other music venues and has a few albums of original music. She has also contributed her voice reading poetry with JD Rage at ABC NO Rio, Cornelia Street Cafe, Gargoyle Mechanique, and countless other venues from The Poetry Calendar she collected every month at St. Mark's Bookshop. She has also attended thousands of art exhibitions that she found inspiring which became a reflection of her artwork! Life of a Kalamata, is her later book of poetry and art.
"Shatter"
"Flower"
"Johnny Sunshine"

**CECILIA STELZER (https://ceciliastelzer.straw.page) is a poet and painter living in Brooklyn. Stelzer received her Master's in creative writing from Eastern Michigan University. She is an intern with Roof Books and an events volunteer with The Poetry Project, as well as an assistant at The Metropolitan Opera Guild. Her work has been published or is forthcoming in Moss Trill, Sonora Review, White Wall Review, The Ana, and Pank, among others.
______________________
–Followed by the album performed live by
**TODD & MICHELE
(
www.facebook.com/toddcarlstromandtheclamour
/
soundcloud.com/todd-carlstrom
)
never knew they were a band until they were. In bands like Todd Carlstrom and the Clamour, The Domestics, Heroes of the Alamo, and the Dirty Vicars, Todd has subjected NYC to different aspects of his musical obsessions for 25 years. Michele Naumann is an actress and a massage therapist who made her live music debut in Boog shows past.
"6'1""
"Help Me Mary"
"Glory"
**DAVID REW STARR is a mom, songwriter, illustrator, and actress. Crowned Miss Underground NYC and dubbed a "firebrand" by The New York Times, Rew channels equal parts Courtney Love and a gothic version of Olivia Benson from Law & Order. Rew is deeply rooted in the East Village music community and comes from a family of troubadours. Her grandmother performed in Vaudeville, while her great grandmother ran a speakeasy in the LES during prohibition. She is signed with Manta Ray Records and sponsored by Daisy Rock Guitars. Rew, is often called a female Lou Reed and Courtney Love singing w/ Dylan lyrics. Her song "u suck" won Best Punk Song on Pirate Radio of the Treasure Coast and was featured on the TV show The Bad Girls Club. Rew was featured on Love Lust or Run, with Stacy London as a musician artist. (TLC)   
"Dance of the Seven Veils"
"Never Said"
"Soap Star Joe"

**SU POLO (supolo.com) Su Polo is a poet, writer of vignette stories, and singer-songwriter playing dulcimer and guitar. Polo is also a watercolor painter. Her two chapbooks are Turning Stones and Beauty. She was host and curator of the long-running Saturn Series Poetry Reading and Open Mic in NYC for 25 years every Monday night.
"Explain It to Me"
"Canary"
"Mesmerizing"

**ORLY BEN DAVID
See above
"Fuck and Run"
"Girls! Girls! Girls!"
"Divorce Song"

**BLUEBERRY HI HEELS was formed by singer/songwriter/bassist Didi Champagne in 2007. The band has graced NYC stages for a few years now, playing rock clubs, festivals, and occasionally unplugged. They play all original music and have  been described as fresh indie rock music with a modern poetic sound. The lead/ rhythm guitarist Gai is a college graduate of music and his style blends within the music adding his professional touches  of soul and funk. The drummer David is a graduate of Berkelee College of Music and has had many accomplishments throughout the years and is a truly fantastic professional musician . Please check them out!

"Shatter"

"Flower"

"Johnny Sunshine"

**PTR KOZLOWSKI (youtube.com/ptrkoz) first learned guitar at sixties-style hootennanies and went on, in the '70s, to do covers of singer-songwriters like Jackson Browne, Stevie Nicks, and Leonard Cohen among others, performing alone and with a couple of singing groups. 
In the Eighties he joined downtown poet JD Rage in her East Village New Wave band Baby Boom. They played CBGB's, A-7, and the SIN Club, among others. and put out a four-song EP. 
Kozlowski spent a number of years with a good-paying day job and a not-so-good work/life imbalance. But he kept saving up to get back to music. He played with a Connecticut grunge band Damned Inflation, and a new-age group, Column 9, based in San Francisco. Along the way he's had over two dozen poems published in journals and anthologies. In recent years Ptr has been making videos of many poetry readings around NYC, hosted on his own YouTube page and those of others. Now living in Brooklyn, he reads and sings at New York area open mics and readings.
"Gunshy"
"Stratford-on-Guy"
"Strange Loop?"