A Poem for the Euthanized
Black & Buckskin tones reflect golden rays of sunny days blessing
smooth coats of fur. Chocolate poured over an athlete's body bred
To fight. To protect. To survive. A body built to intimidate
a world it wishes to love, running under Magnolias & between
Daffodil laced fields. A body built to live in steel ropes hidden
behind the house so as not to scare.
Grey, blue, green, & brown jeweled eyes make
this beast an enviable animal. Curves & power doctors dream
to study & to mimic & to claim as their own creation
as if God themself did not conjure these shapes only found in nature. 
Envy & dreams clearing vision to see a justice system voided
against their beautiful black & brown colors.
Over 20 countries have laws against Pit Bulls. 
The Americas. Europe. Asia. Segregating. Sterilizing. Euthanizing. 
Locked in chains. Their kind a crime. Undeserving
of mingling with others. Undeserving of living. Illegal 
to be Black, I mean a Pit Bull. Stolen from their homes
like property sold owner to owner. 
Once America's breed, symbolizing strength & courage. Flags tied
around her throat like a bandana. Or maybe a noose? Collar bleeding
as knots grow tighter.  In a time of war, defending
a nation against a globe. Defending patriotism that would one day repaint
her into a bitch worth leaving in the streets.
Pit Bulls. The abused. The abandoned. & still the second most tolerant.
Test patience & a Chihuahua will bite first. & I read
German Shepherds attack more people & have one of the strongest bites.
Strong enough to break a bone like how a lightning bolt cracks a tree.
& I know German Shepherds are police dogs. Obedient I've heard. & smart.
Imagine something you cannot stop patrolling your city. Protecting & serving.
Pit Bulls. The abused. The abandoned.
& the most killed. 40%. & the most common in shelters. 50%.
20% of Black women raped. Nightmares silenced by questions & more silence.
40% of Black women abused. Bruises blending into foundation & concealer.
90% of Black women know their killer. Death promised inside a home.
I couldn't find these numbers for German Shepherds.
Once called the Nanny dog. Because the Pit Bull is loyal. She is caring.
Because she gives from her own milk to nourish a child lighter than her.
Not like her. Not like her own pups who die because she has a job to do.
Because a Black woman is 3 times more likely to die from labor.
& she remains a mother, a martyr with no statue in her honor 
because she is a slave to this society not molded for her.
She is told to not feel pain. 
She is gagged until her voice forgotten.
She is shadowed & her face blurred.
Her name scratched from stories.
Her body pushed into shelters & graves. 
Pit Bulls. Black women.
Do not say Black women deserve to be erased.
To be raped. To be abused. To suffer in your place.
To carry a generation they did not birth. 
Do not say any Black woman deserved to die.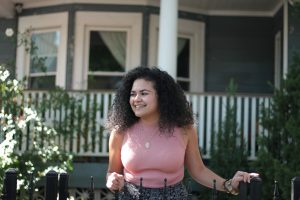 Born in Puerto Rico and raised in the mainland United States,
TATIANA FIGUEROA RAMIREZ (www.sincerelytatiana.com) graduated with a B.A. in English literature and is a VONA Voices Alumna, having worked with award-winning poets Willie Perdomo and Danez Smith. Tatiana primarily performs, teaches poetry workshops, and hosts events in the greater Washington, D.C. area, and she has also done so nationally and in the Caribbean. You can read her work in The Acentos Review, Here Comes Everyone (U.K.), and other publications. She is the author of Coconut Curls y Café con Leche and Despojo. Jazmin Samora photo.