is admire the swath of grey clouds in the sky
along with the pink daubed in behind them.
It's been a little while, Lord, but let no one say
you've lost your touch at delivering staggering beauty
in the clutch. You've still got the goods, and in thanks
I promise to remind a few folks of all the good
we've got to sow. I promise not to too-much sin.
Oh and Lord? Please, let the Tigers win.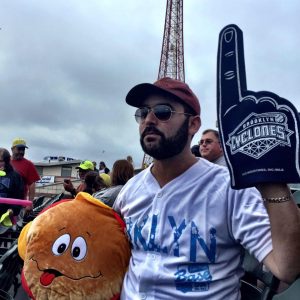 JOSH LEFKOWITZ was born and raised in the suburbs of Detroit. He attended the University of Michigan where he received an Avery Hopwood Award for Poetry. His poems and essays have been published in The New York Times, New Poetry from the Midwest 2019, Washington Square Review, Painted Bride Quarterly, Electric Literature, Barrelhouse, Hobart, The Millions, The Rumpus, and many other places. Additionally, his poems have been read aloud on All Things Considered and WNYC, and printed on the side of a bus in Nashville.