Dr. Steel pleaded with my mother to keep her legs crossed and keep me inside her while sending a nurse to bring the floor's new color television into the delivery room so he could watch the final innings of Game 7 of the 1955 World Series.
My mother had other things on her mind. Like getting me to stop kicking and punching her insides. As for me, I just wanted to watch the game.
The nurse plugged in the TV in time to see Sandy Amoros run down Yogi Berra's line drive in left field before throwing a dart to Pee Wee Reese who relayed the ball to Gil Hodges for the double play. When the room erupted in thunderous cheer, the outburst was easily heard in the waiting room, prompting my father to push through the delivery room doors out of concern for my mother's safety.
I was taking my own overdue seventh inning stretch when in the bottom of the ninth Elston Howard sent a ground ball toward Pee Wee Reese.
Double play, Dr. Steel said as if expecting my father.
I was taking my own overdue seventh inning stretch when in the bottom of the ninth Elston Howard sent a ground ball toward Pee Wee Reese. The nurses shrieked, Dr. Steel stood, and my mother took advantage of the commotion to relax her legs. She let loose a scream which got my attention and I started swimming toward the light. I popped my head out in time to see Reese's throw sail wide and low. I stretched my shoulders as Gil Hodges stretched himself across the diamond to snatch the ball for the final out. Brooklyn had their championship. Finally.
I freed my feet, as the streets of Brooklyn exploded in cheer and revelry. The doctor gathered me in his sure hands and faced me toward the television so I could watch the Brooklyn Dodgers celebrate, their victory made sweeter perhaps, by defeating those damn Yankees.
Maybe it was because Brooklyn had never ever won a World Series despite seven chances. Or maybe it was because I was the first boy he delivered after 11 consecutive girls that day, that Dr. Steel handed my father the Johnny Podres autographed baseball he kept in his medical bag and insisted that the ball be placed in my crib next to me. And, the doctor added, place the ball next to his left hand. Then, before leaving, he removed the Brooklyn Dodger's cap he'd been wearing under his surgical cap and hung it on my basinet.
Every adult in my Queens neighborhood claimed that they either came from another country or Brooklyn. Many swore that they celebrated in the streets that October night in 1955 when the Dodgers beat the Yankees, when they saw me in my Brooklyn Dodgers cap. Forget about it. You'd be hard-pressed to find anyone who ever attended a game at Ebbets Field, let alone understood the infield fly rule. And it didn't matter that not one of them had been there in 1947 to watch Jackie Robinson hop over the foul line into fair territory and take his place on the field where he smothered ground balls and changed baseball and America forever. What mattered was that the Dodgers were loud, were hard working, and totally unsophisticated. They were Brooklyn and they gave every immigrant proof that in America, the bums did have a chance of coming out on top.
But then those same wonderful bums packed up and left without warning. Loaded up the caravan and escaped west, trading air pollution for smog, Coney Island for Malibu, Broadway for Hollywood, and hot dogs for, for who the hell knows what?
And though both my parents spoke several languages, neither spoke baseball. The game was an enigma to those raised on soccer. And really, they had little interest in learning, as the nuances of navigating their new American life left little time for decoding the idiosyncrasies of baseball.
Until Sandy Koufax.
Sandy made them notice. Sandy gave them a character in the game. Sandy was a left-handed Jew who threw a baseball like no other lefty ever had. Sandy turned the game into a drama they could follow. Then, in 1963, when this soft-spoken, Brooklyn-born, Jewish-raised, marginally observant Sandy, came back to New York with the Los Angeles Dodgers to face the hated Yankees in the World Series, his story gained traction. When he beat the Yankees in Game 1 while striking out a record 15 batters, and then just a few days later won Game 4 to lead the Los Angeles Dodgers to a World Series sweep, he became a hero. My uncle said he had the left arm of god. But I'm sure he read that in a newspaper.
Sandy was a left-handed Jew who threw a baseball like no other lefty ever had.
Still, none of those heroics came close to Sandy's performance the following year when he was scheduled to pitch the first game of the World Series. That game was to be played on Yom Kippur, a solemn day of fasting and the most visible of Jewish Holidays. Sandy announced that he was not going to pitch out of respect for Yom Kippur. What Sandy Koufax was not going to do became the story, and it didn't matter that he wasn't religious or observant or that we weren't either. Sandy showed it was possible to be Jewish and American.
The following summer Koufax was scheduled to pitch against the Mets and my parents surprised me with tickets. It was their first and only baseball game. I wore Dr. Steel's Brooklyn hat but that didn't stop the Mets beating Sandy that day. I knew that's the way baseball worked, but I was worried that my parents would be disappointed in Sandy.
Do not judge the outcome, my father said. It is a rare moment in life when we can control results. But, we can always control our effort. By that measure, he added, Sandy's day was a success.
As we made our way out of Shea that evening, my father bought me a Mets hat. It's time to retire your Brooklyn hat, he said. It's time you root for the home team.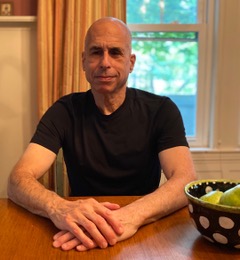 ELAN BARNEHAMA's first novel, Finding Bluefield, explores what happens when society's invisible become visible. His work has appeared in Red Fez, Drunk Monkeys, Rough Cut Press, Boston Accent, Jewish Fiction, Running Wild Press, HuffPost, The New York Journal of Books, public radio, and elsewhere. At different times he was the fiction editor at Forth Magazine LA, taught college writing, has worked with at-risk youth, had a gig as a radio news guy, and did a mediocre job as a short-order cook. He's a New Yorker by default. A Mets fan by geography. You can find him on Twitter @elanbarnehama and read more of his work on his website.