The only woman
you see—
a statue of gravity.

Her grip, her poker face—
age
hasn't aced her

yet. Her pitch hits
the dirt
far in front of the dish.

In the stands Clean Cut chuckles,
"Knuckle ball."
Mouthful snickers, "Slider."

Har, har. The anthem
ends.
Everyone sits. Down

on the diamond
a gem
may or may not occur.

But it will end. It will.
There's poetry
in the motions, foul and fair.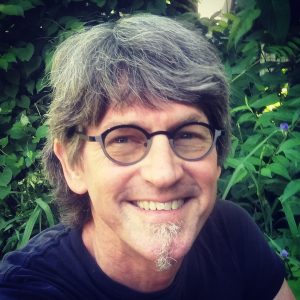 MATTHEW MURREY's poems have appeared in many journals such as Prairie Schooner, Poetry East, and Under a Warm Green Linden. He received an NEA Fellowship in Poetry, and his debut poetry collection, Bulletproof, selected by Marilyn Nelson, was published in 2019 by Jacar Press. Murrey is a high school librarian in Urbana, Ill. where he lives with his partner. They have two adult sons. Visit his website to learn more about his work.