You threw against the taped strike zone
on the garage door until I came down
to take my place in a game of catch
that began in '60 in an alley
with my brothers: catch, turn, reach
release, bend, catch, turning again
as they did with each other, with
my father, as I did through school
and the madness that posed as adulthood
way before you were born—then,
easy as walking, breathing, speaking,
the ball became a spinning word
between us, understood in the pocket
of a glove, in fingers finding a seam,
not squeezing, letting a new flight
dive into the air between us. Now,
though every hope is freighted,
the plague abates for a month,
so you bring your daughter to visit.
When she toddles toward her grandmother,
we resume for as long as my elbow allows
and the ball rests easy in our hands
while we stretch and toss, and our feet
dance the dance they've always known.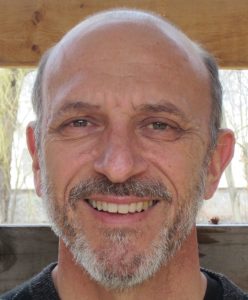 MICHAEL LAUCHLAN has contributed to many publications, including Poetry Ireland, New England Review, Virginia Quarterly Review, The North American Review, Tar River Poetry, Rappahannock Review, Sugar House Review, Louisville Review, Poet Lore, Ninth Letter, Harpur Palate, Radar, Southern Poetry Review, Rhino, and Bellingham Review. His most recent collection is Trumbull Ave. (WSU Press).