Today, everyone claims to have been the last one picked in schoolyard baseball games, a claim that must be false. We couldn't all have been picked last. Someone had to be picked second to last, and another third to last, and so on. But it seems we all have some sort of guilt complex about having been simply mediocre at sports as a child. No one dares to boast about having been a team captain and so they paint themselves as the outcast.
I was never the last one chosen for a baseball team and I was always one of the first to arrive at the town hall to sign up for Little League each spring. I marched proudly in the Memorial Day parade in my team colored t-shirt and cap, wearing my bulky mitt in case someone along the parade route tossed a ball into the air to test us.
I marched proudly in the Memorial Day parade in my team colored t-shirt and cap, wearing my bulky mitt in case someone along the parade route tossed a ball into the air to test us.
One year, I must have been in the major league division since I remember playing on the nicer field by the volunteer fire department. I was on a particularly bad team. The lack of talent on my team made me appear much better than I actually was. After our last game, which we lost though I had hit a double, the coach handed each player a slip of paper. We were supposed to nominate two teammates to represent the team in the all-star game. After the coach counted the slips he announced that his son and I had been selected.
The all-star game was a little one-sided, with my team leading 7-3, but fun until the bottom of the fifth inning. During my at bat, I got walked and trotted down to first base. While leaning off the base, we weren't allowed to actually take a lead, the first base coach gave me the sign to steal second on the next pitch. As the pitcher committed himself, I broke for second in a big lumbering gallop which seemed to take an eternity. I could see the catcher's throw soaring up and away from Cliff Wagner who was playing shortstop and covering the bag. He leapt into the air, stretching to grab the throw before coming down hard in the path of my slide. The shortstop collapsed on top of me, I knew immediately that something was wrong.
Cliff didn't grimace and clutch his shin, as I had expected, he was just lying there looking as if the wind had been knocked out of him. The umpire called for a time-out and the outfielders sat down. My coach called me into the dugout while the other coach ran to the shortstop lying in the base path. After shooing away the players that had gathered around their fallen teammate, the coach called into the stands for Dr. Malley, whose son was playing third base for my team, to come out to take a look at the boy. Dr. Malley sent the other team off the field; all the players on both teams were hanging on the chain link fence up in front of each dugout. Dr. Malley brought a blanket with him and laid it over the boy. It was just to keep Cliff warm, but it made him look like he was dead.  
Dr. Malley brought a blanket with him and laid it over the boy.
My teammates started asking me what I had done, saying I had murdered him. Cliff's father, Mr. Wagner, a psychologist in town, ran onto the field and spoke to Dr. Malley. A few minutes later an ambulance pulled over to the parking lot by the concession stand and a couple of EMTs wheeled a stretcher out onto the field. I don't know what happened after the EMTs arrived for I ran crying to my parents, yanking them out of the bleachers and insisting they take me home. 
I ran up to my room, glad that my brother was away on a fishing trip with his scout troop, and dove onto my bed, covering my face in my pillow. My mother came up and asked if I was hungry, if I wanted something to eat. A little later I could hear my parents speaking with someone downstairs. I didn't know who it was and when I looked out my bedroom window, I saw a strange station wagon in the driveway. 
My father came up to my room and knocked, something he rarely did. He didn't tell me who was there with him so I had to open the door to satisfy my curiosity. When I looked out, I saw Mr. Wagner standing behind my father. Mr. Wagner said Cliff was doing fine and would be up and around, on crutches, in no time. He said his son would probably take full advantage of the accident and make his mother and sister wait on him hand and foot until the cast came off. The two men laughed at this and my father held up my mitt and cleats, which he had retrieved from the garbage can by the garage, "Mr. Wagner wanted to know if you would like to go out and play some catch." I remembered that Mr. Wagner was a psychologist and figured this was some sort of healing gesture to help me deal with what I had done. I had no intention of going outside to play catch with him.
My father said he wished I would go outside with Mr. Wagner, but I declined their invitation to Mr. Wagner's therapy session. My father said they would go out and toss the ball around anyway and, if I wanted to, I should join them. I went back and dropped down onto the bed. I didn't want to pull up the blanket because it reminded me of Cliff lying in the infield like he was dead. When I got up to look out the window, Mr. Wagner and my father weren't playing catch at all; they were just standing by the Wagners' station wagon talking.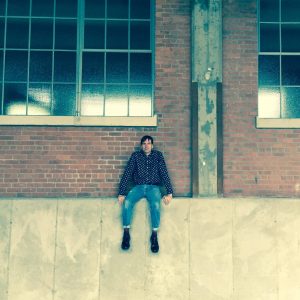 THOMAS O'CONNELL is a librarian living on the banks of the Hudson River. His poetry and short fiction has appeared in Jellyfish Review, Elm Leaves Journal, The Los Angeles Review, Hobart (online), and Blink-Ink, as well as other print and online journals.