I loved playing Little League baseball as a kid, but I was always a terrible hitter. The league I played in when I was very young in Marine City, Mich., transitioned us from hitting off of tees to hitting off of a pitching machine before eventually facing our peers as pitchers by the time I was about 10. The pitching machine was an easy transition because it was mostly predictable. The ball was going somewhere in the strike zone no matter what, but in my first season against live pitchers, I was faced with the unpredictability of a fellow elementary-aged kid pitching to me.

I survived the first year by mostly trying to draw walks, but the summer after I turned 10, we moved to a different town, which meant I was in a brand-new league the next year. In my first game that season, I took a pitch to the center of my back in my first at-bat, walked the next, and then got beaned again my next time up.
Not much else about that season I remember other than that I was ruined as a hitter. Every at-bat, I was thinking about not getting hit. I started stepping away from the plate with my front foot as soon as the pitch was released, and then when I did swing, it was practically hopeless. My coach tried adjusting my stance to adapt to what I was doing, but it didn't work. I kept bailing out.
Every at-bat, I was thinking about not getting hit.
I think I lasted one more year, but I stopped playing by the time I was going into 7th grade. Baseball is my favorite sport to this day, but fear of getting hit by a pitch drove me away from playing it.

Though I got hit twice in my first game, I don't think I ever did again that season or the next. In truth, the best thing for me would have been to get hit again. And again. And again. And again until I eventually would have realized that it wasn't that big of a deal. 

Last spring, my oldest son played his first season in kids-pitch Little League, and sure enough, in one of his first games, he got hit by a pitch. And then like watching my old self, he started bailing out at the plate on nearly every pitch.

I tried encouraging him to stay in the batter's box and just keep trying, but that didn't help. You can tell someone not to be afraid of something, but they have to experience and realize that themselves.

Eventually, I decided to get the advice of someone who has dealt with a lot of getting plunked. In his nine-year career, Anthony Rizzo has been hit by a pitch 145 times. He led all of baseball in 2015, 2017, and last year. But despite this, he still stands in close to the plate.

"I'm on top of the plate, so when I get hit, I get hit," Rizzo told me last June. "It's just part of it. I don't think it's ever really changed my approach at all. I never really minded getting hit by a ball. Obviously, if I did, I'd be way off the plate. It's just part of it."
For the woman in the poem, the best way to get the work done was to get it done.
Most anything we do includes some element of risk, especially if we're doing it right. Being a good hitter means embracing the possibility of getting hit. It's going to happen and working to avoid it only causes other problems. I never overcame my fear because I only worked to avoid getting hit.

In his second book of poetry, North of Boston, Robert Frost is probably best known for "Mending Wall" but there's also a poem in that collection called "A Servant to Servants" that tells the story of a woman tired of working every day to take care of her husband and his workers and the loneliness and frustration that results.


There's a pile of work to be done every day, and she's tired of it. In the poem, she meets a visitor and vents these feelings, and about a third of the way into the poem, she shares some advice she got from her husband, "The best way out is always through."

She begrudgingly agrees, but I think that's how most things are. My wife and I hung that quote in our house while we were going through the foster-to-adopt process because it was a helpful daily reminder.

For the woman in the poem, the best way to get the work done was to get it done. For us, the best way out was to go through the process one day at a time, even as it took years. For the woman in the poem, the best way to get the work done was to get it done. In book five of his Meditations, Marcus Aurelius said, "The impediment to action advances action. What stands in the way becomes the way." 

For my son, it meant this spring we've spent time in the yard, me pitching to him over and over until one day he proudly announced that he wasn't afraid of getting hit by a pitch anymore. The best way out was through.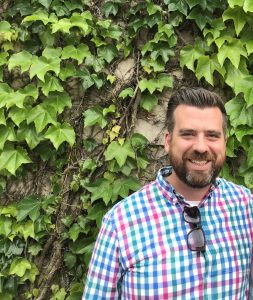 JARED WYLLYS is a writer who has covered baseball for Sporting News, Forbes Sports, Chicago Magazine, NBC Chicago, and Baseball Prospectus. He joined the BBWAA in 2019. Wyllys lives with his wife and four children in Chicago's western suburbs, where he teaches high school English. He can be found on Twitter (@jwyllys) or via email (jwyllys7@gmail.com).