When you first saw her she was a red light
in the corner of your eye. You watched how
she walked, how she sat, how she spoke
and all the time you said nothing. Your legs
froze and then your arms and then you
turned your head away knowing the moment
was over and she would never notice you.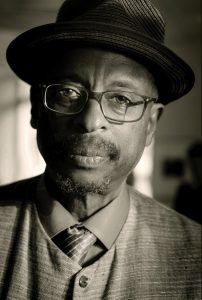 E. ETHELBERT MILLER is a literary activist and the author of two memoirs and several books of poetry. He hosts the weekly WPFW morning radio show On the Margin with E. Ethelbert Miller and hosts and produces The Scholars on UDC-TV, which received a 2020 Telly Award. In 2016, Miller was awarded the AWP George Garrett Award for Outstanding Community Service in Literature and the 2016 DC Mayor's Arts Award for Distinguished Honor. His latest book, If God Invented Baseball (City Point Press), was awarded the 2019 Literary Award for poetry by the American Library Association's Black Caucus. (Tom Wolff photo.)