Here are two things that you need to know to understand this event: I was born in 1952, and I am from New York City, placing me in the generation that grew up on television.
One of the most popular shows of my childhood was the Captain Kangaroo Show, my age's Sesame Street, Schoolhouse Rock, and Barney all rolled up into one. Captain Kangaroo was a character portrayed by an actor named Robert Keeshan. He and a cast of puppets, props, and a few actors taught us citizenship, manners, and other "virtues."
The captain was such an iconic figure that his name was incorporated into the lyrics of the 1965 Statler Brothers song that recalled "playing Solitaire 'til dawn/with a deck of fifty-one/smokin' cigarettes and watching Captain Kangaroo."
That Keeshan himself worked out of New York affects the other part of the equation here.
Arguing about baseball in New York, perhaps more than in any other city, cuts across divisions of age, race, gender, social status, ideology, or wealth.
That New York background also means I grew up a fan and follower of the Yankees. In fact, to be a New Yorker means having a long baseball memory. Stop a New Yorker on any given summer day, and the conversation is certain to turn to the fate of the Mets or the Yanks. Arguing about baseball in New York, perhaps more than in any other city, cuts across divisions of age, race, gender, social status, ideology, or wealth.
During one of baseball's most exciting seasons, I found this out for myself. In 1978, the Yankees came off a World Series win after George Steinbrenner had assembled a roster including Hall of Famers like Goose Gossage, Catfish Hunter, and Reggie Jackson. A number of players who would go on to coach and manage: Lou Pinella, Willie Randolph, Don Gullett, and Sparky Lyle. The team was led by captain and catcher Thurman Munson, a player so loved by fans that when he died in a plane crash a year later, there was—almost shockingly—an actual moment of silence in Yankee Stadium.
However, the 1978 Red Sox also had designs on winning the championship, and at the end of June, the Bronx Bombers were 10 games behind Boston and all but written out of any pennant race. But this was the year of miracles, and the team won 48 of its last 68 games, tied the Red Sox at the end of the regular season, and traveled to Fenway Park for a one-game tiebreaker, which they won in what some baseball historical aficionados have called one of the greatest games ever played.
Ironically, Bucky Dent, hardly known as a power hitter at the time but now known by Red Sox fans as "Buckyfukindent," slammed the winning homerun in that game, and when the team ended the season beating the Dodgers for its 22nd World Series win, Dent was MVP.
But what happened to me happened before that October. I was in Manhattan in August, and at this point, Boston was in first place with the Yankees chipping away at the lead. At the end of the day, I decided to wait for my train at the Iron Horse Saloon. The Iron Horse was on the top floor of Penn Station, and back then it was the precursor to the sports bar and a favorite watering hole for sports people of all stripes: fans, ex-jocks, writers, even some players. It was one of the first places I saw the paintings of Leroy Neiman. Pictures of New York pro athletes hung around like stained glass in a church: Walt Frazier driving to the boards, Don Maynard running after catching a Namath bomb, the famous Don Larsen-Yogi Berra embrace after the 1955 "perfect game," Willie Mays making his over-the-shoulder catch.
As I sat, the place was relatively empty, but it was a midweek afternoon. A few seats over sat an older man sporting a distinctive moustache and thick silver hair cut in bangs. I ordered my beer—something domestic—and this portly gentleman turned toward me.
A few seats over sat an older man sporting a distinctive moustache and thick silver hair cut in bangs.
"Why you drinking that crap?" he asked. "Why not have a real beer?"
He invited me to join him, pointing to a bottle of Guinness Stout. Of course, anyone willing to get me a beer of that quality is always welcome to do so. I moved next to him as the bartender poured a fresh glass. He introduced himself; his name was Bob, and like me, he was headed out to the Island although his destination was the South Shore. The two of us waited for our trains, drinking and talking about (of course) "our" Yankees and the team's latest exploits.
"Did you catch that game last month," he asked, "when Guidry struck out 18 Angels?"
If this was a season of Yankee miracles, perhaps no greater miracle existed for Yankee fans than Ron Guidry, a tall lanky pitcher who had risen from the bayous of Louisiana to become a savior, with an earned run average of 1.74 and striking out 248 batters, including the 18 Bob had just brought up.
"You bet," I answered.
"Brutal," Bob shook his head, repeating, "brutal. But I loved it."
We continued projecting our hopes to an October berth and prayed to unseat the dreaded Red Sox. Eventually, it was time for him to go. He thanked me for the company and bought me another bottle. We parted company with happy thoughts about our city's baseball team.
Once gone, the bartender returned for the empties and to wipe down the bar. He asked, "Do you know who just got you those beers?"
I shrugged, admitting the guy looked familiar, but I could not place the face. The barkeep smiled, leaned forward, and informed me that, for the last hour or so, I had been drinking with Captain Kangaroo.
I don't care how old or decrepit I get: I doubt I'll ever forget drinking a brew with Captain Kangaroo. . .and he had bought.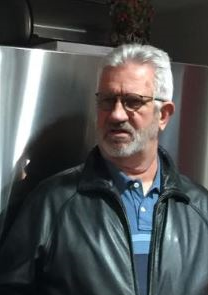 A native New Yorker, BILL CUSHING lived in numerous states, the Virgin Islands and Puerto Rico before relocating to California. As an undergrad, he was called the "blue collar" writer because of his years as an electrician on commercial and Navy vessels. Earning an MFA in writing from Goddard College, he taught at East Los Angeles and Mt. San Antonio colleges for 23 years before retiring in 2020. His non-fiction has appeared in print and online, including in Birders World, Cargo Lit, Drunk Monkeys, and the San Juan Star. Bill's poetry book, A Former Life, was published by Finishing Line Press.