by Tim Goselin


'Everybody's got a little something going on in their lives that nobody knows about.' The opening line of Brian Ember's "Our Friends Don't Know," a half-hushed admission of guilt, half-through-clenched-teeth accusation. In context, our marriage is crumbling, our lives are ripping at the seams, I'm so miserable I could die, I hope no one notices.
It's the real deal story of someone you know getting out of a toxic marriage, trying to figure out how to fit into the world again long after having taken for granted that you'd never be back out there, set in two acts with a chorus and full orchestration.
That's the beautiful contradiction that permeates Ember's album The New Chastity. It's the ache of loss, it's the exhilaration of rebirth. It's discovery, it's disillusion. It's rock, it's theater. Ember, AKA Brian Robinson, adapted the title from a "crazy 1970s anti-feminist tract … and it signified the idea of taking back your life for yourself, rather than breaking yourself for others." Round hole, meet square peg. In a city up to its nuts in killer bands inspired by the raw power of garage and punk rock, New Haven, Conn. finds an artist who sings (and looks) like he fell out of the costume closet of my high school drama club.
I mean that as a compliment. The songs feel meticulously arranged, blocked, rehearsed, and performed to convey maximum clarity of emotion. Moments of sadness, longing, and renewal all speak honestly, unhidden by vague references or posturing. It's the real deal story of someone you know getting out of a toxic marriage, trying to figure out how to fit into the world again long after having taken for granted that you'd never be back out there, set in two acts with a chorus and full orchestration.
Curtain up. "Philadelphia" opens an austere dirge—spare, vibrating guitars and Ember's rich, articulate baritone, a bluesman calling to no response, "I'm bad at leaving you/ you're not good at being left/ I still believe in you/ and all the promises you kept." This mess we're in, this void of affection, together we built this. A lonely shaker and solitary tambourine bring shape to the drone. "But it's a long fall from up here, and it's not right/ to tell me I can't sleep somewhere else tonight." This pedestal we placed ourselves, each other, on, the rules have changed, together we destroy this. And here we meet Ember's collaborator, his secret weapon, Bill Readey, for the first time. His pristine production transforms Ember's good songs into a great record. A bit of studio trickery with choking backward organ segues to another verse, the sky opens for Readey to rain down icy guitar licks that would please David Gilmour; and a gorgeous baroque pipe organ solo—a for-real church organ played in a for-real church by for-real badass Michelle Horsley—brings the song to climax. It's as dramatic an overture as anyone could ask for.
The album shifts from forlorn to caustic. "Our Friends Don't Know" is that promised glimpse into the personal hell of divorce. "I used to hide my agony with melody/ sometimes when she yells at me/ I just pretend to go to sleep. While she's flailing her arms and screams/ slapping me and throwing things/ I turn inside and start to sing. I just want it to be how it used to be." If you've never been there, there's a suffocating pressure of being in a failing relationship. Looking for ways to cope, trying to maintain the appearance of normalcy to those around you while your soul is slowly being fed into a woodchipper. Will things ever go back to the way they were? Were things even the way they were? And in just as stark a contrast sonically as lyrically to "Philadelphia," we're bouncing through a Danny Elfman score—upbeat, theatrical, yet sinister.
The acerbic cabaret gives way to the melancholy "I'm So Lonely (With You)." Set to a down-tempo strum reminiscent of Jeff Buckley, you might call this the final stage of marriage-death grief: acceptance that the person beside you makes you feel nothing. Act One closes with the lushly-orchestrated epic "My Eyes Are Open, I Am Awake." We've moved on, we've found someone new who has opened our eyes once again, it's smooth sailing from here on out. Right?
But Act Two reveals that there's no storybook ending in love. Real life is more complex, and so is the nimble genre-hopping of The New Chastity. "Nothing On My Phone Really Matters" tugs on the Beatles thread, recalling the Latin-flavored percussion of "And I Love Her" and the 12-string guitar of "Anytime At All" from A Hard Day's Night. It's the sad-funny insight of guys our age who met their exes long before online dating and smartphones, and the world has moved on without them. Suddenly you've fallen hard for the wrong person, you're lying in bed waiting for the iPhone screen to light up with a text message that will never come. "I stare at the screen, hopefully/ I swiped but there's nothing there to see/ It used to be the thing I looked most forward to/ But now nothing on my phone really matters 'cause you don't write me no more."
Ember takes a sharp turn into a capella doo-wop for "Goodnight, My Baby," returning to sullen, Jeff Buckley- and Morrissey-inspired crooning for "Everything You Wanted" and "Four Seconds." Surprisingly, nothing in the rapid-fire stylistic changes feels contrived or uneven. It's dramatic, sure, but it's pure and honest, and the lyrics reflect as much. While so many songwriters want to be clever, deep, and a tad mysterious, Ember acknowledges, "those lyrics were really hard to decide about putting down. There's, like, NO metaphor there at all. It's just bare feelings."
Like a virgin, touched for the very first time? Well maybe not that pure. And of course there's nothing new in a breakup record. But the album's success is in its presentation, not its innovation. Brian Ember has dressed up his heartache in whimsical arrangements and taken us dancing through his influences—from conservatory to alt-rock balladeer. It has an over-the-top theatricality to it, but it's saved by a total lack of pretension. Endearing uncool is the new chastity.
https://open.spotify.com/album/7BhpqQmyDXaKt40mvoDWin?si=Ze0LCF3QQbm4EtaFTnKSjA
---
Brian Ember (www.brianember.com) is a classically-trained singer and composer. Ember studied composition at the Mannes College of Music in New York City. His classical training led him to create a string-quartet rock band called The Tet Offensive, which began as a cover band and emerged into a songwriting vehicle for Ember over the past several years. After starting a family, he moved to New Haven, where he has been for a startlingly long time.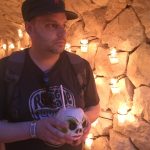 Tim Goselin is a musician, producer, writer, and agitator based in New Haven. He is the lead guitarist in the face-melting surf rock combo Renegade Lounge. His recording credits include Telegram Scam's "Good-Looking Corpses," North Shore Troubadours' "Original Motion Picture Soundtrack," and Mercy Choir's "Sings in the Traditional Rock and Roll Style" and "More Than Ever."