Ambrose Bye, Anne Waldman, Devin Brahja Waldman, Fast Speaking Music, NYC. No Land photo.
by Daniel Nester

Some artists grow into their great work. Mavis Staples, Jonathan Richman, Marianne Faithfull, Bob Dylan—these are not art-makers who, late in their career, try to sound like their younger selves. I'm no vocal coach, but it's not entirely about working with a limited register—it's also about finding new timbres and personae for late-career work. To this list I would add Anne Waldman, whose work in the second half of her career, starting with her epic Iovis Trilogy, has burst into full freaking blossom.
After a half century, it is difficult to overstate Waldman's impact on American poetry, particularly as it relates to performance and poetry's relation to chants, orality, and sound. And it does feel odd to refer to anything Anne Waldman-related as "late career." "Late" connotes Waldman might be settling unfinished artistic business, which can't be the case. From The Poetry Project to Naropa, Waldman has helped build one institution after another for the Outrider, Waldman's open-ended term for those experimental poetries "outside the official verse literati culture academic mainstream." And "career" rings equally untrue—Waldman's life as a poet has been, in her own words, more of a "tribal responsibility" than getting some gold watch. On Sciamachy, just released this spring, we hear Waldman in a new, grown-in voice, accompanied by a host of avant-garde musicians. The result is a five-song cycle of ambience with Waldman's chants at its center.
When Laurie Anderson's violins enter the mix in 'Rune' (right after Anne Waldman asks 'What is the occult to a machine?'), its precise timing punctuates not only the words, but the sounds they make.
On record, music-meets-poetry performances often get lost in the mix, but on Sciamachy the approach is more song-based, more about compositions than spontaneous one-off live gigs in performance spaces taped from the soundboard. To my fellow poets, I say: this is a good thing. This is a record that is more about serving Waldman's poems, taken from recent collections Trickster Feminism, Voice's Daughter of A Heart Yet To Be Born, and Extinction Aria. Credit goes to Waldman's natural ear, but also to the production of nephew Devin Brahja Waldman (he also plays saxophone and drums), who assembled an eclectic group of musicians that recalls projects like Hal Willner's Allen Ginsberg 1996 release, The Lion For Real.
On "Extinction Aria (pt. II)," Sciamachy's opening track, five musicians, among them bassists Guro Moe and Deb Googe (ex-My Bloody Valentine), lope along in a five-note motif that wouldn't sound out of place on a Melvins record, one which Waldman eventually sings as well. When Laurie Anderson's violins enter the mix in "Rune" (right after Waldman asks "What is the occult to a machine?"), its precise timing punctuates not only the words, but the sounds they make. On "Streets of the World," multiple Waldmans whisper in the background over free jazz luminary William Parker's n'goni and Brahja Waldman's saxophone. Sciamachy's approach, "attentive to language & poetry before language" as Waldman once put it, places the musicians around each poem and working in tandem. Throughout, Waldman's voice, more of a baritone now than the tenor heard on Giorno Poetry Systems compilations or Ron Mann's seminal 1982 documentary Poetry in Motion—sits as its sonic center. Perhaps that's where the title, which means "shadow boxing" or "argument with an imaginary opponent," originates, along with our own revolutionary times.
Fast Speaking Music, which Waldman co-founded about a decade ago with son Ambrose Bye, has emerged as a successor to eclectic labels of years past like Celluloid, which combined genres and band incarnations with surprising results. Waldman has released several recordings recently on the label, with exemplary collaborators from Thurston Moore to Cecilia Vicuña. What Waldman has done is build yet another body of work, another ark onto which misfits can board, readying themselves for the great flood. Now that flood has come, and Sciamachy is the soundtrack.
Single, "Extinction Aria": Song with Ambrose Bye, Devin Brahja Waldman, Deb Googe, Guro Moe from Sciamachy album 2020, Fast Speaking Music
https://fastspeakingmusic.bandcamp.com/album/extinction-aria-pt-ii
---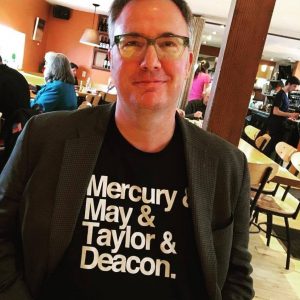 Daniel Nester (https://danielnester.com) is the author most recently of Shader. Previous books include How to Be Inappropriate, God Save My Queen I and II, and The Incredible Sestina Anthology, which he edited. Recent-ish writing has appeared in The New York Times, BuzzFeed, The Atlantic, The American Poetry Review, and the Poetry Foundation website. He teaches at The College of Saint Rose in Albany, N.Y., where he also edits Pine Hills Review (https://pinehillsreview.com).