Alystyre Julian, Outrider film


by Eleni Sikelianos
We're eating steaks in the dusk in a grove of aspen trees. We've cooked them in a frying pan over the fire. We've hauled all our things through the dry high grasses—tents, pillows, sleeping bags, blankets, ice cooler, wine, these steaks, and the frying pan we cooked them in. My daughter puts her hand on the hot grill, burns it, cries. Now it's dark, and Anne is lying in the grass looking at the stars. I think she may have just smoked a bit of pot. "Traveling out to these places, tiny glass atomic cities, speaking to the beings there…" I don't remember exactly what she was saying but it was like being inside an Anne Waldman poem with Anne Waldman.
Anne is traveling through the interstitial spaces, through membranes, thinking of beings she'll speak to there, politicians she'll scold along the way … in that moment I know that if anyone will be able to speak to aliens it will be Anne. With her "mind that holds all galaxies of poetry," she will be "[e]ntering a chat room with other galaxies" as soon as that possibility arrives ("entanglement," in Trickster Feminism). It's real.
This scene, camping in Colorado with Anne in about 2009, came to me as I was trying to give shape in my mind to Anne's deep essence. Restless traveler. When you read the poems, you have a sense of all the worldly places this sleepless, engaged poet has brushed through or landed in, but you also have a sense of all the extraterrestrial loci, and the places on earth that require more or less than a physical body to inhabit: let's call it celestial jaguar optics.
When I was a child, we lived next to Julia ("j" pronounced in the Spanish way), who was, her husband told us, a Yaqui witch. She kept us tied to the deep maps of the neighborhood (which houses were still inhabited by the dead), and she kept a strict soft order in her own home that felt like a net of sanity compared to what happened elsewhere. She also told us one of the enduring possibilities and truths of my life: that the woman who lived in our house before us was a jaguar lady. She changed into a cat each night, and was no longer able to place her paws on the ground. In her nocturnal manifestation, she had to leap from counter to chair. Julia told us so without judgement, and I never thought to ask what the jaguar woman did in this form. (It's possible that it was, besides being real, also a metaphor for my mother's past and present life.)
Anne is, obviously, not a curandéra or a bruja, but her mind and her work occupy some parallel territory. She has always manifested the poem as a vehicle not just for mind-tracking or state-of-the-world tracking, but for spiritual and physical change. It has never been a tightly controlled little universe with few breathing holes, but has always been a place of drift and event. Here's all that could happen in 1970 (when I was five, and living next to Julia, in fact) in a "Split Second":
a person is one self at home
another on vacation
one in a windstorm
2 in a pinch
one with his best friend
another in Peru
jumps in a taxi
hops on a bus
2 in the community
50 in the commune
20 in the hospital
8 at the movies
all on acid
16 at the top
happy with his shirt on
cast an I Ching
ready to dive in
heads for Bolinas
driving to Taos
has a history
another heartfelt thanks
is in love with
am in danger of
pollution's tired vendetta
an angry policemen[policeman?]
a wrathful billy club
a head hassling for change
12 in a package
another on "politics"
3 at the most
2 enraptured shoes
one victimized radio freak
another with the TV on
has a future in carpets
takes a trip to Tibet
a trip on the stairs
crossing at 2nd & 12th
streaks
closing the window as it starts to rain
reading a melancholy Keats
on the phone with you pissed off again
in the faraway distance a phonebooth sings:
"a girl of 13 again
caught by the best made camera in the world!"
A restless energy starts & starting thus, coat on, she's gone.
(from Baby Breakdown)
It's always been a case of simultaneity in Anne Waldman's poetry head. She can travel by magic window and by syntax, not cutting corners so much as leaping worlds on a pivoting toe of language.
Maybe she had to stay nimble? She was in the middle of all those boys. (Baby Breakdown thanks Lewis Warsh, Tom Clark, John Giorno, Ed Sanders, Larry Fagin, and is "for Mike," presumably Michael Brownstein.)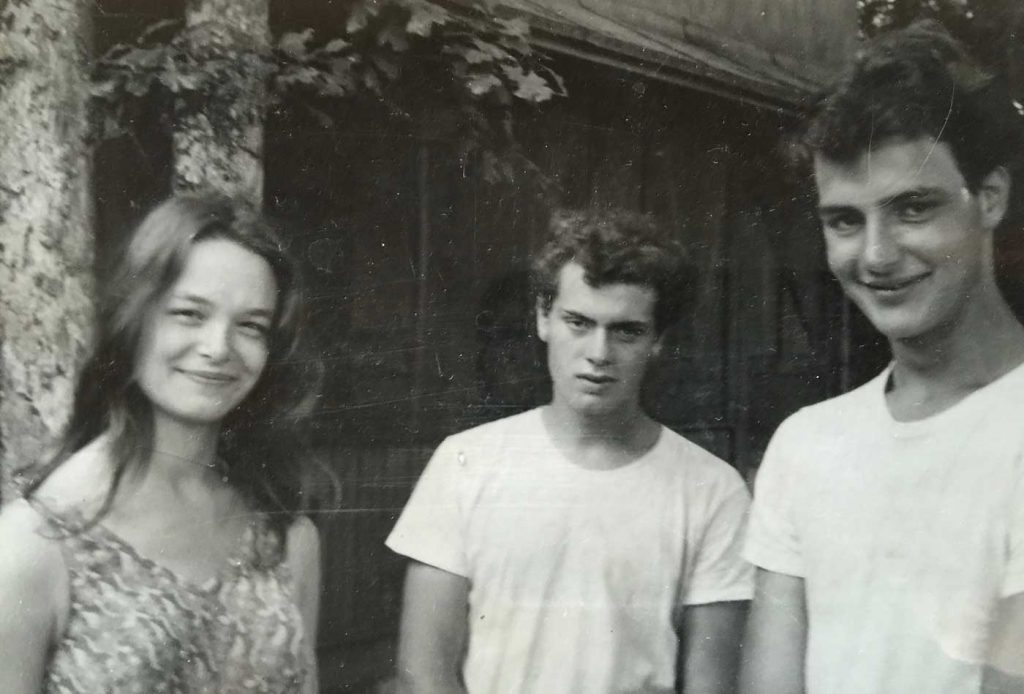 I first met Anne when she was 20 and I was a few weeks old and she was on her way to the Berkeley Poetry Conference, about to take a vow to poetry. But I didn't see her again till I was 23, not long after I had just taken my own vows. Little did I know how much that rekindling of connection would anchor and shape my life. As a loosely linked member of my family, she took a more solid form as poetry mother, life mother, than many in my family were able to do.
I turn to her poems when I need calming and I turn to them when I need riling up. I turn to her when I need encouragement, and I turn to her when I want to hear and share righteous anger. I turn to her when the sharp, weary machinery of Western capital feels like it will shred me and everything I love, because her work and her presence on earth are those touchstones that remind me that poetry and art are what make the world worth living.
World safe, world safe, world safe.
Eleni Sikelianos (https://www.poetryfoundation.org/harriet/2020/04/nothing-in-evolution-makes-sense-except-in-the-light-of-phylogeny) is the author of nine books of poetry (most recently What I Knew) and two hybrid (anti)memoirs. Sikelianos has received many awards for her poetry, nonfiction, and translations, including from the National Endowment for the Arts, The National Poetry Series, and the Gertrude Stein Awards for Innovative American Writing. She has collaborated with musicians, filmmakers, and visual artists (she performed parts of The California Poem with composer Philip Glass, and has acted in films by Ed Bowes), and her work has been widely anthologized and translated. At 19, she left the U.S, and spent the next year-and-a-half traveling, often by thumb through Europe, Turkey, and across Africa, landing in Paris, where she lived and worked for a year. Dedicated to the many ways poetry can manifest in communities, she joined the literary art faculty at Brown University in 2017.