Madelyn Barnette is on the field, frolicking with Swallows mascot Tsubakuro at Mazda Stadium, home of the Hiroshima Carp. Twenty minutes earlier, the second of two 2015 All-Star games had concluded. Madelyn's dad had made the Central squad for the second time, the first since his 2012 All-Star nod. Not coincidentally, '15 was also Tony's first fully healthy first half since then.
Most of the other All-Stars and their families had already dispersed, but Tony wanted Hillary and Madelyn to take a picture with him. After games, they'd always run down to the field to say a brief hello before Tony disappeared into the clubhouse. But those were fleeting encounters. This was a special occasion, and Tony wanted to make it last. So, once the final out was recorded, he called Hillary to summon them down.
Upon reaching the field, Hillary handed a not-yet-walking Madelyn over to Tony. The field would be her playground for the night, as Tony began carrying her all over. Television cameras quickly took notice of the scene, the little girl donning a navy blue Yakult jersey with a red bow in her hair. Then, Tsubakuro joined the party, playing with Madelyn before posing for pictures with her. Again, TV crews jumped at the chance to capture the considerable cuteness occurring, as the fifteen-month-old euphorically played with the silly large bird. "Madelyn got hardcore TV time," said Tony. Hillary beamed, watching the pure joy on their faces.
Madelyn Barnette is on the field, frolicking with Swallows mascot Tsubakuro at Mazda Stadium, home of the Hiroshima Carp.
Second baseman Tetsuto Yamada, who was fast becoming one of the league's most feared hitters, was still around. He went over to greet Tony's daughter, whom he'd seen around over the past couple seasons. Without warning, Madelyn suddenly bent over and vomited on the All-Star infielder's shoes. "That was fun," said Tony, with a chuckle. "He played it off great."
Coming off another spectacular month of pitching, Tony accepted the Central League's July MVP award prior to a game against Hanshin. For the occasion, Hillary arrived at Jingu Stadium before first pitch, a rarity for her in 2015. She remembers the mid-August day vividly. It was one of Tokyo's hottest days of the year, and she was holding Madelyn. Hillary moved behind the backstop for a better vantage point to take photos as Tony received the award.
Nearby, a man sprung up from his seat, amazed that the "closer's wife," as he called her, would already be at the field. The man introduced himself as a Texas Rangers scout. He wasted little time. "Do you think Tony would want to go back to the States?" he asked. "That's the question that took me kind of aback," said Hillary, reflecting on the encounter years later. Unsure of her exact response in the moment, Hillary recalls saying something diplomatic, conveying to the scout Tony's interest in a potential big league opportunity, while making it clear he was content in Japan and would gladly remain there. "You don't ever want to say, 'Yeah, he can't wait to leave Japan,' or something like that 'cuz we were happy there." After the game, Hillary told Tony. "I said, 'Hey, there was a guy watching you from the Texas Rangers.' And I just remember Tony saying, 'I hope he liked you.'"
"Everything was awesome," said Hillary of her and Tony's situation as the season concluded. "He loved his team, we loved the city, loved the people, so it was almost weird to be so happy where we were and to be looking to go somewhere else, I think."
Outside of unforeseen circumstances beyond his control, Tony stood on the doorstep of signing a big league deal for the first time. While Hillary undoubtedly felt every bit as excited as Tony felt, she later acknowledged the presence of "bittersweet" emotions about what was to come. "We were really starting to get comfortable with Japan in general," she noted. "The difference between the first year and the sixth year was huge. The first year, you're awkward, you don't know what you're doing, you don't know where you are. And then by the sixth year, we felt at home, we had a lot of good friends. It just felt like home, felt like a home away from home."
In a Nashville hotel suite at MLB's 2015 Winter Meetings, agent Don Nomura closed the deal that would bring Tony to the majors once and for all as a thirty-two-year-old rookie with the Rangers.
Tony enjoyed a particular organizational stability with Yakult, too, by virtue of playing for the same franchise for six seasons. The pitching and bullpen coaches, Swallows staff Tony interacted with most, remained particularly steady during his time in town. "The faces, they never really are gone," said Hillary. "I think [the stability] was really, really important for him in his development. That totally changed the kind of pitcher he was, and who he is now as a pitcher, for sure."
In a Nashville hotel suite at MLB's 2015 Winter Meetings, agent Don Nomura closed the deal that would bring Tony to the majors once and for all as a 32-year-old rookie with the Rangers. Given all the gaijin (Japanese for "foreigner") had overcome in Tokyo—including multiple demotions, cultural and language challenges, his release after Year 1, and a move to the bullpen—to transform into a dominant closer, how could he be considered a rookie after all that? Humbly, Tony accepted his fate, bringing to Arlington the confidence and experience he cultivated in Japan, along with an enthusiastic willingness to absorb every morsel of insight from his coaches and teammates. Before every game, Tony gamely carried to the pen the Frozen-themed bag of snacks he was tasked with stocking. At the team's annual charity event, the rookies performed on stage. Donning high-platform shoes, a mask, and the whole look, he sang his heart out as Gene Simmons of Kiss.
From a baseball standpoint, Tony excelled, as did his first-place Rangers, though they were swept by Toronto in the divisional round. After two more seasons in Texas and a brief stint with the Cubs, he retired from pro baseball in order to savor every moment in Arizona with his wife and two daughters.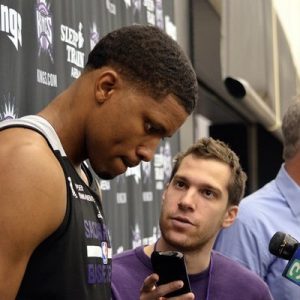 AARON FISCHMAN is an award-winning multimedia journalist who enjoys crafting long-form stories that focus on universal themes that transcend sports. He earned his bachelor's degree at UC Davis in political science and communication before completing his journalism master's at USC's acclaimed Annenberg School. He's reported for Ozy, Slam Online, ESPN True Hoop, and the L.A. Times, among other outlets, covering high school, collegiate (USC football, others), and pro (L.A. Sparks, Sacramento Kings) sports. He also boasts extensive experience as an editor, play-by-play announcer, color commentator, and radio and podcast host. Visit his website to learn more about his work
In late 2019, he edited Paul Knepper's The Knicks of the Nineties book. Currently, Aaron is finishing his own nonfiction book, from which this piece is excerpted, and hosting an NBA podcast. Since the start of the 2015-16 season, he's co-hosted the On the NBA Beat podcast, which features interviews with beat reporters and personalities around the league. His writing has yielded two Los Angeles Press Club awards, Cobalt Press' 2018 Earl Weaver Baseball Writing prize.