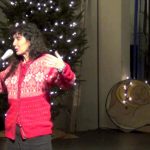 Joanne Pagano Weber (http://www.bewareoftheyear7000.com/) is a visual artist, writer, and educator. As a painter of the "theatre of life," she has exhibited socio-political narratives throughout the tri-state area, most meaningfully for her at Art 101, presided over by the beloved, now deceased artist and curator Ellen Rand, and at East Village venues such as Tribes Gallery, ABC No Rio, Kenkelba Gallery, and the Tompkins Square Library Gallery. She has contributed cover art to numerous "What Happens Next" anthologies compiled at A Gathering of the Tribes, and other publications.
In recent years she has collaborated with the sculptor Janice Mauro on cross-disciplinary installations, such as Beware of the Year 7000 (see above url), which include text and combine humor and social critique concerning the ramifications of global warming.
She created the first of many sets for the Alternative New Year's Day Spoken Word/Performance Extravaganza, establishing thematic set design as an integral part of the yearly East Village event instituted by then boyfriend, now husband, Bruce Weber. (Other artists, especially Su Polo, as well as Mindy Levekove and Nigia Stephens have created sets for the event too, and Yuko Otomo and Joanne collaborated on two sets.) Joanne was involved in "The Alternative's" evolution from the start, as a performer, graphic designer, greeter, and organizer at the communal book table. While the "Alternative" continues in NYC, this year she and Bruce have begun a new upstate tradition for New Year's in Ulster County, where they now live. Joanne is an avid member of Shout Out Saugerties, a vibrant town arts organization that spans all creative disciplines, and includes activism.
Joanne had a long career as a textile designer in N.Y., and has just retired from her second career as an adjunct professor of studio art and art history, but she continues to teach for Greenwich House Senior Center in N.Y.