The sexual revolution may have been raging on the coasts, but in the sleepy, stay-close '70s of downstate Illinois, where teachers still wore skirts and three TV stations piped in Andy Griffith reruns and American Bandstand, free love didn't flow. Where were my carnal suggestions? Baseball. In the tightened cut of the uniforms, the hard cups, the catcher squats, Reggie Jackson's forearms, the eyebrows and mustache of Keith Hernandez, the quick peep show of a locker-room interview, and nowhere more tantalizing to a queer fifth grader's mind than a single parenthetical in an ad at the back of Baseball Digest: Collector's Edition Posters, $1.95, Bucky Dent (No Shirt). I stared and I stared.
II
Where were my carnal suggestions? Baseball. In the tightened cut of the uniforms, the hard cups, the catcher squats, Reggie Jackson's forearms, the eyebrows and mustache of Keith Hernandez…
Baseball hated me. A scene I recall at will involves my siblings, middling or better sports players all, nudging me out to the yard when I was four or five to see if I could swing a bat. Not a plastic or wiffle but a real wood bat almost as tall as I was, and four, five, six pitches I missed at wildly or didn't even swing at, their laughs not the gentle snickers of a tight-knit family but deriding, my dad joining in. (Is it any wonder I preferred reading?) Instead, I turned on baseball for all its baroque trappings, its gear and its jargon, filling my head with as many batting titles and Relief Man awards as I could cram there, dressing in the loud jerseys and caps of the latest division champs (though never, ever the Cubs). In this way, I could pass as the man my family had hoped I might be, if only for a stretch of nine innings, quoting some saying of Stan Musial or a fact I'd borrowed from This Week in Baseball or the AM play-by-play. Three hours of an easy summer afternoon when I wore not a fag's name but something natural and manly like Dutch or Bucky.
III
Who was the poster for? No girls I knew subscribed to baseball magazines or traded Topps or Fleer. Grown men and women alike worshipped baseball players as demigods, with a kind of attention and electricity that bordered on the erotic. But they didn't see it that way. Any of the older men I suspected as gay weren't watching baseball. The priest (later incarcerated) and his "friend" who drove my brother and me to the big college town for pizza played "Boogie Nights" on the AMC Pacer's stereo, winked over us, and wouldn't have stood for my asking the score.
Just the fact that the magazine suggested even this homosocial brand of ogling turned those little slick-covered, stats-heavy booklets into contraband. Someone, somewhere saw ad value in the phrase "No Shirt." I stashed them in the box with pilfered underwear ads, a page torn from Penthouse Forum, the odd musty book on the history of hair with a few glimpses of pubic cropping. All which paled to my fantasies of an unseen photo of Bucky Dent.
IV
A man's man, fully at home in his body, unlike I am. Never no shirt.
In an online poll from 2014, 11% of all voters think that Bucky Dent is gay (homosexual), 83% voted for straight (heterosexual), and 6% like to think that Bucky Dent is actually bisexual. Like to think. Bisexual. Wikipedia tells me that Dent, both divorced and widowed, eloped with his current wife, also his business partner, in 2019. He founded the charity "Embraced With Love" to honor his wife who died of cancer. In its third century, baseball is still not big enough to accommodate a single openly gay player. Not a retired utility outfielder or a player terrorized in the clubhouse but a star in his own right, celebrated for his homeruns or his splitter as much as tragedy or late bravery. An umpire or two, good for a coffee-table book. Still no role model for today's young, awkward version of me. Through Google, I also learn that Dent was taken home from the hospital as an infant not by his parents but by his aunt and uncle, a fact he found out as an adult. Growing up, I was sure I had been switched at birth, not by relatives but by aliens who'd landed in a cornfield and ate headcheese and Jell-O with marshmallows. All we had in common, it seemed, was baseball.
V
It was years before I actually saw the pin-up, the swaths of fur on arm and chest, the gold bracelet, the pinky ring (World Series '77). This was in Playgirl, not the poster I never ordered. Before the internet, a boy could connect to the larger multifarious world with a few postage stamps and his allowance. That poster exists only in my imagination, more arousing for my never seeing it. The one on my laptop is washed out, sepia, a relic more interesting for the fact that it passed for soft porn in the past, for the ease of Dent's smile and his hands at his waist. A man's man, fully at home in his body, unlike I am. Never (no shirt).
Coda
A few weeks ago, three months into a wrecked season, I matched with a young, invincible-looking "baseball professional" (below Single A) on Tinder with a huge Instagram following who makes no mention in any post of being gay. He never wrote me back. The fantasies I kindled as a budding baseball fan are still laughable at 50. As I write this, MLB players are monitoring their vitals, testing "pos" (though never with a z), spending days in isolation, seeing their names added to a growing list. The first decade of my young gay life—free clinics, blood pricks, the fear, even, of kissing—is playing out, language and practice, not among some marginal group of deviants but among America's most respected, highest-paid elites. They, too, want to spit, hug, pat bottoms, slap bare hand to hand, talk smack and shout cheers into each other's face without thinking. And they're killing the game.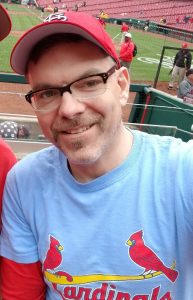 TERRY KIRTS is the author of To the Refrigerator Gods, which was chosen for the Editor's Choice series in poetry by Seven Kitchen's Press in 2010. He is a senior lecturer in creative writing at Indiana University-Purdue University in Indianapolis. His poetry and creative nonfiction have appeared in such journals as Third Coast, Gastronomica, Alimentum, Sycamore Review, Green Mountains Review, Taco Bell Quarterly, Presence, and Another Chicago Magazine, as well as the anthologies Food Poems and Home Again: Essays and Memoirs from Indiana. His culinary articles and restaurant reviews have appeared in WHERE Indianapolis, Indianapolis Woman, Nuvo, and Indianapolis Dine. He is a dining critic for Indianapolis Monthly.