by Kristin Prevallet
This video presents my poem/performance of "Cruelty and Conquest (OilOilOil)," which was one of many poetic interventions into the GBII years and the War on Iraq. This poem and my subsequent performance of it at Naropa University in 2006, is presented here with gratitude to Anne Waldman for the many years of energy and inspiration.
Context: In January of 2001, I, along with poets Anne Waldman, Alan Gilbert, Anselm Berrigan, and Magdalena Zurawski made unique signs and marched in protest of GBII's inauguration in Washington, D.C. From 2001-2006, I took Waldman's vow to poetry seriously as I composed many conceptual and performative texts and interventions designed to expose the lies and deceit that led to the U.S.'s fatal war on Iraq. (Collected in Shadow Evidence Intelligence from Factory School, 2006).
In 2006, Anne invited me to Naropa, and I translated the poem into a performance. The full documentation of that performance is being shown here, in tribute to Anne's 75th birthday, for the first time. I am delighted that David Kirschenbaum's Boog City is synthesizing this history—it was in Boog City where I and so many other poets were able to publish GBII and Gulf War protest poems, articles, and rants. 
Waldman's arrow-like prose and femanifestos were a huge inspiration to me, especially her imperative in Vow to Poetry that a woman poet "explore and dance with everything in the culture which is unsung, mute, and controversial so that she may subvert the existing systems that repress and misunderstand feminine 'difference'…turn the language of the body upside down."
It is indeed the "turning of the body upside down" that I am attempting in this piece, as well as paying a deep homage to feminist performance art, which I also absorbed from Anne's teachings: collaborate, collaborate, collaborate! (Here's an essay I wrote on Anne's collaborations with visual artists: http://www.poetspath.com/Scholarship_Project/prevallet.html) 
Anne, your inspiration to generations upon generations of women poets is the birth of neutron, pulsar, and kali yuga stars over and over again in this galaxy of language we call poetry. It is an honor and a privilege to be among your expansive field of apprentices!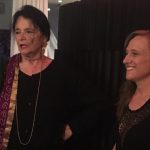 Kristin Prevallet (trancepoetics.com) a Denver native, is a poet who is the author of five books including I, Afterlife: Essay in Mourning Time(Essay Press) and Everywhere Here and in Brooklyn (Belladonna Collaborative). Between 1998 and 2006, she was an intermittent guest of the Jack Kerouac School of Disembodied Poetics at Naropa University, where she taught with the Summer Writing Program as well as for the online M.F.A. program. Since 2010, she has held the Creative Entrepreneurial Oracle (CEO) of the ever-expanding mindbodystudies.com, a resource of outlier mental health practices including the Trance Poetics homestudy course, her manuscript doulah coaching service, a hypnotherapy certification program, and books that integrate medicines of imagination and language. 
Kristin Prevallet with Anne Waldman at the Alchemist's Kitchen, May 19, 2017. Alystyre Julian, Outrider film.