Vinny felt lousy, even though it was his birthday. He gazed up at a photograph of his older brother, Vince Junior, hanging in his bedroom. The chubby baby in the picture wore a little White Sox cap and sat between Vinny's parents, Vince Senior and Marie Castelli. His parents never talked about Junior, but when Vinny was born in 1933, two years after his brother died from pneumonia, they named him Vince to carry on the family name. Vinny felt sad and maybe a little mad whenever he thought about Junior.
The phone in the kitchen rang. His mother called out, "Vinny, it's for you. It's Uncle Louie."
"I'll be right there, Mom."
"Don't talk too long or Mrs Cangelosi will complain about you hogging the party line."
"Ok, Mom,  I promise."
Vinny took the phone out of his mother's hand.
'You know how it is with me and Uncle Frank when I talk about Robinson.'
"Hey, Uncle Louie, I haven't heard from you since your argument with Uncle Frank and Dad about Jackie Robinson playing in his first game against the Cubs."
"Vinny, I'm sorry about staying away. You know how it is with me and Uncle Frank when I talk about Robinson. Hey, I called because I didn't forget about my promise to take you to a ballgame for your birthday. I reminded your mom about it last week and she said it was ok."
"Gosh, I forgot all about it. You bet I do, Uncle Louie. Thank you." 
Vinny raced to his bedroom without saying goodbye, and made up a quick roster for the game. He hadn't been to Comiskey since April, and all thoughts of Junior vanished from his mind.
This should be a great one. The Sox are playing Cleveland, and the Indians are only one-and-a-half games up. 
He folded up the chart and stuffed it in the back pocket.
Two hours before the game Louie knocked at the front door. Vinny's mom let him in the duplex and called Vinny.
"Louie, don't fill Vinny up too much on junk. Remember when you got him sick for his 13th birthday? You should have cleaned him up. And don't take him to a bar after the game."
"Ok, Marie. I promise. No beer for the birthday boy."
"So, what do you think about the Indians?" Vinny said, as they walked to the park.
"The Indian's owner, Bill Veeck, is always coming up with a gimmick, but the Sox should kick their butts anyway. Maybe 1947 could be a lucky year for the Sox."
"I hope you're right, Uncle Louie!"
Uncle Frank showed up after the second inning. He was late for everything. By the end of the sixth inning the Sox had pulled ahead of the Indians. At the top of the seventh Uncle Louie got up to go to the restroom. 
"Tell me if I missed anything." 
"Ok, sure, Uncle Louie."
There were two outs when Vinny heard an announcement over the public address system,  "Larry Doby pinch-hitting for …." Vinny checked through his roster for the Indians. He didn't find Larry Doby anywhere. 
A murmur of voices welled up from the bleachers. He heard Uncle Frank shouting, "That guy pinch-hitting for the Indians, he's a melanzane!"
"Hey Doby, go home, you don't belong in baseball," yelled Uncle Frank. Other people in the bleachers picked up the chant.
Vinny looked around. Uncle Louie hadn't come back from the restroom. Uncle Frank caught his eye and yelled even louder. Vinny shivered with fear. He picked up the chant with almost everyone else in the bleachers. Vinny felt someone grabbing his left arm. He turned around and saw Uncle Louie.
'Negroes should play baseball like everyone else.'
"What are you doing?' Uncle Louie said. 
"I didn't mean anything about it."
"I thought you'd be different, I hoped you wouldn't act like the other ignorant people in our family and the neighborhood."
"You don't know what it's like. The other kids call me a sissy cuz I'm not good at sports." 
Uncle Louie let go of Vinny's arm. Uncle Frank still yelled and cursed at Larry Doby.
Doby struck out and walked back to the Indians dugout. Vinny and Uncle Louie sat silently for the last two innings. The White Sox beat the Indians 6-5.
At the end of the game the stands emptied. Vinny walked away from his uncle. "I don't want to talk to you."
Vinny raced home ahead of Uncle Louie. He barged through the back door, ran to his bedroom, and slammed his door shut. Vinny flopped down and sobbed into his pillow. 
Lying on his bed, he gazed up at the picture of Vince Jr. and cursed his older brother, "Screw you, Junior. You were always first in Mom and Dad's hearts. I'm sick and tired of being second." 
Vinny could hear his mother outside of his bedroom door, but he didn't care if she heard him. Thankfully, she left him alone but he thought he heard her crying. 
Vinny got off his bed and wiped away his eyes tears and opened his bedroom door.
"I'm sorry, Mom. I didn't mean what I said." 
"A Negro, some guy named Larry Doby, played in the game against the Sox, and Uncle Frank started yelling an ugly cheer and I joined in."
"Your Uncle Frank can get nasty"
"Uncle Louie grabbed my arm and yelled at me. I ran home without him."
Marie hugged Vinny.
"Your Uncle Louie really loves you."
"I know, I know." Vinny started to cry again.
"Vinny,  Uncle Louie is right. Negroes should play baseball like everyone else. Maybe if Jackie Robinson played for the Sox instead of the Dodgers, they'd be in first place."
"Why do people in the neighborhood get so crazy when they talk about Negroes?"
"Vinny, it's always been that way, but maybe things are getting better since the war."
"I hope so, I didn't mean it."
"I know, Vinny, it's hard being second."
Vinny took the crumpled paper out of his pocket and added another name to the Cleveland roster:  Larry Doby.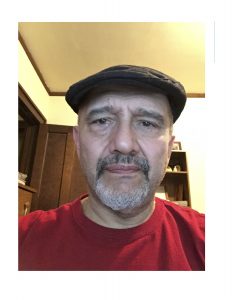 FRANK C MODICA is a retired public school special education teacher living in Urbana, Ill. He taught students with special needs for 34 years. His work has appeared or is forthcoming in Bluepepper, Adelaide Literary Magazine, Mad Swirl, Crab Fat Literary Magazine, and The Tishman Review.