by Ruth Lepson
It's one of those odd things, when you feel that you know someone so well
Anne came to my poetry course at The New England Conservatory a few years back. Her energy bowled us over; this from students who themselves have enormous energy. Some of us took her to lunch afterwards and then I had a little time to talk to her alone. I asked if she was born with so much energy.
"I guess so," she said, "because when I was a kid I was always doing two things at once." Unfortunately I can't remember what those two things are! Maybe she does.
Even now the number of events she is involved in and organizations she heads and gigs she and her son hold at the apartment is a source of amazement. Of course her spiritual practices have enhanced that energy greatly, but she was already headed in the direction of OUT THERE, GO!
—Ruth Lepson
---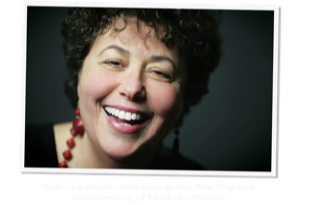 Ruth Lepson is poet-in-residence at The New England Conservatory, where she often collaborates with musicians. MadHat Press will be publishing her new and selected poems. Visit ruthlepson.com and click on Shop to hear musical settings of some of her poems from her last book, ask anyone (Pressed Wafer).
---