---
---
---
by Todd Cirillo


I
open a beer and begin to wander. There are no sounds. There … are … no … sounds. I am walking through my neighborhood, the Lower Garden District, I am walking through the French Quarter, I am walking through the Marigny, I am walking through Mid-City, I am walking through the Treme', I am walking through the CBD (Central Business District) and the Warehouse District, I am walking through the Garden District, I am walking through the Bywater, the 7th Ward, Gentilly, Lower 9th Ward, the Black Pearl, Riverbend, Broadmoor, Algiers, and Lakeview. I am at Lake Pontchartrain; I am on the Mississippi River.
At any given hour one can find New Orleanians singing in the streets, sitting in barroom windows or on their front stoop, calling out to neighbors and new friends. But that is in normal times. These are not those times.
It is eerie, it is wrong. It just feels … off. There are no open doors to bars or houses. No music spilling out of those open doors. At any given hour one can find New Orleanians singing in the streets, sitting in barroom windows or on their front stoop, calling out to neighbors and new friends. But that is in normal times. These are not those times.
This is one of the best weather springs in as long as can be remembered. Days of sunshine, pleasant heat, low humidity, magnolias blooming, breezes from the Gulf, which, at this time of year, usually fill the air with the smile-inducing smell of crawfish boiling.
There are very few cars on the roads, no planes in the air, no brunches at outdoor cafes serving bottomless mimosas, no Friday lunches at Galatoire's, no sitting at the counter at Felix's or Neyow's waiting for oysters. Antoine's, the country's oldest family-run restaurant, first opened in 1840 with five generations since then, is closed. They did, however, paint their plywood-covered windows in Mardi Gras colors of purple, green, and gold proving that even shutting down can be festive.
If your favorite place happens to be open, which most sadly are not, it will be take out only. Everything is take out now. Finding people to interact with is few and far between. Perhaps that hurts the most. The unnatural alienation. This is a social town. We are social people. From parties to festivals, second lines to restaurant lines, sitting at the bar or taking the garbage out. We enjoy interacting with anybody and everybody. Knowing someone for 20 years or 10 minutes makes no difference. Everyone is baby or darlin' to us and if it doesn't come back at ya, then something is seriously wrong with that person. Whenever you pass somebody it is automatic to greet them with a "Where ya at?" or "Alright," but those greetings have been replaced with "Stay safe, ya hear" from six feet or further away. We now move away from others, which goes against our natural inclination. I find that this brings about a sadness. It feels like stepping into an empty house after the person you loved has packed up in a midnight move and left.
The stillness of it all. Some may compare this to a hurricane but though that may be an easy comparison it is not a serious one. A storm is a tangible event. A force that is seen, heard and felt, you know it is coming and you know when it leaves. Besides, even during hurricanes, some bars remain open and people fill the seats and music plays out of battery-operated radios or bluetooth speakers for as long as the charge lasts. Hurricane parties are thrown, drinks are had, and there is a sense that the city will make it through. Right now, nobody knows what will or how to make it through something like this.
Even in these twisted times the history and uniqueness of New Orleans can still kiss you. That other-worldliness, magic, mystery, music, beliefs—spiritual and otherwise. A place caught out of time. The past is our present.
In February, as Mardi Gras ended, we began looking forward to a week's worth of partying and parades for St. Patrick's Day, the Mardi Gras Indians marching—looking pretty and singing on St. Joseph's Day—the Italian American parades and then rolling right into April with French Quarter festival and the New Orleans Jazz and Heritage festival, better known as JazzFest, with Second Lines hitting the streets each Sunday in between. This is what we were preparing for.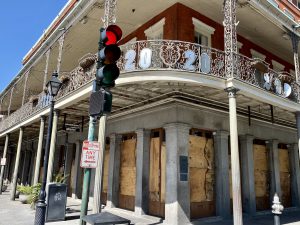 Then, on Friday, March 13th, schools in Louisiana were ordered closed until further notice, people rushed to the stores to empty the shelves in an attempt to protect themselves from what exactly we just didn't know. On March 17 it all shut down. A city that doesn't know the phrase, "last call," heard it ring out and then the lights went down and the plywood went up.
Bourbon Street is devoid of the life it is known for worldwide. Though the street itself is as clean as it has ever been, the neons are off, no "3 for the price of 1" drinks poured, the nudie bars are buttoned up, bachelor and bachelorette parties have gone virtual, encouraging shouts of "shots, shots, shots" have given way to birds and breezes. On a positive note, when you walk through the Quarter, the colors seem more vibrant, the smell fresher, and it feels of a different time. On a negative note, the rats have taken over in search of food, missing the scraps from millions of people dropping dinners and snacks—beignets, Muffulettas, Po'Boys, shrimp, Lucky Dogs.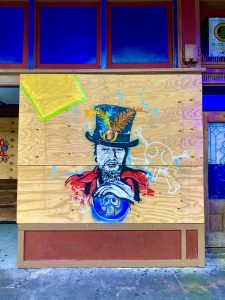 Jackson Square, the center of the Vieux Carre' (meaning old square in French), and the heart of the city stands silent and mostly empty. Emptied of musicians, dancers, tourists with hand grenades, magicians, card sharks, hustlers, partiers, mule-drawn carriages, garbage, the shoeshine man, brass bands, kids banging on buckets, and wedding parties. St. Louis Cathedral is closed and all that remains is a few people on bikes with masks on, some homeless stretching out on the benches on the St. Peter side, and one psychic at her table with an untouched deck of Tarot cards. One would think she would have known there would be no business today or any day in the near future and maybe she does. Perhaps it is hope and routine that keep her out here, providing her with a small semblance of sanity.
On the corner of St. Peter and Decatur streets, there is a boarded-up restaurant and bar with a glaring red stoplight and a sign that says "no stopping at anytime" in front of it. Above the restaurant is a set of very large silver numbers posted onto the wrought iron balcony of the pre-Civil War, Pontalba apartments. You can see it from across the street. It stands out. Silver, shiny 2020, with the last zero about to fall. A leftover from the beginning of this year that has turned so foul in so many ways. Everyone looks for hoodoo and voodoo down here, hoping to find it, to get something from it, to see an answer clearly. I like to think that it does exist and this may be the best evidence of it. All one needs to know about the year 2020, a prophecy from the very first second of the year. All we had to do was look up.
There are no planes overhead, fewer cars and trucks on the roads, bicycling has picked up, as have daily walks for many folks. Yet, after a few weeks, the frogs, crickets, and birds are easier to notice nowadays. The alligators have reclaimed the golf course in City Park and Bayou St. John, sightings are more frequent, same with the herons, cranes, cardinals, and crows. Everything looks a lot cleaner and a little wilder.
Even in these twisted times the history and uniqueness of New Orleans can still kiss you. That other-worldliness, magic, mystery, music, beliefs—spiritual and otherwise. A place caught out of time. The past is our present.
Part of the beauty of New Orleans is, if you walk long enough, you will feel that history, you will begin to hear that music that is soaked into the swamp streets, all 302 years of it. The ground is sinking, but with each step the music rises up, if only for a moment. But sometimes, at the right time of day, that moment just might be enough to carry you to the next one.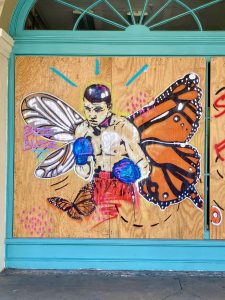 The most creative and colorful city in America began to express itself in ways only New Orleans can. Out of the boards and boredom came life, art, connection, creativity, sanity, and pride. Frenchmen Street and Lower Decatur Street have become living art galleries. Each plywood window has been painted over with images of our local treasures, unique weirdness, and legendary musicians such as Professor Longhair, Louis Armstrong, Fats Domino, Dr. John, and James Booker, among others. Pop culture images including Bill Murray, Muhammad Ali, Heath Ledger's Joker, Freddie Mercury, Wonder Woman, and even the Tin Man. There are images of toilet paper rolls with butterflies, hearts everywhere, and a silver Christmas tree decorated with Mardi Gras beads sits atop a street sign. On the shutdown music clubs and bars exist sincere tributes to first responders and health care professionals. On others, words of encouragement to one another appear in the form of "We Will Get Through This Together…From Afar," "We will survive," "Keep That Chin Up," "Won't Bow Down." On front doors, the dead are honored with black wreaths and ribbons while butcher block paper with the cold phrase, "Out of Business" greets passerbys on the doors of businesses locked up for good. Brutal reminders of the times.
Even out of death, life finds a way in the Crescent City. A clarinetist plays on his gallery in the French Quarter; neighbors with trombones play together from separate porches; Kermit Ruffins, trumpet in hand, serenades the city everywhere; a violinist in the back of a pedicab plays on the move throughout neighborhoods; a man sits at a piano loaded into the bed of a pick-up truck and jams some James Booker; Trombone Shorty still practices at his rehearsal space and puts it out virtually; local musicians try to earn a living by playing online; a woman on the street simply begins to sing "Do you know what it means, to miss New Orleans?" Whenever I am lucky enough to catch the sound of an instrument playing or a voice singing, my heart begins to rise, it begins to beat along with some unnamed rhythm, some forgotten melody that has been a part of this city since the earliest of days, and I am complete, free of anxiety, concern or worry. I am whole because music sounds different here. It sounds at home. These are the ways to connect in this disconnected time. This is how we continue community.
There will be no second lines today, or next Sunday or the Sunday after that. There is no telling when we will meet again, to hug, kiss, buckjump, share a snowball or something stronger, fall in love, dance, cook, costume up, have a crawfish boil while there's still some crawfish season left, sit next to an old or new friend at the bar, take a carriage ride, go to a festival, share glitter, or just dip into a place because they are playing your favorite song.
But it will happen, New Orleans. Until then, I'll finish this beer and open another and another one after that and keep walking the streets of this magnificent city because we can do that here and no one thinks twice about it. Nothing can keep us down. And at any moment, around any corner, with each slow step, the music will keep playing. No band necessary. That's just how things work down here.
---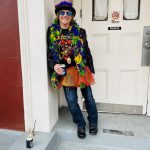 Todd Cirillo (www.toddcirillo.com) has been called "the best American poet writing clean, honest lines." He has 12 books of poetry, including Kisses from a Straight Razor (Epic Rites Press), Burning the Evidence (Epic Rites Press), Sucker's Paradise (Six Ft. Swells), and Roxy (R.L. Crow Publications). Cirillo is co-founder and editor of Six Ft. Swells Press and one of the originators of the After-Hours Poetry movement. His poems have appeared in numerous national and international literary journals, magazines, and cocktails napkins everywhere. He lives in New Orleans, where he seeks out shiny moments and strange wisdom.