by James Sherry and Mark Wallace
The Rapture is a political verse drama in four acts and a brief epilogue with 23 characters, portrayed by six actors. 
Composed in the tradition of medieval Mystery, Miracle, or Morality Plays, often depicting Biblical tales where the characters embody various moral concepts related to a central ethical quandary. The political dialectic on display also suggests Brecht's didactic and allegorical dramas. In a way, this conceit does relate to the battle for the soul of the everyman, but the stakes are decidedly contemporary.
The Rapture was first performed in a video produced by Inter Poets in association with Artists Space and presented on Zoom on December 6, 2020.
Act 1, Scene 3: Traders build a derivative around The Rapture. 
(Jesus has returned to Earth. The Rapture – the bodily ascent of the faithful into Heaven – will start soon. Corporate and political leaders scramble to profit from this momentous occasion.)
(Painting of souls rising in the rapture)
Three characters: CEO, Minister, Bond Trader
CEO: (anxiously)
Can I make big bucks?
How safe is my equity in this investment?
How soon can I cash out?
I need to know, right now, if I'm chosen.
I need, I mean, I demand, assurances!
Minister:
Investment in Jesus is never wasted.
He pays off in this life and the next.
Philippians 4:19 says:
"And my God will supply
every need of yours
according to his riches
in glory in Christ Jesus."
Now he's here on Earth. I'll help you
speak to him directly.
The moment he got here,
he asked me to set him up with people
who need him––and who can help him.
I've known him my whole life,
so be assured: there's no Jesus
like Jesus.

Bond Trader:
You actually know him?
Holy derivatives!
I want a piece of that Jesus action.
CEO: This action will be worthless if he gets himself crucified again. How do we know he's here for good and will guard our investments?

 
CEO:
This action will be worthless
if he gets himself crucified again.
How do we know he's here for good
and will guard our investments?
Minster: (ignores CEO, focuses on trader, smiling)
My son, come with me this weekend
To the new resort he's just opened,
Jesus-a-Logo.
Golfing, horseback riding, shooting
people in the face, the entire ark.
And a big pool
where Jesus does most of his baptizing
these days. Swim with Jesus
and you have a clean start. Even the Germans
are getting in the pool, and when the Germans
get wet it's time for business.
Plus, quality women. Russian women,
especially, are ready to go
to heaven right away
with the right kind of American trader.
(turns and looks at CEO with harsh, squinting eyes)
So, doubting Thomas,
how can I convert you? 
Jesus is the biggest
investment option there is.
You don't want in? There are 
others in the cabana, and you're welcome
to stay out of the pool.
But if you want in the swim, 
you better jump quick.
Still, maybe you're the kind of believer
better suited to the small safe margin
of U.S. treasuries and renovation art projects
in Kansas City, Kansas.
CEO (looking shocked):
Now hold on there, buddy boy,
I'm not saying no, I just wanna know
the mechanics of this little instrument.
I'll buy in, but I need some transparency.
Minister:
Enter the pool, 
let Jesus dab
a little water on your forehead
and the heart of everything will be revealed.
If the tree of knowledge
doesn't reassure you, then perhaps
your own judgement can't be trusted.
Bond Trader:
Don't bicker, I can suit you both.
Let's write this investment 
as a credit default swap and insure,
your bonds against potential loss.
We'll sell these swaps to the new
government of Tulsa of Greater Russia.
Those guys will buy anything. Let's see.
(puts his pencil to his tongue) 
The CEO buys debt in Rapture bonds,
say $20 billion?
(Minister lights up) 
We'll eliminate possible loss 
from default by the issuer of the bonds,
that is, Jesus, by selling the credit to Tulsa.
That is, Tulsa acts as collateral
to insure the investor's
potential losses as part
of the agreement. I fear counterparty risk,
but since the Minister is sure
we'll all be rising up, that'll be no problem.
CEO:
Um, well, that makes sense…
(clearly, he's not understanding)
Minister:
In Jesus, you will be protected
from all loss. Indeed, all losses
shall be turned into gains.
Bond Trader:
Jesus insures Moses'
investments. Ha, ha, ha!
Just sign here, and Minister, here!
(they sign)
end scene
Act 1, Scene 4: Corporate leaders sell Tulsa to Russia
Scene: A meeting room, as in photos of the signing of NAFTA or another treaty.
Four characters: CEO, Russian Oligarch, Mayor of Tulsa, Sergeant
Mayor of Tulsa: 
Jesus says, "Go, sell what you have." 
Gentlemen, we folks weren't managing
our people and property effectively
here in Tulsa. Tax income was down 20%.
Home foreclosures up 8, crime up 10. 
Democrats want social programs: too expensive. 
Republicans lowered taxes on the upper brackets
and retail sales fell.  
But this new opportunity
will make our town roar. 
We should have leased you
Tulsa years ago.
Mayor:

  

We here in Tulsa are ready

 

for new trends:

 

Half corporate state, half work camp.

 

I'm sure we'll be squeezing the best from everyone.

 
CEO: 
Tulsa needs a streamlined economy. 
Cities can't be responsible
for too many poor citizens, 
And the government of Tulsa 
Consistently operates at a loss. Today's new 
U.S./Russia "pilot program" leases cities
for 99 years to our northeastern neighbors. 
You Russians know how to manage populations. 
I'm sure you can reform the city 
Without all those nasty human rights 
That makes U.S. cities so expensive.
Russian Oligarch: 
Mr. Mayor or I should call you 
Grand Duke of the Greater Tulsa
of Russia, I'm so happy you've found
a vehicle to fit your new title. 
I'm sure you'll help us run this city,
assuring all Tulsa citizens
Have––and know (he smiles)––their place. 
We hear the work camps
are up and running, and that unemployment
is now practically zero.
Mayor: 
We here in Tulsa are ready 
for new trends: 
Half corporate state, half work camp. 
I'm sure we'll be squeezing
the best from everyone. 
Russian Oligarch: 
Mr. Mayor, of course.
Even the poorest citizens will have clear roles
with Tulsa in our hands.
Sergeant: (entering and saluting in the new way) 
Mr. Mayor, the work camps are full. 
We need more farmers to feed the workers.
Mayor: (frowns, annoyed)
Farmers? Yeah. Here in Oklahoma
we plowed them under in the Dust Bowl. 
I hear some big farmers are going
To the big Jesus rally this weekend
down at Jesus-a-Logo.
Maybe we can talk to them there? 
CEO: 
A big bash, I hear. But I also hear
there's going to be a protest.
Oligarch: 
Jesus saves us from worker complaints, poor people 
And most activists. As long as he leaves
those lovely loopholes in his morality,
we can deal with a few meddlesome lefties.
CEO: 
A few protestors reassure me
That I'm doing my job.
end scene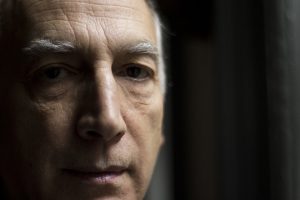 JAMES SHERRY (co-author, http://roofbooks.com/) is the author of 13 books of poetry and essays and one of the leading proponents of both Language Writing and environmental poetics. His books include The Oligarch: Rewriting Machiavelli's The Prince for Our Time (Palgrave MacMillan) and Entangled Bank (Chax Press). His essay book Selfie: Poetry & Ecology is forthcoming from Palgrave in 2021. He is the editor of Roof Books and started the Segue Foundation in 1977 in NYC. Ben Sherry photo.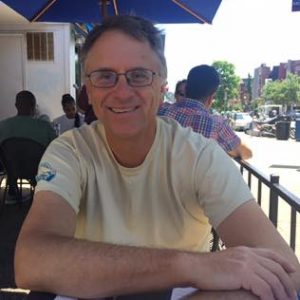 MARK WALLACE (co-author) is the author and editor of more than 15 books and chapbooks of poetry, fiction, and essays. Most recently he has published a novel, Crab, and a book-length prose poem, Notes from the Center on Public Policy. Selections of his multi-part long poem The End of America, which he has been writing since 2005, have been published in several chapbooks and a number of journals. His current novel, Sir Sleepy of the Bunny Nest (A Saga of the Revolution), is an ongoing serial appearing on a fugitive tumblr blog. He lives in San Diego, Calif.