People used to say I looked like Audrey Hepburn or Susan Sarandon, young Susan Sarandon, depending on my mood and hairstyle. That was a lifetime ago. Lately, as my features have hardened into a blush-is-off-the-bloom version of my former self, they say I remind them of Joan Crawford or Patti Lupone–the current Patti Lupone. Sometimes, to my horror, I look in the mirror and see Ayn Rand. I don't think I look like Ayn Rand, but sometimes when I comb an Adolf Hitler part on the left side of my head…Other than that, I don't smoke, I'm a little overweight and I'm not a very deep thinker.
I'd just bought groceries and was walking home along Broadway with heavy shopping bags, the Angel Food Cake I'd just bought on sale placed carefully in a bag by itself on top of a New York Times. I'd wanted to buy fresh blackberries to dress it up, but when I got to the fruit section the berries were $8.00 a container, so I bought some canned peaches and pineapple instead. I walked up Broadway trying to convince myself that putting canned fruit on the cake wouldn't be so bad.
… and no one is really paying any attention to anyone else unless they're famous or a female under the age of 40. Not falling into either of these categories, I qualified as invisible…
As I passed another market with tiers of fruits and vegetables outside, I noticed towers of blackberries in containers. The sign said, "3 FOR $5.00." I looked inside at the pre-dinner buying frenzy. Two of the three shopping bags, heavy with bottles, cans and jars, were carving red ravines into my gloveless fingers. In my other hand, the lighter third bag held only the Angel Food Cake and the newspaper. I took a moment to assess the situation, eight blocks from home, broken elevator, I rarely ever buy cake, and this one deserved fresh fruit.
I brought three containers of berries inside, the stack resting on my hands, balanced between my chin and chest, the handles of the plastic bags thinning from the weight, stinging deeper into my knuckle joints, cutting off circulation. I walked toward the cash register, then past it, following the line that stretched to the end of a long aisle. Standing between the boxes of cereal, bottles of olive oil on special, refrigerated dairy snacks, the tower of blackberries threatened to tumble to the floor, a steady parade of feet squeezing past in both directions. A shopping cart would make it bearable, but I'd have to leave the line to get one. There was no guarantee there would even be a free cart. Even if there was, the amount of people behind me was increasing. By the time I returned to the line I'd have a longer wait than if I'd stayed there.
I propped two of the bags, stuffed to capacity between my ankles to prevent them from falling over. I bent over and slipped the berries into the bag with the Angel Food Cake and the New York Times. Blood buzzed back into my fingers.
I tallied the contents of my wallet, my checking account and savings. I calculated the resources and waste of the corporation who owned this small chain. I assessed the shelf life against the number of containers of blackberries displayed outside the store. Three containers would be nothing. You were basically paying them so they wouldn't make you dive into some dumpster to get them.
No one around me seemed to notice that I'd slipped the blackberries into the Angel Food Cake bag. I casually looked to the side and behind. Two employees were having a heated discussion about how to stock some shelves. The guy directly behind me was looking around peevishly, holding a six pack in one hand and a family size bag of sour cream and onion Ridgies in the other. Hiding inside one of my bags were three containers of blackberries. Which were either three for five dollars or three for no dollars.
I scoped the scene: the frantic populace around me, racing like microbes and I, invisible as a shred of pimento stuffed into one of the olives crammed into the jars lining the shelves along the aisle. The place was lit with florescent bulbs and, though I didn't see any, I suspected there were surveillance cameras. I affected a forehead slapping–oh, i forgot something moment. I didn't actually slap my forehead. That would draw attention. It was a to-myself-head-slap to get into it, a form of method acting frequently used by thieves and other sociopaths where convincing yourself of something helps to convince others. I took a circuitous route through a couple of aisles in case my movements were being watched by the surveillance cameras, though I don't believe anyone actually watches them all the time, especially since everyone is on their devices and no one is really paying any attention to anyone else unless they're famous or a female under the age of 40. Not falling into either of these categories, I qualified as invisible, making the best of the culture's miscalculated disregard of my existence. I learned from an early age, being the youngest of four in a continually unravelling family, to trust in the likelihood that whoever's job it was to keep an eye on me would be slacking off. Similarly, whoever is supposed to be keeping an eye on the camera (if there is anyone, not just the presence of a camera itself acting as a deterrent) will probably be checking his/her Facebook page or playing Candy Crush on his/her cellphone.
I was still unsure of whether to play it safe and go back to the line or out the exit. Yet, I knew (who knows me better?) which I would choose. Nearing the end of the second aisle, I saw that the only thing between me and the exit was chaos. Like an anthill, which is not chaos, only looks that way to an outsider. Everyone around me had a destination and intention to fulfill. Mine was out the exit.
I emerged into the dusk of upper Broadway. The sun was only visible by the orange light it radiated above. It spread, firing up the cornice of an early 20th century apartment building. And there it was, like a gift from heaven, shooting up from a slender glass tower, maybe a mile or two north, a rainbow making a high, balletic arc ending in some mysterious place in the Southeast on the other side of Central Park.
I emerged into the dusk of upper Broadway. The sun was only visible by the orange light it radiated above. It spread, firing up the cornice of an early 20th century apartment building. And there it was, like a gift from heaven …
People don't usually stop and congregate in the street unless it's spring or summer but here they were on a damp evening after days of icy winds and snow piled so high, cars were unable to pull out of parking spaces where the snow plows had hedged them in. It had been unseasonably warmer than the preceding days and the thaw was sending up a moist prism. The sky was turning pink and gold. People who were walking uptown stopped in the middle of the sidewalk, looking up and smiling. Mothers and fathers bent over strollers, spoke in high, squeaky voices to their toddlers and pointed at the sky. At first, the people walking downtown, rainbow at their backs, were oblivious. When they saw the upturned faces of the people walking toward them from the other direction they turned around. More people stopped, looking up, muttering to each other, smiling. Hands fumbled in bags and pockets, dogs and strollers abandoned to phones raised skyward like amulets and I was doing it too. Because you wanted to own it.
The rainbow starts to fade. Everyone is talking about how it's going away. The sky is getting paler before it gets darker and then the lights of Broadway deepen — traffic lights, headlights, outdoor lights of the fruit and vegetable stands, corner banks, pizza parlor neon.
There's really no end to a rainbow. And I don't mean the rainbow, as in somewhere over the— I mean a rainbow. Because there must be infinite rainbows visible from infinite points of view. One fades here, another appears there. No end.
Now, acutely aware of being alive in the midst of a sacred geometry, in a bliss all the more blissful because it lives in the ordinary, I thought about the three containers of blackberries for which I would have happily forked over five dollars. Five dollars is a bargain. But there's no bargain like free. The free berries are riding home in the bag with a Cake of Angels and the New York Times. I'm feeling doubly elated. My petty larceny is clearly worthy of a celestial display. What we have here is not merely an Angel Food Cake with fresh berries. A sentient being is paying homage to a holy thief, a biblical gesture sent by a god with Shakespearean imagination. Or the fallen angel of Ayn Rand.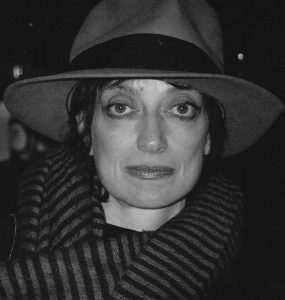 BONNY FINBERG's (https://bonny-finberg.blogspot.com/2014/04/review-of-kalis-day-by-kevin-riordan-in.html) fiction, poetry, essays, and photographs have been published and translated internationally in numerous literary journals and anthologies and have been included in various gallery exhibitions. Publications include her novel, Kali's Day (Autonomedia/Unbearable Books); a short story collection, How the Discovery of Sugar Produced the Romantic Era (Sisyphus Press); Déja Vu a collection of poetry with her digital collages (Corrupt Press, Paris); and Sitting Book (Xanadu Press), a conceptual text and art publication, available at Printed Matter. She is the recipient of a 2014 Kathy Acker Award for fiction and is currently working on her second novel and a ficto-memoir. She lives in NYC. Ira Cohen photo.