Scott Smith, Anne, Michael Eck, QE2, Albany, N.Y. Oct. 7, 1989. Dan Wilcox photo.
This represents a section from my work-in-progress "Opening the Mic: a Personal History of the Early Days of the Albany Poetry Scene" covering my move back to Albany in 1986 to when I started my blog in January 2007. The sources are my personal diaries and the notebooks where I recorded the readings I attended as well as "the world's largest collection of photos of unknown poets." In January 2007 I started my blog, "DWx" (https://dwlcx.blogspot.com) about the readings and literary events that I attend, which includes photos and is, in itself, an archive. But there was no public archive of the early years, thus this project. There are also over 4,500 photos on my Flickr site.
Anne In Albany
It was on Central Ave. 
	in Albany, NY
		early October, 1989
			I first met Anne Waldman
				walking with Tom Nattell.
	Tom had kick-started
		the Albany open mic scene 
			in March, 1988 
				at the QE2 rock club
					on Central Ave.
	just a few steps from where I ran into Anne with Tom
		while on my lunch hour
	Tom had brought Anne to Albany
		to help promote her book
			Helping the Dreamer: New & Selected Poems
				with a reading/book-signing 
					the next day at Boulevard Bookstore 
						also on Central Ave.
		& the day after, a workshop
			sponsored by the Hudson Valley Writers Guild
				& a reading at night at the QE2.
I had taken photos of Anne at the Boulevard Bookstore
	when I saw her at the workshop
		asked her to sign Helping the Dreamer
			she wrote: for DAN WILCOX of the photo-eye!


(from my Diary) 
"… she asked if I was going to take take pictures
at the QE2 tonight because, 'I need some 
performance shots,' she said."
The QE2 was crowded that night
	regulars
		folks I hadn't seen before
			writers from the workshop
	Anne did a solo set
		then a set with local musicians
			Mike Eck on guitar, Scott Smith sax & flute
	Anne's performance a mix of poems from 
		Helping the Dreamer
			from loose pages of manuscript
				from Memory
	the kind of high-energy performance
		I would come to know as 
quintessential Anne Waldman 
		but then was new, exciting
			to me, to the nascent Poets of Albany
		perfect for the stage of this punk-rock club
			that had become the omphalos 
				of the rock & poetry scene.
Two years later, October 1991, 
	Tom brought Anne back for a benefit for
		Art & Understanding a literary project of the
			AIDS Council of Northeastern New York
				at Steamer #10 Theatre in Albany
	poet Jim Cohn opened with poems & a song
		also, "The Upstate Blues Band" with Anne
			her family in from Cherry Valley
				helped packed the house			
			young nieces & nephews danced on stage
		Later, I took family pictures for Anne
	Anne read from Iovis Omnia Plena
		performed with the band:
			"Kali Yaga Blues," 
			"Uh Oh Plutonium"
			"Anarchy," others
					Anarchy!…Anarchy!…Anarchy!…
	The visit had included a performance the day before
		at UAlbany Assembly Hall
			mostly students but many community poets
(from my Diary)
"… the place was packed - Steve [Clark] said, 
'why couldn't we get a crowd like that at our readings?' 
Anne came flowing in, all scarves & flowing dress, 
with Judy Johnson & Tom Smith. Katie [Yates] 
came up & gave Anne a hug. As Anne sat down, 
she recognized me & said, 'Thanks for keeping me 
in touch with what's happening.' She gave a great 
energized reading… One question from a woman 
behind me was on how to find out what's going on 
—Anne said to get together with other poets, then 
said, 'Talk to that man right there' & pointed to 
me."
In 1996 Anne was back in Albany
	on some kind of assignment with UAlbany
		that - of course - included Poetry in the Community
	a NYS Writers Institute sponsored performance
		at Page Hall with saxophone intro by Scott Smith
			poetry intro by Pierre Joris
		poems from the Theragatha, Iovis
			sax & poetry
	& the next night back at the QE2
		music by Scott Smith, Chris Funkhouser
			& Anne's grand-nephew Devin on sax
				(my photo of them used in 
		In the Room of Never Grieve, 2003)
	a grand party with Anne's family
				& community poets
					back at Tom Nattell's house.
Later years, ran into Anne in Woodstock at the Colony Cafe
	at a reading of United Artists Books poets in NYC
		at Split This Rock in Washington, DC
	& most recently October, 2019
		at Bennington College, Vermont
			Trickster Feminism
				just an hour from Central Ave.

---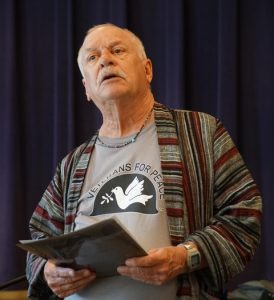 Although Dan Wilcox once worked as a dishwasher and as a short-order cook, he has never driven a cab. For most of his career he worked as bureaucrat and wrote poetry. He was named one of the 2019 Literary Legends by the Albany Public Library Foundation. He claims to have "the World's largest collection of photos of unknown poets." Currently he organizes poetry events in Albany, N.Y. and is an active member of Veterans For Peace.