by Sean Cole


Any day married is like two on your own. Long month. March
needed a wife, hence April from its rib. Anyone would
never pick a bone over eating in bed with their own
Eve. Many anybodies don't top a onesome consort.
Was that redundant? "Onesome consort?" Very well.
Any two words said together mean the same thing: say
"Loam" on top of "ossify" you get the same humped lawn.
Dirt doesn't need a name it knows who its married to. Yell
"Man alive!" loud enough and all our husbands will
arrive. Man, that'll be a nuptial! Maybe we can make a
newborn, the group of us – one little perfect nursling.
---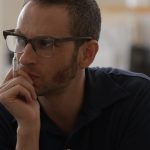 Sean Cole's (https://woodberrypoetryroom.com/?p=2085) poems have appeared in The Brooklyn Rail, Court Green, Black Clock, Boog City, and other magazines. He is the author of By the Author and The December Project (Boog Literature), Itty City (Pressed Wafer), and One Train (Dusie). His latest manuscript After These Messages is in need of a publisher. He is also a supervising producer at the radio show and podcast This American Life.