From My East Village
8. Utopia Redux
And now I come to Lewis Warsh
and Bernadette Mayer, who I met
in Boulder, Colorado, at 
the then Naropa Institute, 
where they were leading
workshops, June of '78.
I blended into their household
as if there were no barriers
and would for the next several
years be a regular presence
amid the routine proceedings 
of the day, which in their system
was nothing like ordinary.
I'm not sure from where their income
was arriving, but they each were
available day and night the
first year or two I knew them, and
spent the time together in care
of infant daughter Marie, and
in ensuing years joined in quick
succession by Sophie and Max. 
I suppose I was quietly
astounded participating
as witness to the leisurely
unfolding of the days and nights
passing with little urgency –
from first light spent entertaining
and feeding the children and the
evenings, once the kids were in bed,
devoted to writing, each of
the authors settled at their desks,
the racket of two typewriters
commingling from different rooms –
a literary symphony
of industrious enterprise
producing words I yearned to read.
Bernadette, a new age goddess
and a formidable presence,
overhauled my value system,
wrenching me out of my caveman
sensibilities, disturbing
my soul in its new reckoning.
Her writing fractured narrative –
reordering components of
description and response into
a new form of matter – much as
my proclivities adjusted
fortunate in her presence.
Lewis was the embodiment
of Jean-Pierre Léaud, actor
of the French New Wave, who was a
role model for me in college 
years illustrating how males could 
be tender and introspective.
I'd help them move: once from Lenox,
Massachusetts to Henniker,
New Hampshire (where they'd both secured
teaching positions); one transfer
resettled them for a summer
at a house called Whispering Pines
(which recalled for me perhaps the 
most heavenly of songs by The 
Band), on Lake Buel in the Berkshires;
and I drove a rental truck once 
again – this time to a spacious, 
two-bedroom apartment (with French
doors) in the Ageloff Towers –
standing stately between East 3rd
and East 4th on Avenue A –
where many spaghetti dinners
would take place with more than a few
jugs of red wine consumed in the
ensuing years as Bernadette
took over the position of
artistic director of The
Poetry Project where I was
already administrative 
assistant along with Gary
Lenhart, and Bob Holman became
the program coordinator.
In the summer of '81,
I invited the Warsh-Mayer
family to join me for a 
house-sitting gig removed to
rural Connecticut, the most 
bucolic and pleasant month of 
my earth time – luxuriating
with my adopted family 
away from the grim conclusion 
of the city, transplanted to 
a setting with a strawberry 
field down the road, a horse in a 
stable in the yard and a lake 
to bring the children to in the 
hot afternoons (see Bernadette 
and my dual journal At Maureen's).
Between prepping meals, keeping the
children entertained, hosting a 
slew of visitors who'd arrive 
from the city, and writing at 
night, we read a lot of books
we'd borrow from the library.
I read everything Lewis told 
me to read. The locale in the
quiet countryside, our comfort
with each other, our being far 
from New York, whatever it was, 
the arrangement was conducive
to an unperturbed yet focused 
engagement with piles of print
matter, a paradise shielded
from toxic interferences 
by good fortune and the Mayer-Warsh
no-conflict-is-front-page approach.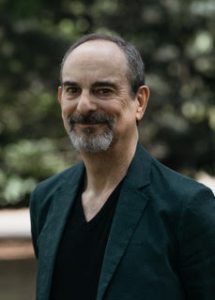 GREG MASTERS has issued nine books from his imprint Crony Books over the past eight years. This poem appears in his latest, It Wasn't Supposed to Be Like This, December 2020.