'Goatland' a novel-in-progress
CHAPTER ONE
            The instruction manual tells me there's a goat in an argan tree, about an hour east of Taroudant, near Tinouainane, possessed of divine knowledge. Divine Berber knowledge. I only have to climb the right argan tree, find the right goat, milk that goat, and drink the milk slowly. Then I will be released from the social contract of 67. 
            That's what the manual says.
            Drinking the sacred goat milk does not end the journey. It will not guarantee an eternal existence.  That is only the beginning. I must move on, to a different land, to live. Goatland. A place where survivors of 67 go. 
            So I will not be coming back to The Republic of Capra Amaru. Ever. 
            I have big plans for Goatland. 
            Half-truths.
            There's a stairway beneath the argan tree, the manual says, that leads to a subterranean river. There will be a small boat, a kind of Moroccan canoe, waiting for me on the banks of that river. I will recognize that canoe from another dream, but it won't make a difference.  I only need to get on board and follow the current, dodge a few boulders and stay midstream until it's time to come ashore.
            I will know when it's time to come ashore, when I arrive at a populous landing in middle earth, a Martian transit depot, where I will be processed by Freedom Fighters, and transshipped to equal space, not inner or outer space, but equal space, where the poor and middle class, the moderately well-to-do, can live forever like The Billionaires. A dreamland. Goatland.
Drinking the sacred goat milk does not end the journey. It will not guarantee an eternal existence.  That is only the beginning. I must move on, to a different land, to live. Goatland.
            It's my understanding that on the river journey to Goatland, I will hear Jilala music. From what I get from the manual, which is not that well written, it's the goat milk from the Berber goat, that will help me hear these sacred sounds. The manual says there are changes I must go through to get where I'm going, and Jilala music will aid in that transition. It sounds okay to me. This could be the new age Nova Express.
            Goatland is not a land of make believe. 
            There are no dragons in the kingdom I'm going to. 
            There are no fairies or leprechauns there.
            Goatland is a land of half truths, a non-matrix place, where dreams are made and sent back to the mainland to occupy us when we are asleep; the dream world, the sleeping world of shade, inconsequential love, wet dreams, flying endless stairways, infinite banana cream pies, a Jungian playground. That's where my journey will take me. 
            There will be no dragons or unicorns in Goatland. 
            No perpetual rainbows. 
            Goatland is a place where I can work in the dream factory, unbridled, interdimensionally, and at my own pace. A place for big plans and half-truths, where I can partake in making dreams that will haunt and amuse me for years. 
            A distant place with a direct line to Stage 5 REM. I only hope the sardine tagine is very good there, and the mint tea is as sweet as I remember it from my psychedelic days in Fes fifty years ago. 
            Caroline will miss me when I'm in Goatland. I am sure of this. And I will miss her. Fifteen years of sovereignty cannot be denied. But the alternative of 68 leaves me no choice but to bid ye all farewell. Do or die. The journey to Goatland awaits me.  I will see you on the other side, Caroline. Watch your midnight dreams for a sign. I will be the one scratching his head and reading Fahrenheit 451. 
•
            Caroline, 
            I'm leaving The Republic of Capra Amaru for good. I'm tired of being hurt. Go ahead, take your trip on the dead asphalt highways of sad romantic tattoos. Do what you have to do. When you come back I'll be gone with Rover. I've lost my affection for Swan Lake and President Lancaster's Gothic House. There's no joy for me here anymore. 
            Max
•
            At 67, I'm starting to calm down, kind of.  At 67, I'm beginning to feel comfortable writing a prose line.  
            My ex-wife wanted me to deliver my dog, Rover, to a Canadian film crew, he would spend three months getting dance lessons. I told the film director I wasn't interested. He insisted the dog would become a very good dancer. I told him it's not going to happen. When I woke up, I reassured Rover that I would not be sending him away for dance lessons. 
I don't think he understood 
            At 67, I'm learning that those demons and dragons, which surround me breathing fire and stabbing the air with pitchforks when I'm editing a story can be put back in the bottle at any time if I will only pause to take a breath… (I still don't know where to put the commas). 
            As my mother used to say, "Things don't just disappear." Or do they?
            Being born is never enough. You must be born again, which is an entirely separate matter. Consider the Gosling goose. Some live, some die. Interdimensionally. 
            Everything belongs in the right place. Everything must be neat, clean and orderly.  The universe is made of brittle glass. Any wrong step, any scuff on the linoleum, any sweaty cocktail glass on the walnut table, minus a Neuromancer beverage coaster, will rend the heavens asunder.  
            Life is cursed with nuance. Sam Lowry found that out. Billy Graham was a huckster and homophobe. I don't care how many presidents kissed his feet for votes. Beware of breaking glass. 
•
            Lancaster's Parade.
            A tidal wave of young mothers and fathers pushing a platoon of giggling babies in green strollers down the barricaded avenue. 
            One hundred thousand nannies, each with a half-dozen drooling toddlers pulling and tugging and laughing on a starburst of leashes, bring cheers and applause from a half-million teary-eyed patriots in blue and green sunhats lining the avenue. 
            Seventy-six adolescent boys and girls in green and blue Republic of Capra Amaru National soccer jerseys and shorts, rolling green and blue soccer balls under their feet with unparalleled agility, kicking them into the air, bouncing them off their skulls in unison, while the band plays on. 
            A brass band of tall, talented teens, ten thousand strong, playing "Ecologia," The 
Republic of Capra Amaru national anthem, marching bright and proud. 
            Glorious acned teens with oboes, trombones, trumpets, piccolos, triangles, snare drums, bass drums, cymbals and marching mallet percussion, glide-stepping past bleachers overflowing with tuxedoed senators, cummerbund ambassadors and their bow-tied children.
            Then come the theme floats. A mile-long procession of sixty-seven stunningly realistic dioramas, each float depicting idealized stages of life in the land of Lancaster. From conception to sacrifice.
One hundred thousand nannies, each with a half-dozen drooling toddlers pulling and tugging and laughing on a starburst of leashes, bring cheers and applause from a half-million teary-eyed patriots in blue and green sunhats lining the avenue.
            The Gymanazium Float, the float celebrating Plan 67, is the grandest float of all. 
            A pageant of seniors slumbering in down-filled beds. 
            Mechanical monstrosities reenacting the sprinkling of starlit Gymnazium powder on huge bowls of sugary cereals, and chocolate desserts. A twenty-foot ladle of crystalline Gymnazium, tilting on a silky-geared motor, pretending to spill its glistening contents into a ten-foot glass of mother's milk. A marvel! 
            The holographic displays. 
            Dozens of seniors in white robes, projected in holograms, rising gently from their beds into the glowing sky, disappearing above white clouds into the bluest heavens, and snatched out of the heavens by yellow and blue glowing orbs to be carried away in the invisible ether to the tune of "Ecologia."
            It takes your breath away.
            Fifty thousand Destiny Cadets in green and blue marching uniforms and silver shakos plumed in peacock feathers marching in lockstep behind the Gymnazium Float. Eyes front, advance, retire, right dress, left dress, port arms, present arms, ground arms, trail arms, sling arms, and fix bayonets. 
            Marching. 
            Marching.
            Five hundred horses with braided manes prancing and kicking, bowing and parading, celebrating the genius of domestication.
            Helicopters and fighter jets flying by. 
            You can hardly hear yourself think.  
            Ballistic missiles, tanks, and amphibious assault vehicles rolling down a biodegradable avenue, sinking slightly in the flesh-and –bone-blended noonday asphalt. 
            There are speeches. Endless speeches. 
            "We are the greatest land, the greatest democracy, the freest people, forward thinking…"
            Lancaster promising there will be no retreat from our mission to achieve sustainability, to preserve the human race and restore the garden planet earth. 
             "This is our blessing. We are the custodians. We nurture and consume. Nature belongs to us!"
            And then, finally, when we think we have seen it all, here comes the pageant of Mother Earth, exactly what we all have been waiting for! 
            Two thousand scientists simultaneously reciting a hypnotic mantra, the names of every living thing known to exist on planet earth. A roll call of life. 
            Everyone in the bleachers bowing their heads, The Billionaires and even Lancaster, humming, humming, humming, a practice of supreme vibration adapted from the Buddhists. OMing. The recitation. The witnessing. The testimonial. The abdication. 
            From tardigrade to rhinoceros. From Spirulina to Sequoia.  Every butterfly, Monarch, Blue Morpho, and every variety of tsetse fly and mosquito. The Asian Mosquito. The Southern Mosquito. Every biting bug, fire ant, tarantula spider, golden orb weaver, wolf spider, and chigger. Every sacred mold. Stachybotrys chartarum. Penicillium digitatum. Aspergillus niger. Every bladderwort, sundew, saracenia, and cobra lily. Every bacteria, Planococcus, Streptococcus, Merista, Planomerista, and Gouldian finch, house sparrow, Purple throated hummingbird, viruses, Lovebird, Bird of Paradise, Cockatoo and Black Swan. Every parrot, Hyacinth Macaw and lorikeet, ring-tailed lemur, sheepshead, angelfish, tarpon, rat snake and crow. Every rose, orchid, cymbidium and pleurothallis, caladium, resurrection fern, carp, shark, whale, duratii var. decomposita, silk worm, coral snake, python, indigo snake, Titanus gigantus beetle, lantern fish, puffer fish, and jelly fish. The Devils Hole pupfish, penguins, polar bears, grizzly bears, great blue whales, narwhals, elephants and giraffes.
            The list goes on. 
            The drone of adoration for Mother Nature is so great it drives the spiders clinging to the undersides of the bleachers and grandstands into a spinning frenzy. Like spiders on LSD, they weave webs that are magnificent in geometry, though non-functional. 
            The listing and humming goes on for hours. 
            Not a single known species of Mother Nature's Pantheon forgotten. 
            Even extinct species are remembered. 
            Dodo birds, Elephant birds, Tasmanian Tigers, Quagga, silphium, The Saint Helena Mountain Bush, The Cry Violet, Dusky Seaside Sparrow, The Bornean organgutan, The Giant Otter, and company. And a special salute to the Pyrenean Ibex brought back from extinction through cloning. The very first success of that kind! 
And you'll suffer when they come to get you. And they will come to get you, be sure of that. You can't hide your age. Living forever is for the rich. And we're not rich.
            Hail, The martyrs of human industry, the victims of feather hunters, ambergris hunters, and bone and shell hunters! 
            Hail, The martyrs of draining, filling, and lumbering!
            Hail, The martyrs of epicurean obsession and over-population! 
            Even the long lost dinosaurs get special attention. Every school kid knows their names.
            And the crowd is so high from this humming, chanting, tantric recitation that they believe they have reached Nirvana.
            Praise Lancaster! 
            Praise the sacrificial Seniors! 
            Praise The Billionaires who wipe our chins, and shit in luxury!
            Mesmerizing drones soar above cheering crowds, dropping confetti and clouds of colored powder. 
            It's beautiful!
            We are the proud youth! 
            We are so young! 
            We are the innocent children! 
            The precious babes! 
            We stand at mid-life prepared for our pleasant journey home. 
            Salute! 
            Salute!
•
            Caroline, 
            I'm not running from death, I'm running from complicity. And if death greets me on the seventh floor, I'm okay with that. I wouldn't care. I've done enough, what I need to do. This is what happened in Edens of another time. Your negative hysteria poisoned everything. Your insistence upon a reality that even you can't stand or justify, your obsession with the cool of terror on the hip avenue of conventional drunks has crushed me.
            I've tried to blame it on the place, the police, people in the neighborhood, the demographics, but it was you in the wool robe of perverse flagellation, the flesh eating wool, the victim in tattered black and blue tearing at everything around us, that shattered the romance.
            Max
•
             "It's throw the real bad bums out, and replace them with the not-so-bad bums," I said.  "That's the way it is these days," Caroline says. "Bums every one of them."
             "It's a mystery too complex and deep for me to understand. Politics is not my game. I have ideals…"
            "You're angry," Caroline says.
             "I find it impossible not to be," I said.
             "You're still breathing. Don't complain," she said. "Though I don't like that cough."
            Caroline handed me a fresh vial of crystal Gymnazium. I broke the seal and sprinkled it over my cereal. 
             "I should stop taking this shit," I said. 
            I added milk and sugar to my Banana Puffs.
             "They will find out. The cough will disappear. And you'll suffer when they come to get you. And they will come to get you, be sure of that. You can't hide your age. Living forever is for the rich. And we're not rich."
             "I was never good at making money."
             "I don't blame you for that."
             "This country sucks."
             "You don't have control over the system, Max. They have the guns. The trillion dollar fighter jets. The government snipers and fortress banks. It's too late to bemoan the fact. We have been transformed. Justice is subjective."
            A migraine was coming on. 
             "You know this isn't going to work out in the end," I said. "Even The Billionaires will scream and beg for mercy after a couple of hundred years, if not sooner. They will weep for an end to the tedium of life, I can bet you that. They will bow down and pray for termination, an end to repetition and the everyday ordinariness of life. Eternal familiarity will be a nightmare from which they cannot wake.
             "Vampires," Caroline said. "They will be vampires who have seen too much of history. And each other. They will forget how to love."
             "It's inevitable."
             "Take your Gymnazium and forget about it." 
             "You trying to get rid of me?" 
             "We're stuck in this groove. Until you have a better solution you have to go with the program."
             "I heard there was a scientist in Australia, a very rich man, a billionaire in a billionaire's super-fit body, who, when he turned 104 years old, decided he'd had enough of it all. He was in the peak of health, but he got tired of the stupidity of humanity. He fled Australia, with the help of some old friends he knew from the days before he discovered one of the longevity genes. They tried to smuggle him into Goatland but he died on the way." 
             "He didn't make it?"
             "No, he died in Casablanca. He was struck down by a funky Moroccan bus."
             "I don't believe you. You have a great imagination. So now you want to go to Goatland?"
             "What do I have to lose?"
             "You're superstitious. It doesn't exist."
             "So what if I am? What's the worst that could happen?"
             "How did he die, really?" Caroline was interested. Rich people aren't supposed to die.
             "He died from an anomaly. That's what I'm talking about. There's always an anomaly. No matter how good they think they have it figured out there's an exception, a quirk, a rarity."
             "I don't even believe there was an Australian scientist. You made the whole thing up."
             "Travel is hard on seniors. Even the rich ones." 
             "Now you're being silly. So he died? Was it a bus or what?"
             "An anomaly, he was meant to live forever and he died of old age. Young or old. Rich or poor, shit happens."
             "The problem with you is that you're an idealist."
             "Living forever," I said, "is a crime against nature." 
             "Goatland sounds nice, if it were real. But I would as soon be dead rather than end up in prison and die without Gymnazium." 
             "Don't talk about dying, Caroline. You still have a good, solid, predictable seventeen years on you. And you're hot." 
             "Seventeen years without you. If I don't get hit by a bus."
             "Yes, without me."
•
A president has to be more than someone with a passion for golf.
            Gymnazium is a heightened form of communication that speaks to and for the community.  It's the crystal voice of the continent. It's the news. A soporific vehicle, through which history and tradition are filtered, split, reassembled, and transmitted. 
            A myelin sheath. A latex nipple. A conversion of the genetically modified, restoring the mutant field to a glabrous width. 
            We are informed and empowered by Gymnazium. It inspires and motivates us, at the edge of a final eclipse, to care about the world, to love the world without disgust, fear, or hunger, without transposition. 
            Gymnazium is a pure critique, analysis and loving revelation, a bond that makes us better for each other.
            Gymnazium is euthanasia.
            Or you can die slowly, cut into a thousand pieces.
•
             "Good evening ladies and gentleman. I am Hallway Caves. And I'm happy to welcome you to another edition of 'Books On The Shelf.'" 
            This evening we have a very special guest, Max Shepherd, the controversial author of Secret Tyrants of The Heart. Thank you Mr. Shepherd, for agreeing to speak with 'Books On The Shelf.'" 
            Caves is young, blonde and male. His teeth are perfect, his dark blue suit is sharp and hip and his tie is red.
            Max: Thank you for having me.
            Max is at ease in front of the camera, almost serene. It's as if he knows every question and answer in advance.  He takes a steady breath and relaxes his brow.
            Caves: So let's get down to business. 
            Max: Sure.
            Caves: In your most recent book, Secret Tyrants of The Heart, you toy with the idea of revolution. And you mock Lancaster…
            Max interrupts Hallway Caves in a slow and non-aggressive manner.
            Max: I never mock Lancaster. I don't see how you can come to that conclusion from this book. Have you read it? It should be clear to any careful reader that I have never said anything negative about Lancaster. I have never mentioned him at all. He has always had my complete respect. 
            Caves: You're aware that Lancaster has a passion for golf, as does the president in your novel.  Is that a coincidence? 
            Max: Lots of presidents play golf. That's a characterization of golf not of presidents.
            Caves: Then you're saying that your entire book is fiction? That it's not a satire or meant to ridicule our president and The Republic of Capra Amaru? It seems Secret Tyrants is a prescription for anarchy, an intentional affront to our leadership and its policies.
            Max: I'm not an anarchist. Now or ever. Some people read my books and look for easy answers.  They draw the simplest parallels and conclusions, otherwise their brains get tired. I'm not responsible for that. A president has to be more than someone with a passion for golf. Some readers look for a scapegoat in me. They deny they're unhappy with things as they are. They are looking for a hole in one. But understand, if they're unhappy it's not my fault. I'm a very tiny player in this difficult existence. 
            Caves: So your book is meant to expose unhappiness in Capra Amaru? You agitate the reader. This is a political book.
            Max: If you're saying I'm an agitator. I don't see that. I consider myself an entertainer. A comedian. 
            Caves: Some critics claim that you take every chance you get to preach your politics and offer instruction. That you abuse the form. That your books are "pedantic and tiresome." That's how Crandon Buttersworth describes your writing. He describes you as a "political crazy."
            Max: Everyone's a critic. The characterization of my work as being pedantic or excessively political avoids the big picture. It comes from small and jealous minds. Life is made of contrasts. A good book relies upon dark and light to move the narrative and develop characters. They used to call my writing depressing, now they call it dystopian.
            Why not take Secret Tyrants on face value instead of going on the defensive or the offensive? I have always found Tyrants to be a very funny book. I laughed out loud as I wrote it. Who could think a presidential obsession with banana splits could be anything but funny. I find the book uplifting and comical. Hopeful, not tragic. It was never meant to be anything but entertainment. 
            Hallway Caves ignores Max and forces another question upon him.
            Caves: Let's talk about zebras then. And crocodiles. The dialogue between birds in Secret Tyrants. I think they're cardinals, is that right?
            Max: Yes, cardinals 
            Caves: What is it about these sacred and beautiful creatures of this splendid planet earth that seems so funny to you? So comical? Do you think male cardinals are prettier than female cardinals? Should we not save the planet? Don't you believe these noble creatures are worth protecting? Most of us believe they are the unsung heroes of our survival. You give these fantastic creatures a bit part in your passion play, hesitate to give them the respect they deserve. Praise be to the natural world! Isn't humility essential?
            Max: Are you saying I lack humility?
            Caves: No, no. Forgive me, Mr. Shepherd, if that's how it seems. But you often place humans at the center of a three-ring circus. You give them the spotlight, but ultimate plants and animals are peripheral. As if a red rose has nothing better to do than die in a vase. They're flat characters in your minstrel show.  In Capra Amura, you know, we have vowed to submit our essentiality to a second tier, and elevate plants and animals to a primary and holy perspective. 
            Max: You've loaded your question with ambergris. This book isn't a passion play. Nobody important dies. And I have nothing against zebras or crocodiles. If I had my way no living thing would ever die again. Except for maybe humans. I've often considered writing a second volume to Secret Tyrants in which there are only crocodiles, zebras, cardinals, pigs, and goats, and no humans at all. 
            Hallway Caves smiles sardonically.
            Caves: This is your idea of humor. Your trademark.  I'm sure the audience out there would like to know more about your attitude toward humans and sustainability. 
            Max: It's simple. I find animals and plants ultimately more interesting than humans.
            Caves: More interesting than babies?
            Max: You mean baby humans?
            Caves:  Of course.
            Max: As far as I know animals and plants do not practice euthanasia.
            Caves: Euthanasia?
            Hallway Cave looks beyond the camera. He's looking for help
            Max: Or genocide.
            Caves: Can you be more specific?
            Max: I was just thinking of the Nazis, Native Americans, Gaza…
            Caves: So you deny having a nature phobia as many critics claim.  
            Max: That's absurd.
            Caves: But your opposition to Plan 67 is no secret.
Life is contradiction. It's a literary device.
            Max: You're conflating things. My opposition to Plan 67 is not an opposition to nature. There are a handful of billionaires consuming more resources than all of the old people in the world combined. We have the ability to let our citizens live and die a long and healthy life, and still save nature. Plan 67 is a convenient solution to ecological sustainability for the benefit of The Billionaires who seem to have difficulty planning an equitable future for anyone but themselves. The Billionaires are insatiable. They want it all…
            Caves is agitated.  His pulse is racing. He feels he has finally flushed out his prey.  He is ready to pounce
            Caves: Fortunately, we live in the most democratic country in the world. How can you expect your readers to trust you? Of course, you are entitled to your opinion, Mr. Shepherd, but there's an essential contradiction in your position. 
            Max: Life is contradiction. It's a literary device.
            Caves is smug, and on the surface controlled, but his hands are now cold and damp. His fingers stick to the paper on the brushed steel desk before him, the paper that contains the questions prepared by Lancaster's Right Truth Secretary, in anticipation of an interview with a heretic. 
            There's a twitch, a nervous tick on Caves' right cheek, near his right eye, a pulsing distraction. His skin tingles with adrenalin. It's as if in revealing Max as a heretic he has actually exposed himself to the burn of a universal lie.
            Max glows angelic. He thinks of Rover, his dog, who means the world to him. Irony pinks his cheeks. His eyes sparkle blue and green. It's as if at any minute he will achieve sainthood.
            Caves: Thank you for joining us, Max Shepherd. It has been a pleasure to have you as our guest on "Books On The Shelf." We hope you will join us again.
            Max: Thank you for having me.
            Max is content.
            Rover puts his paw on Max's chest and sniffs his ear. Max rolls over and takes another forty winks.
•

            Caroline, 
            I was willing to go along with you in this charade, because I thought the angry naming of the ups and down was simply an artistic game, but you wear it for real, a spiky crown of black diamonds where there once was a bird with a wind beneath its wings. 
            I imagine you were born an angel. But the angel has been beaten down. I begged you not to let this happen again. We've been through this before. Begged you to keep your hope and sustain it, to let it heal and grow a rosy daylight. But you fed the dawn a cynic's laughter. I tried and tried, a thousand times to save you. But invariably you're lost.
            Max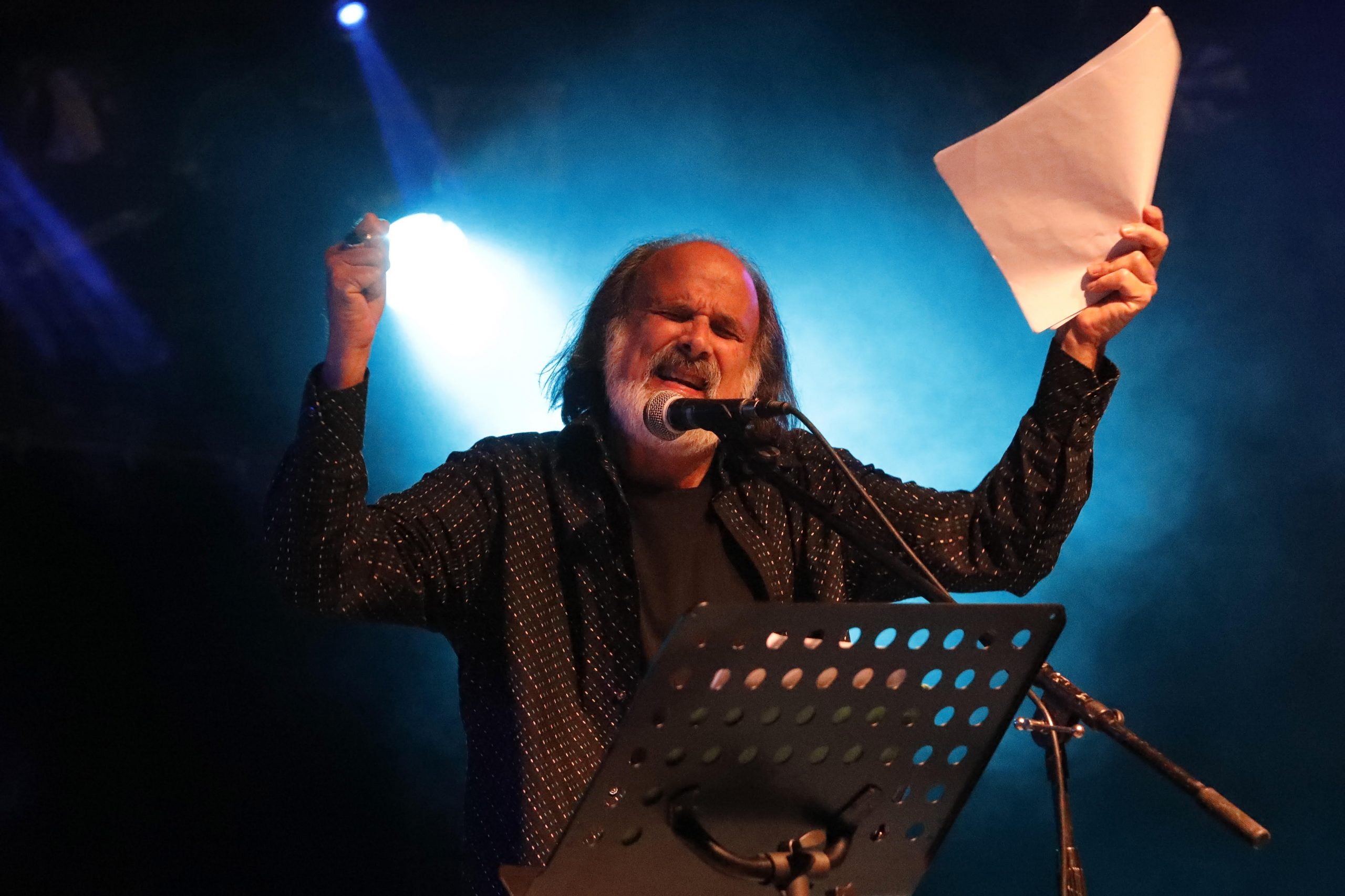 MICHAEL ROTHENBERG is co-founder of 100 Thousand Poets for Change, co-founder of Poets In Need, a non-profit 501(c) 3, assisting poets in crisis, and editor and publisher of BigBridge.org. His most recent books of poetry include Drawing The Shade (Dos Madres Press), The Pillars (Quaranzine Press) and I Murdered Elvis (Alien Buddha Press). In Memory of A Banyan Tree, Poems of the Outside World, 1985-2020, will be published by Lost Horse Press next year. Rothenberg currently lives in Tallahassee, Fla., where he is Florida State University Libraries Poet in Residence. Bob Howard photo.
Click to Visit
Interview with Michael Rothenberg conducted by Wanda Phipps
Poetry from Michael Rothenberg
Michael Rothenberg Comes Alive!
Drawing The Shade (Dos Madres Press)
The Pillars (Quaranzine Press)