Sometimes I despise what the world declares a masterpiece. But my friends say that mess I struggled over in a dream is the one that is most beautiful. Perfect. Okay. Who am I to argue with them? Let them say what the want. And no, it's not for sale. None of them are. I hoard them to see where I have been in my work. To see where my life has been. Each image a piece of personal memory, a story, tribulation, and victory.
Sometimes the failures are most memorable. I will not let go of any of them. Maybe I will try to paint another one like it, like the one that everyone loves. Not a duplicate, of course, I am incapable of that. I am not that good of a painter. But something in that flavor, a hint of strawberry, a dash of pistachio, some order out of chaos, some ruse or drama. But this time, no matter what I come up with it shouldn't be as hard to figure out what's going on, I don't think. And I will try to remember that every piece of art, good, bad, or indifferent, in process or resolve, has its own destiny, and I am only here to get in the way."
August 24, 2019
excerpt from Ars Artica
Click to Visit


Fiction from Michael Rothenberg

Interview with Michael Rothenberg conducted by Wanda Phipps

Poetry from Michael Rothenberg

Michael Rothenberg Comes Alive!
Drawing The Shade (Dos Madres Press)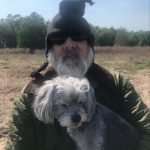 MICHAEL ROTHENBERG is co-founder of 100 Thousand Poets for Change, co-founder of Poets In Need, a non-profit 501(c) 3, assisting poets in crisis, and editor and publisher of BigBridge.org. His most recent books of poetry include Drawing The Shade (Dos Madres Press), The Pillars (Quaranzine Press) and I Murdered Elvis (Alien Buddha Press). In Memory of A Banyan Tree, Poems of the Outside World, 1985-2020, will be published by Lost Horse Press next year. Rothenberg currently lives in Tallahassee, Fla., where he is Florida State University Libraries Poet in Residence.