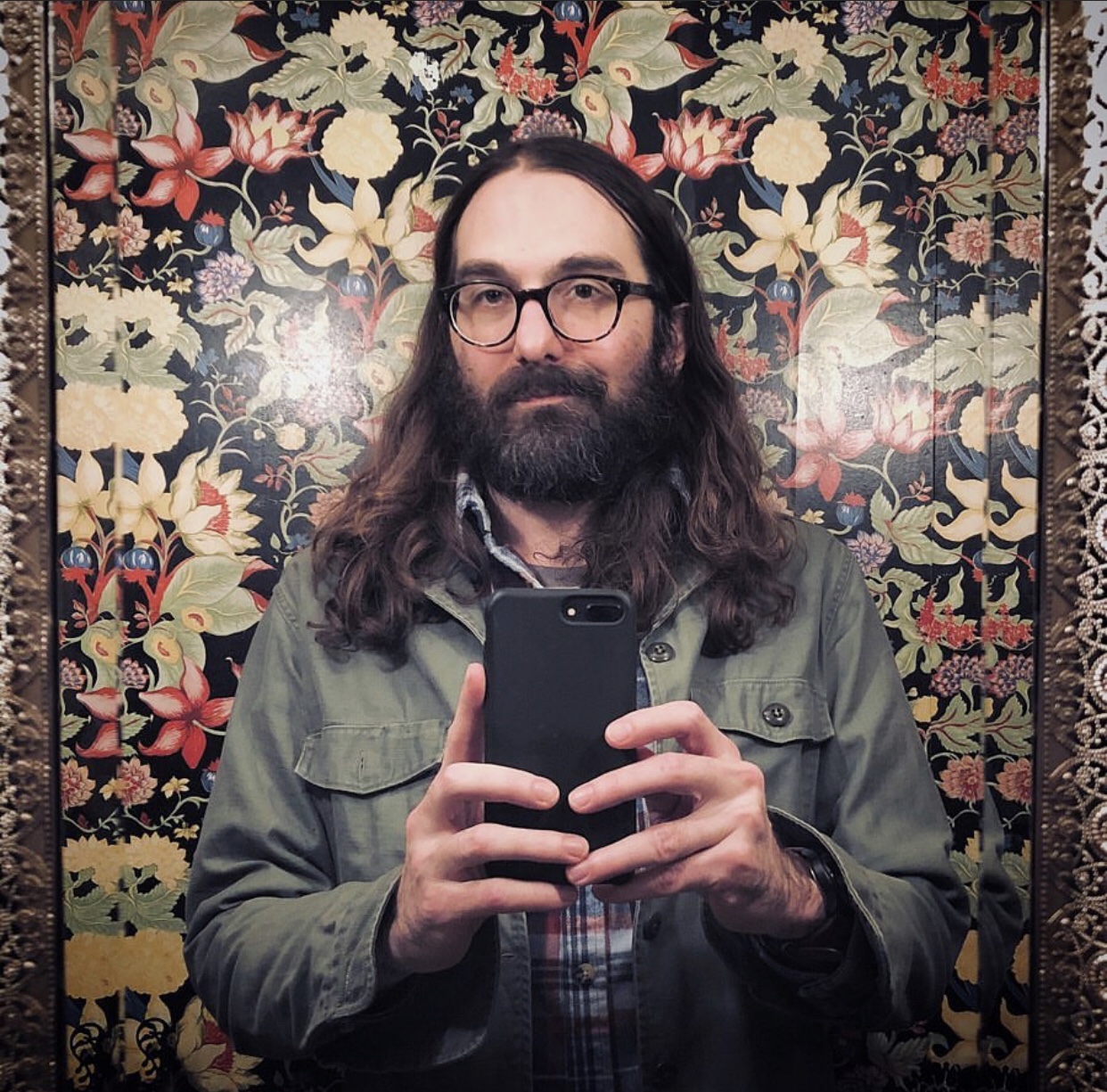 Dining with Jennifer Walker
for my father
Paul's shadow angles into frame
creeps down a Vietnamese bikini
on the right arm of US[U.S.?] Corporal
Lee Gricci, Worcester, Mass.
feathers gentlemanly into warm
Saigon sand. Tan, trunked, must-
achioed smile belies my question,
"Is this the war?"
He rarely talks of. He talks of after.
Dining with Jennifer Walker.
The pseudonym he reviews under
exchanged for ad space lobster joints
townie bars dot the Pilgrim's Highway.
Miss Lonelyhearts a column by an invisible
veteran, too. The first in three generations
without a battleground, my rank:
Scrambled Eagle, Whiskey Tango Foxtrot.
Drive north across blank expanse into Mystery
Valley where two Johns reimagined mani-
fest western destiny in black & white celluloid.
Rest against the cool canyon floor. Native flute
from a Navajo guide with Megadeth hoodie
fingers through the circled hole in sand-
stone ceiling into sky blue arches. He leads
up and we gringos won't understand. The riders
return to the road, lunch and a brief tour
home. Asleep on the couch, Chardonnay
glass balanced in the hand across his lap.
Is this the war before the thunder. How long,
I ask the sleeping sky. How long before the thunder?
Anonymous, I ask the sky named Jennifer.
—Veterans' Day 2020
They Have No Use for Your Song
No Minneapolis genius
Or just another sucker dove
The sign of the rose in my beak
Underground digital monks
Rush in to defend
Cardamom & vetiver
(lemon honor)
What in carnations
Is basic in sound,
Beauty in reason
A black rectangle
Sprayed on the sidewalk clearly
Has something to say
•
It rains on Charlie Parker's birthday:
Pizza alone in a Somerville dugout (park closed : contaminated soil)
Accepting the plague, decline the invitation to play the role of unavoidable convenience store clerk typecast all uncomfortable stares and awkward silences at the family birthday murder mystery party mother dead on the floor in the park two dogs frolic around, the humans look nervous my trust
the soul of an oath city-kissed speaks past the cynicism of sleeplessness
Rain on, bird
•
To impress his idol, Harry Nilsson destroyed his voice screaming thru a polyp
Blood on the mic, air in blood, music / in air. If only he heard Norma Tanega:
Don't sing if you want to live long / They have no use for your song
blue rain purple lotus gold dust woman
/ Many Rivers to Cross


Reading Edna
for Michele


Spilling pastel drivel
April comes, pacific
sneezing season in disorder
cascades like an idiot
topping downhill
carrying The Spring
Rebirth Industrial Complex
on its back, rey yen,
gutter cleanings, broken
pail & crown & IG comments
scanned permit parking only

Post commute
thru a wine blizzard:
"I love the US[U.S.?] government"
"Heart heart breaking heart"
"So sad!"
"Who hurt you"

Reading Edna
as I love an Irish Exit's
willed rebellion
dousing concept
daffodil & tulip
nausea-green
juniper allergy
Saint malaise
Easter Monday's
half-off Peeps sale
peach reduction

A fresh earth hole
collapses from its edges
everyone's saved by
extension til we're dandy
suede in Warbies
yelling Rita!
from the corner
to a passing star
falling for city pop or
zoning out in the
dollar bin, silky
smooth currents
passin' through
Care of Cell 44
singing to the eye
a maggot brain
winter-petaled
budding in the underworld
Summer Vein
I ride the bus with the nurse who drew my blood
Plings, goodbyes, guitars, the rain lifts in unison
& hatching emergencies skid above the slaughter
of this tropical summer vein. Roadside beasts
left to crackle at the edges. Poured out on corners
rinsed in dirty dancing lake water. Duende babies:
babies of blood synched to the weight of 1,000
derechos disrobed across the dry city's western hills,
cloud over runoffs in mid-hyacinth torrent.
An abandoned couch couched in abandonment issues
issues forth a dull mauve groan across the avenue.
Stop bell plings the needle pulled from an empty
arm empties its projections from a blue-scrub
blue Apollonia vision. Exit wound heat
whispers her instructions into wet night's
dissolve into spindle fits:
Say something crazy.
……………………………
_______________
Take out the butter notes.
……………………………………
__________________
Please scream inside your heart.
……………………………………………
_______________________
Black Moon Lilith
Birthday Poem at 41
A stranger at the Charles edge surrounded by geese I walk by into dirty water


to dry or kiss off into air, clamoring for bread, a goose solace. Ambient


Emotions and stupidity, that's what has sustained me! Admonitions


in self-soak, & in love, I go in search of security, expect too much, an ideal over


realistic love. A friendlier walk, the sweetness and liveliness of runners. "I seek


new perfumes, larger blossoms, pleasures still untasted." Black Moon Lilith in Virgo.


Dangerous to boast of knowledge unearned when frustrations are otherwise


Everyone sees at river's edge, and still difficult to solve. Self-imposed limitations,


nevertheless. Honk. I have been warned. Like democracy, the heart is fragile, prettier'n


a pack of aces. Falling leaves warmer in incongruent weather.
Imagine a rooftop: Tanya's new minimalism, metaphors,
invisible adaptations, press & splatter, balance &
measure; Mike spinning oblique phantom-blue reggae tone
twinkling across Brooklyn rooftop dusk; Tim's reach beyond
plea, tuned to decency & sense among neo-colonial
pulldowns, how failure is a failure of language; Sakkis'
elegies for the end of blogs & handbound journals we were
the last generation of; Many others, friends to remind each
other of unending reach back, and forth, grown together,
saying what we don't, to anybody else, and it still moves;
an antidote or just other poisonous nostalgia, Anselm?
How to stay never-ending, tough, & vulnerable? Black Moon Lilith,
take your ease; give us warmth & nobility in these everyday
states. Our love a secret code, a catch phrase, performance
and play, acknowledgment and friendship that teaches how
to swim in sound: Charles swans swanning ruffled white &
clean across the dirty in whatever direction. Let it go, and
let it go easy, babe.
By the way, Joe: Periodicities is currently accepting.
—November 9, 2020
ANDREW K. PETERSON is an editor and author of five poetry books, most recently A blue nocturne notebook (Spuyten Duyvil Press). A chapbook, The Big Game Is Every Night, was mailed to the White House in 2017 alongside other publications from Moria Books' Locofo Chaps as collective protest. A co-founder/editor of the online lit journal summer stock, he received an M.F.A. in poetry from Naropa University's Jack Kerouac School of Disembodied Poetics. He lives in Boston.