Poetry, Fiction, Music, Theater, and Film
TUES., SEPT. 28


YouTube Playlist and Facebook Live Only
The event will also be streamed via Facebook Live
https://www.facebook.com/groups/115605743040
And it will be available online in full the next day at
https://www.youtube.com/channel/UCGD_RIKdy7P9fdpIugMgoLg/featured
For our video viewers we're asking for $5,
which you can  send via 
https://www.paypal.com/us/home 
to editor@boogcity.com 
or 
https://www.venmo.com 
to David Kirschenbaum
 7:00 p.m. Katherine Seidemann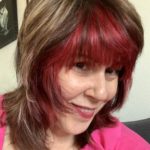 Katherine "Kat" Seidemann is a Seattle-based poet and transmedia artist. Born in NYC and teethed on moon-rock, Kat is a lover of clever puns who's rarely met a useless fact or anthropomorphism she doesn't like. Katherine's writing has been published in the Liction Springs Review, Clamor, and Rogue Agent. Her transmedia work is included in To Walk a Mirror, Poems for a Street Corner. Her photography has been included in exhibitions at Shift gallery and Gallery 1412. Kat's collaborative project Poetry Dispensary and solo project Poetry Acorn Vending, both curated mechanical artworks, were featured at Black Lab Gallery and Shoreline City Hall.
 7:10 p.m. Ameerah Shabazz-Bilal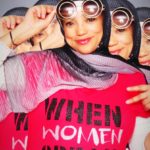 Ameerah Shabazz-Bilal is from Newark, N.J. She has a unique talent for telling stories through poetry and visual arts. She is also a teacher and photographer. Ameerah is the founder/facilitator of "When Women Speak" and "When People Speak," poetry platforms for creative voices, support, and empowerment. She is the author/illustrator of Breathing Through Concrete, a poetry anthology. Her works are featured in Every Kinda Lady and Her Sister Pages and Philadelphia Says: Black Lives Matter. She has to her credit the inspiring and publishing of over 300 student authors/illustrators and the facilitation of many student performances. Her mantra is Poetry isn't poetry unless it's Spoken…Word.
 7:20 p.m. Dujauna Sharese

https://www.dujuanasharese.com/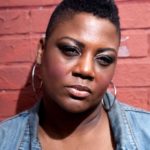 Dujuana Sharese is an  explosive spoken word artist, master of ceremonies, podcaster, voice over  actor,  workshop facilitator and  performer who has the ability to tantalize. Dujuana has been enticing audiences with her truth and comedic energy through spoken word and music. She recorded two digital albums and is published in two anthologies. Sharese is the first to introduce Jersey City, N.J. to spoken word and live music as creative competitive artforms. As a content creator she has remixed the dating game, provided a forum for younger writers and relished in our Rites of Passage through podcasting. 
 7:30 p.m. Raymond Tyler

www.deepdopesoul.com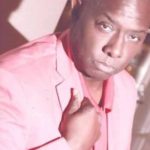 Raymond Tyler is an Atlantic City native and member of The Atlantic City Arts Commission. He has over 30 years of professional visual art. His art, Jazz (11:59), was installed at The Atlantic City Bus Station. He is the first black columnist for Atlantic City Weekly. He has contributed to The Source, Vibe, Sister 2 Sister, and Essence magazines. Tyler writes for Shore Local and Atlantic County magazines. He can be heard on internet radio stations across America as well as FM 91.7 WLFR, 106.5 WPPM, and FM 96.1 WTTH.

 7:40 p.m. Rashad Wright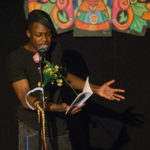 Rashad Wright is the former poet laureate of Jersey City, the only two-time Grandslam Champion of Jersey City Slam and was ranked 25th in the country at the Individual World Poetry Slam in 2018. He is a multidisciplinary performance writer and the author of Romeo's Whiskey, which blends poetry and memoir. He is a veteran of the United States National Guard and a graduate of New Jersey City University, receiving his Bachelor's degree in English: creative writing. Jushin Gonzalez photo.
 7:50 p.m. José Angel Araguz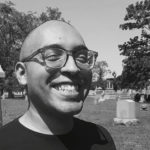 José Angel Araguz's most recent collection is An Empty Pot's Darkness. His poems, creative nonfiction, and reviews have appeared in Crab Creek Review, Prairie Schooner, and Poetry International. Born and raised in Corpus Christi, Texas, he runs the poetry blog The Friday Influence and composes erasure poems on the Instagram account @poetryamano. He is also a faculty member of the Solstice Low-Residency M.F.A. program. With an M.F.A. from New York University and a Ph.D. from the University of Cincinnati, José is an assistant professor of English at Suffolk University in Boston, where he also serves as editor-in-chief of Salamander Magazine. Ani Schreiber photo.
 8:00 p.m. Britny Cordera 

newsouthernfugitives.com/masthead
Cordera is a Black writer and Louisiana Creole poet, descending from African, Indigenous, and French/Spanish ancestors. She was a finalist for the 2020 Narrative 30 Below contest. Cordera's poetry can be found or is forthcoming in Rhino, Narrative, Xavier Review, and PANK. She is an M.F.A. candidate at Southern Illinois University in Carbondale, a teaching artist through the St. Louis Poetry Center, and a poetry editor for The New Southern Fugitives.
 8:10 p.m. Susanna Velarde Covarrubias

theshow.kjzz.org/content/1613263/monsoon-stories-2020-upon-leaving-poem-about-arizona-monsoon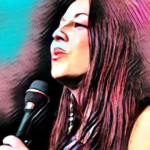 Susanna Velarde Covarrubias is a poet, playwright, translator, and performer. Daughter of Mexican immigrants, she's drawn to the borderlands found between genres/labels/breaths. A VONA alum, she was selected for the 2017 Forn's Playwriting Workshop, the 2018 Kennedy Center Playwriting Intensive, and received a scholarship for Sojourn Theatre's 2019 Devising Institute. She recently received an Arizona Commission on the Arts grant to develop her play Estrella. Covarrubias studied graduate playwriting at Notre Dame, and earned her M.F.A. in poetry at Rutgers University-Newark. Her poetry's been featured in Phoenix, NYC, New Jersey, Hermosillo; and on PBS' Art in the 48, and NPR's The Show. She's a core ensemble member with Teatro Bravo in Phoenix.
 8:20 p.m. David Crews 

Davidcrewspoetry.com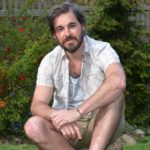 David Crews is a writer, editor, and wilderness advocate who resides in Bennington, Vt. (ancestral lands of Mohican-Abenaki peoples). He cares for work that engages a reconnection to land and place, wilderness, preservation, and nonviolence. He serves as managing editor for Wild Northeast. Recent poems and essays can be found in Writing the Land, Rewilding Earth, and The Hopper.

 8:30 p.m. Joshua Escobar

Joshuaescobar.com

Joshua Escobar is the author of the chapbooks Caljforkya Voltage and xxox fm. He was a 2019 Shandaken: Storm King Fellow, the Dean's Fellow in Writing at the M.F.A. program at Bard College, and a Merit Fellow at UC Berkeley's Graduate School of Journalism. Bareback Nightfall, his first full-length collection, debuted in 2020 from Noemi Press. He founded the all-ages DIY zine Orange Mercury, and Open Fruit, the creative writing magazine at Santa Barbara City College, where he is the director of creative writing.

 8:40 p.m. Lauren Judson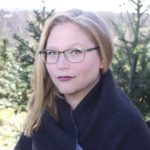 Lauren Judson grew up in Pittsburgh, home to the greatest football team on the planet: the Steelers. She works as a theatre professor at the Community College of Allegheny County, a member of Cup-A-Jo Productions, a wife, and a mother. Last year, she decided that a pandemic was the perfect time to return to grad school for an M.F.A. in poetry, just shy of her 40th birthday. Judson spends most of her time catering to the whims of her 9-year-old tiny human and listening to '80s and '90s rock. Her work has been published with a local collective's annual anthology, known as Voices from the Attic.

 8:50 p.m. Roberto F. Santiago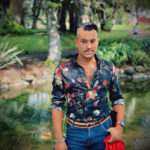 Roberto F. Santiago received an M.S.W. from UC Berkeley and M.F.A. from Rutgers University. His debut collection, Angel Park, appeared on the L.A. Times list of 23 Essential New Books by Latino Poets and was a finalist for a Lambda Literary Award. His second collection, Like Sugar, is forthcoming from Nomadic Press. Santiago lives in San Francisco, where he works as a social worker and editor-in-chief of Sancocho Press, a queer and trans AfroLatinx imprint with Kórima Press. His debut album, Bu$yCat, is now streaming on all major platforms.

 9:00 p.m. Kendryk Youngblood

youtube.com/channel/UCnx5VjfpZmNhxapPY1ek7_Q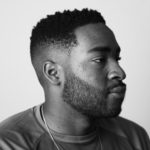 Kendryk Youngblood is a former member of UH's Poetry Slam team called UH Coogslam, which won 4th place in the Collegiate Unions Poetry Slam Invitational in April of 2019. Youngblood has had work published in Shards magazine, Defunkt magazine, and Poet's Choice. He teaches, shares, and celebrates poetry through his YouTube Channel Youngblood Poetry and documents his poetry journey on Instagram @kendryk_youngblood.

 9:10 p.m. Thaddeus Rutkowski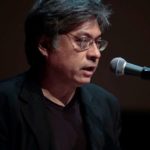 Thaddeus Rutkowski is the author of seven books, most recently the poetry collection Tricks of Light. His novel Haywire won the Asian American Writers' Workshop's members' choice award. He teaches at Medgar Evers College and has received a fiction writing fellowship from the New York Foundation for the Arts.

 9:20 p.m. Judith Ren-Lay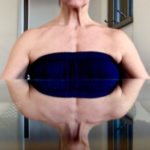 Judith Ren-Lay has been creating performances, music, poetry, and dance since moving to New York in 1975. She won a Bessie in 1985 for The Grandfather Tapes and has performed her signature work for four decades, currently archived at the New York Public Library for the Performing Arts at Lincoln Center. Now 78, she is focused on writing as her primary form.

 9:30 p.m. Cheryl J. Fish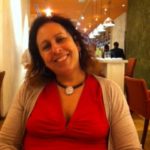 Cheryl J. Fish's short fiction has appeared in Iron Horse Literary Review, CheapPop, Spank the Carp, and Liar's League. She is the author of Crater & Tower, poems reflecting on trauma and ecology after the Mount St. Helens Volcanic eruption and the terrorist attack of 9/11/01. The Sauna is Full of Maids, a collection of poems and photographs celebrating Finnish saunas, friendship, Kalevala, and Sami myth, is forthcoming from Shanti Arts, and her debut novel, Off the Yoga Mat, about three characters turning 40 as the year 2000 (Y2K) approaches, will be published in 2022. Fish has been a Fulbright professor in Finland, and she teaches at BMCC/City University of New York. Myriam J.A. Chancy photo.

 9:40 p.m. Chavisa Woods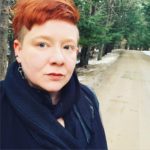 MacDowell Fellow, Chavisa Woods is the author of four books, including 100 Times (A Memoir of Sexism) and Things To Do When You're Goth in the Country (both from Seven Stories Press). 
 9:50 p.m. Kevin Gallagher

madhat-press.com/pages/kevin-gallagher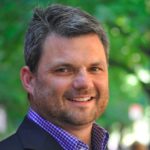 Kevin Gallagher is a political economist, poet, and publisher living in Greater Boston with his wife Kelly, their children Theo and Estelle, and Rexroth, the family's German shepherd. His new book of poems is And Yet It Moves (Madhat Press). Gallagher edits spoKe, a Boston-based annual of poetry and poetics, and works as a professor of global development policy at Boston University's Pardee School for Global Studies.

10:00 p.m. Jeffrey Cyphers Wright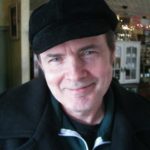 Jeffrey Cyphers Wright is a publisher, critic, eco-activist, impresario, and artist, best known as a New Romantic, Surrealist poet. He is author of 17 books of verse, including Blue Lyre from Dos Madres Press and Party Everywhere from Xanadu. He publishes Live Mag!, a journal of art and poetry. He recently produced a film highlighting his puppet shows called Pandemic Puppet Jam, on YouTube. Jill Krementz photo.

10:10 p.m. Steve Luttrell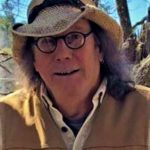 Steve Luttrell is the founder and publishing editor of The Café Review, Maine's award-winning poetry publication. He is the former poet laureate for the city of Portland, Maine, and the author of six books of poetry, the most recent being Here Today (AB Press). His work has appeared in numerous small press publications over the years. He is proud of his affiliation with the BREVITAS Group.