Poetry, Fiction, Music, Theater, and Film
MON., SEPT. 27
YouTube Playlist and Facebook Live Only


Facebook Live https://www.facebook.com/groups/115605743040
and
YouTube https://www.youtube.com/channel/UCGD_RIKdy7P9fdpIugMgoLg
For our video viewers we're asking for $5,
which you can  send via 
https://www.paypal.com/us/home to editor@boogcity.com or 
https://www.venmo.com to David Kirschenbaum
 7:00 p.m. Cliff Fyman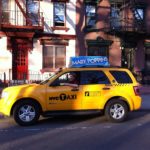 Cliff Fyman was born March 3, 1954 in St. Vincent's Hospital in Greenwich Village and grew up in Brooklyn, semi-rural eastern Long Island, and South Jamaica, Queens. Leaving school, he found his way to Berkeley in 1975, where he self-educated relying on the used bookstores on Telegraph Avenue. He studied at the Jack Kerouac School of Disembodied Poetics (Naropa Institute) in 1977. He attended several workshops over the years at The Poetry Project, where his mimeographed chapbook Stormy Heaven was published by Misty Terrace Press in 1981. He has lived in the East Village since 1979, working as a waiter, bartender, cab driver, and host at Rockefeller Center. Daniel Bowman Simon photo.
 7:10 p.m. Greg Fuchs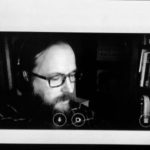 Greg Fuchs teaches students with disabilities to trust themselves and question everything. He writes poems and makes photographs. Fuchs survives beneath the underground but surfaces occasionally with his fabulous artist wife, Alison Collins, and their magical son, Lucas.
 7:20 p.m. Don Levy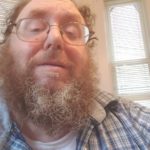 Don Levy has been a part of the Albany poetry scene since 1988 when he went to his first poetry open mic at the QE2. He has hosted featured readings at various locations in Albany, including the Albany Art Gallery and The Pride Center. He has read his poems at numerous readings in Albany, such as Poets Speak Loud, The Third Thursday Reading, and Poets in the Park. He has also read in Woodstock and Plattsburgh, N.Y. He is one of the editors of The Albany Anthology. He currently writes a book blog, The Next Chapter, for Albany Poets.
 7:30 p.m. Pattie McCarthy
aprweb.org/poems/intertidal-ordinary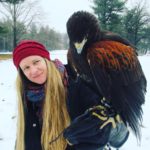 Pattie McCarthy is the author of seven books of poetry, including wifthing (Apogee Press). She teaches literature and creative writing at Temple University.
 7:40 p.m. Dimitri Reyes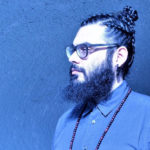 Dimitri Reyes is a Boricua multidisciplinary artist, content creator, organizer, and educator from Newark, N.J. He has organized poetry events such as #PoetsforPuertoRico and has read at The Dodge Poetry Festival, Split This Rock, and the American Poetry Museum. His book Every First and Fifteenth won the Digging Press 2020 Chapbook Award. Some of his work is published in Vinyl, Kweli, Entropy, Cosmonauts, Obsidian, and Acentos. He is the marketing and communications director at CavanKerry Press and an artist-in-residence with NJPAC.
 7:50 p.m. Bob Rosenthal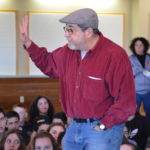 Bob Rosenthal (b. 1950); Straight Around Allen: On the Business of Being Allen Ginsberg, Beatdom Books; Cleaning Up New York, republished Little Book Room. Books of poetry: Morning Poems, Lies About the Flesh, Rude Awakenings, Viburnum, and Eleven Psalms; plays co-written with Bob Holman: The Cause of Gravity, The Whore of the Alpines, Bicentennial Suicide, and Clear The Range.
 8:00 p.m. Kevin Varrone
poets.org/poem/poem-i-wrote-sitting-across-table-you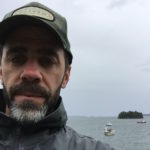 Kevin Varrone's most recent publication is Redemption Center, a chapbook from Drop Leaf Press. His chapbook How to Count to Ten is due out in 2021 from above/ground press. He lives outside Philadelphia and teaches at Temple University.

 8:10 p.m. Ayun Halliday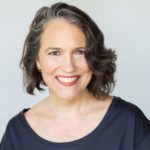 Ayun Halliday is a performer, playwright, illustrator, and author of seven books, including No Touch Monkey! And Other Travel Lessons Learned Too Late. Ayun co-founded Theater of the Apes with her husband Greg Kotis, and prior to the pandemic, hosted its monthly book-based variety show Necromancers of the Public Domain. She is the chief primatologist, and sole employee, of the award-winning, hand-illustrated zine The East Village Inky. Her next book, The Small Potato Manifesto, will be published by Microcosm this year. Jody Christopherson photo.
 8:20 p.m. Steve Zeitlin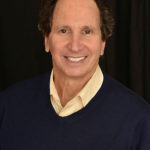 Steve Zeitlin is a folklorist, filmmaker, writer, and cultural activist. He is the founding director of City Lore, a cultural center whose mission is to foster New York City—and America—living cultural heritage. His books include City Play, Because God Loves Stories: an Anthology of Jewish Storytelling, and a volume of poetry, I Hear America Singing in the Rain. His latest is The Poetry of Everyday Life: Storytelling and the Art of Awareness. Tom Pich photo.
 8:30 p.m. Josette Akresh-Gonzales
Twitter: @Vivakresh
josette-the-voice-within.blogspot.com/p/poetry.html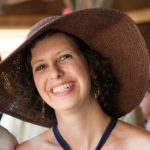 Josette Akresh-Gonzales is working on her first book and was a finalist in the 2017 Split Lip Turnbuckle Chapbook Contest. Her work has been nominated for a Pushcart and has been published or is forthcoming in Atticus Review, JAMA, The Pinch, The Journal, Breakwater Review, PANK, and many other journals. A recent poem has been included in the anthology Choice Words (Haymarket Books). She co-founded the journal Clarion and was its editor for two years. Akresh-Gonzales lives in the Boston area with her husband and two boys and rides her bike to work at a nonprofit medical publisher.
 8:40 p.m. Maria Damon and Alan Sondheim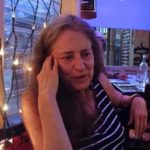 Maria Damon teaches at the Pratt Institute of Art. She is the author and/or co-editor of several books of poetry scholarship and co-author, with Alan Sondheim, mIEKAL aND, Jukka-Pekka Kervinen, and Adeena Karasick, of several works of poetry. She has also published two chapbooks of cross-stitch visual poetry and has published widely on modern and contemporary American poetry.
www.youtube.com/user/asondheim/videos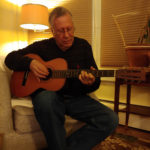 Alan Sondheim is a new media artist, musician, writer, and performer concerned with issues of virtuality and the stake that the real world has in the virtual. His writing is known for its "somatic grit" and skeletal codes that partially appear within and determine the surface. The textual body and body of text are deeply entangled. He has been writing his "Internet Text," a meditation on virtuality, daily for 26 years. Azure Carter photo.
 8:55 p.m. Nicole Callihan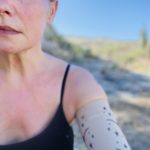 Nicole Callihan writes poems and stories. Her work has appeared or is forthcoming in The Kenyon Review, American Poetry Review, Sixth Finch, Conduit, and elsewhere.
 9:05 p.m. Michael Gottilieb 
www.seguefoundation.com/roofbooks/books/gottlieb.html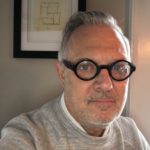 In September Chax will publish Michael Gottlieb's Selected Poems, his 22nd book. Also in September, the St. Mark's Poetry Project will produce two plays based on his poems, The Dust, his poem about 9/11, to mark the 20th anniversary of the attacks (which they also produced in 2011, on the 10th anniversary), and The Voices, about NYC and Covid. Both will be directed by Genée Coreno. His most recent titles are Mostly Clearing (Roof Books) What We Do: Essays for Poets (Chax Press) and I Had Every Intention (Faux Editions). He is tickled pink to be part of this festival. Pink!
 9:15 p.m. Ruth Lepson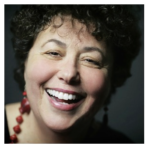 Ruth Lepson has been poet-in-residence at the New England Conservatory for 25 years and has often collaborated with musicians. Her new and selected poems is a compilation of her previous books: Dreaming in Color (Alice James Books) and Morphology and I Went Looking for You (both from BlazeVOX [books]), and some newer, longer poems. She is bending toward ecopoetry to the degree that she can.
 9:25 p.m. Cynthia Bargar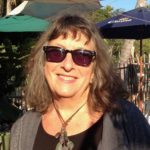 Cynthia Bargar's poems have appeared in Rogue Agent, Book of Matches, LUMINA, Comstock Review, Stoneboat Literary Journal, Driftwood Press, and other journals. Her debut collection, Sleeping in the Dead Girl's Room, is forthcoming from Lily Poetry Review Books. Bargar is associate poetry editor at Pangyrus LitMag. She lives in Provincetown, Mass.
 9:35 p.m. Crystal Davis, a.k.a. CrystalLetters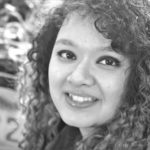 Crystal Davis is a multidisciplinary and mixed media performance artist, poet, painter, freelance writer, editor, and social media marketer. She was born and raised in Jersey City and is the author and creator at Crystal Letters (CL), and the co-founder and co-producer of OpenRoad Poetry (ORP), an artistic partnership between CL and RescuePoetix. Her art and writing projects, CL and ORP, have collaborated with arts non-profit organizations and artists across the tri-state area, nationally, and internationally. Her work is inspired by nature, color, and the utilization of practical craft through art in the visual and written form.
 9:45 p.m. James Ellerbe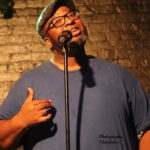 James C. Ellerbe is a spoken word recording artist and author who resides in South Jersey with his wife. He has been a performer for over 20 years and is constantly passionate about the power of words. He has appeared on BET's Buy the Book, a non-taping of Showtime at the Apollo, and Kola Note (site of the Montreal Jazz Festival). Recent offerings are his poetry book, Beyond the Event Horizon, and his spoken word album, Pulsar. Recently, his work is featured in the anthology, On the Verge: Poets of the Palisades III (The Poet's Press). Ameerah Shabazz-Bilal photo #fotofrenzi.
 9:55 p.m. Susan Justiniano, a.k.a. RescuePoetix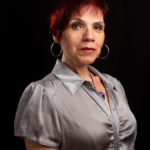 Susan Justiniano, first Puerto Rican and woman poet laureate of Jersey City, N.J., found her performance voice in Jersey City. In 2006 RescuePoetix emerged as a business entity. In addition to being a published and performing poet, RescuePoetix has recorded over 50 original poems to music, in English and Spanish, and harnesses the ability to gather resources across the world into projects that impact without barriers.
Serving on nonprofit boards since 2016, she is on In Full Color: Empowering Women of Color through Education and Arts, Word Seed Inc (VP), and committees for various arts organizations throughout northern New Jersey. Mike DiFeo Photography photo. Farib Alvarez logo.
10:05 p.m. Corbin Louis
www.youtube.com/watch?v=vvvNiTdomH4&t=76s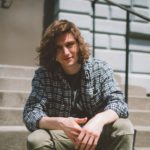 Corbin Louis is a Seattle artist with deep roots in slam poetry. His work is an ode to survival. From chronic pain to addiction, Corbin writes to understand and advocate for the fight of enduring disability. By embracing performance at age 13, Corbin established his voice in 2008 at the International Youth Poetry Slam filmed by HBO. The artist went on to earn an M.F.A. at the University of Washington Bothell, a Jack Straw Residency, and multiple publications including BAX and Santa Ana Review. His poems are a lament and celebration—for anyone who has survived too much. Tim Luu photo.