Who's Performing and How and When to Watch
Hi,
Boog City's annual Presidents' Day weekend event, the Welcome to Boog City 15.5 Arts Festival: Poetry, Music, Theater, and Film is here. It will be available online as of midnight on each day of the event at Boog City's YouTube channel:
https://www.youtube.com/playlist?list=PLz-P95bS9MdPuz5j4K0UxhA3EZ1lMdqAA
There is a $6 suggested donation, which can be sent to Boog City via:
https://www.paypal.com/us/home to editor@boogcity.com or 
https://www.venmo.com to David Kirschenbaum.
Thank you for your continued support
_____________________________________________
All music booked by Todd Carlstrom
Poets curated by Ron Kolm

Amy Barone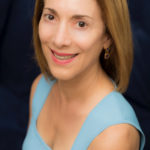 Amy Barone's new poetry collection, Defying Extinction, will be published by Broadstone Books this year. New York Quarterly Books published her collection, We Became Summer. She wrote chapbooks, Kamikaze Dance (Finishing Line Press) and Views from the Driveway (Foothills Publishing.) Her poetry has appeared in Local Knowledge, New Verse News, Paterson Literary Review, Sensitive Skin, and Standpoint (U.K.), among other publications. Barone spent five years as Italian correspondent for Women's Wear Daily and Advertising Age. She belongs to the Poetry Society of America and the brevitas online poetry community. From Bryn Mawr, Penn., she lives in New York City. Blair Hopkins photo.

Peter Bushyeager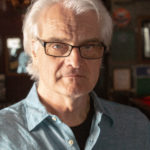 Peter Bushyeager is the author of In the Green Oval, Citadel Luncheonette, and other poetry collections. His poems have appeared in New American Writing, Local Knowledge, Sensitive Skin, Live Mag!, Global Poemic, the Autonomedia anthology From Somewhere to Nowhere, and the anthology An Embroidery of Voices. New work is forthcoming in the next issue of New American Writing. He is the editor of Wake Me When It's Over: The Selected Poems of Bill Kushner (Talisman House) and his reviews and commentary have appeared in Rain Taxi, Talisman, Gathering of the Tribes, and other publications.

Patricia Carragon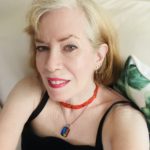 Patricia Carragon has been widely published online and in print. Her most recent publications include Bear Creek Haiku, Jerry Jazz Musician, MER VOX Quarterly, Muddy River Poetry Review, and The Rutherford Red Wheelbarrow. Her debut novel, Angel Fire, is from Alien Buddha Press. Her latest book from Poets Wear Prada is Meowku. Carragon hosts Brownstone Poets and is the editor-in-chief of its annual anthology. She is an executive editor for Home Planet News Online and lives in Brooklyn, NY.

Matthew Hupert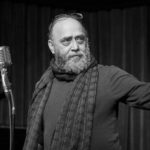 Matthew Hupert is a writer and multimedia artist from New York City. He is a co-founder of the NeuroNautic Institute and of NeuroNautic Press. He has two full-length collections, Ism is a Retrovirus (Three Rooms Press) and Secular Pantheism (NeuroNautic Press). Hupert is also the author of several chapbooks and his writing has appeared in numerous journals and anthologies.
Hupert hosts several poetry reading series, including the annual showcase for New York voices Night in the Naked City and the monthly series NeuroNautic Institute Presents, which features writers from around the world and a vibrant open mic.  He is a recipient of the 2020 New York Acker Award for Show Organizer and Host.
When he's not writing he can be found cooking for his family.
Meghan Grupposo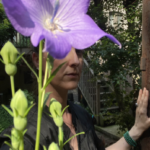 Originally from the gorgeous woods of southern New Hampshire, Meghan Grupposo holds a B.F.A. in dance from The Juilliard School. Grupposo has choreographed and performed for the Chamber Music Society of Lincoln Center, is a freelance ballet instructor, avid gardener, and certified sommelier. She is a co-founder of NeuroNautic Institute and Press, with a monthly reading series at New York City's KGB Red Room. Her work can be found in various anthologies, including Great Weather for Media's Escape Wheel, Three Rooms Press' Dada Journals, Maintenant 14 and 15, and the on-line zine Polarity. Meghan was a nominee for the 2020 Pushcart Prize.

She lives in New York City with her fabulous family and two excellent cats.

Wanda Phipps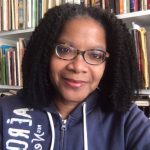 Wanda Phipps has read and performed music in stand-alone sets and Classic Album shows for Boog for the past four decades. Boog published her first chapbook, Lunch Poems, in 1997. Phipps is a writer/translator/editor living in NYC. Her books include Field of Wanting: Poems of Desire and Wake-Up Calls: 66 Morning Poems. Her poetry has been translated into Ukrainian, Hungarian, Arabic, Galician, and Bangla. She's received awards from The New York Foundation for the Arts, The National Theater Translation Fund, and others. As a founding member of Yara Arts Group she has collaborated on numerous theatrical productions presented in Ukraine, Kyrgyzstan, Siberia, and at La MaMa, E.T.C. in NYC. She's curated reading series at The Poetry Project at St. Mark's Church and written about the arts for Time Out New York, Paper Magazine, and About.com. Her new book, Mind Honey, is just out from Autonomedia.  

Francine Witte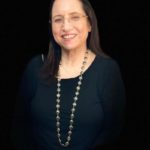 Francine Witte's poetry and fiction have appeared in Smokelong Quarterly, Wigleaf, Mid-American Review, and Passages North. Her latest books are Dressed All Wrong for This (Blue Light Press), The Way of the Wind (AdHoc fiction), and The Theory of Flesh (Kelsay Books) She is flash fiction editor for Flash Boulevard and The South Florida Poetry Journal. Her chapbook, The Cake, The Smoke, The Moon (flash fiction) was published by ELJ Editions last year. She lives in NYC. Carol Sessler photo.

Juan & the Pines (music)
https://juanthepines.bandcamp.com/releases
insta: @juliantalamantezbrolaski, @juanandthepines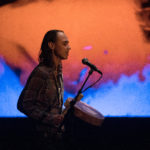 Julian Brolaski is a poet and the lead singer and songwriter for Juan & the
Pines, whose albums include Glittering Forest (2019) and the forthcoming Saddest Songs.



Poets curated by John Mulrooney
Kate Bazarsky
Pennies – The Bangalore Review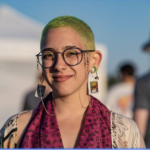 Kate Bazarsky is a 22-year-old queer poet from a small town in Massachusetts. When they're not writing, they work for an environmental canvas company in Providence, Clean Water Action. In their free time they enjoy traveling, painting, and playing guitar. In the past, Bazarsky's been published in The America Library of Poetry, The Watermark Journal, The Bridge, and The Bangalore Review. Bryan Lasky photo.

Sean Cole
IT'S ALL RIGHT: On Sean Cole's "To Acropolis" – stylus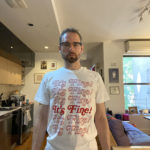 Boog published Sean Cole's first chapbook, By the Author, and first perfect-bound book, The December Project. Cole is also the author of After These Messages (Lunar Chandelier), Itty City (Pressed Wafer) and One Train (Dusie). His poems have appeared in The Brooklyn Rail, Court Green, and Black Clock, among others. In the anthology Starting Today: 100 Poems for Obama's First 100 Days, his was day 95. He lives in Brooklyn and works at the public radio program and podcast This American Life.  

Mark Lamoureux
https://www.instagram.com/tongarsuk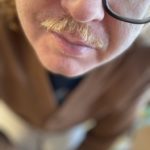 Mark Lamoureux lives in New Haven, Conn. His work has been published in print and online in Elderly, Denver Quarterly, Jacket, and Fourteen Hills, among others. He is the author of five full-length collections of poems: Horologion (Poet Republik, Ltd.) It'll Never Be Over For Me (Black Radish Books), 29 Cheeseburgers + 39 Years (Pressed Wafer), Spectre (Black Radish Books), and Astrometry Organon (BlazeVOX [books]).

Marina Lazzara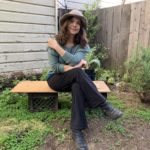 Marina Lazzara was born in Easton, Penn., where the Lehigh River flows into the Delaware. She attended Old Dominion University in Norfolk, Va. and then joined the New College of California community in 1989, earning a M.A./M.F.A. in poetics. 
She has published in various literary magazines and with Two Way Mirror Books, a DIY press she founded and continues to lead. With poets Patrick James Dunagan and Nicholas James Whittington, she edited Roots and Routes: Poetics at New College of California (Vernon Press). Last year she published The Public Sound, a book of selected poems (fmsbw Press), and most recently a creative essay as an afterword to Rock Tao by David Meltzer, edited by Patrick Dunagan on Lithic Press. Rock Tao is a rambling cohesive rock 'n' roll poetics diary originally written in 1965.
Marina's current project is a manuscript entitled A Moot of Blasts & Frays, poems paired to 65 pieces of visual art from friends all over the world. 
She is also a musician and songwriter and is a vocalist and guitarist for the San Francisco band The Rabbles. She teaches with the Community Living Campaign and is the mother to a sassy, smart hand balancing,[are these two separate things, so it should be: smart, hand balancing,] teenage artist named Maizie Jade, the best poem of all. 

Alex Machado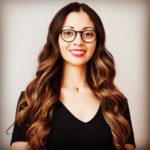 Alex Machado is a graduate student studying English at Bridgewater State University and a writer living in the Boston area. Her poems and essays have appeared in Boshemia, Breadcrumbs Magazine, The Merrimack Review, and other publications.
Chuck Stebelton
Partly Press | Lynden Sculpture
An Apostle Island — Chuck Stebelton — Oxeye Press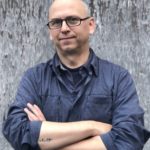 Chuck Stebelton is author most recently of An Apostle Island (Oxeye Press). His previous poetry collections include The Platformist (Cultural Society) and Circulation Flowers (Tougher Disguises). He served as literary program director at Woodland Pattern Book Center from 2005 to 2017. In 2018 he established Partly Press, a poetry imprint with an emphasis on well made poems-as-object and radically specific landscape poems. As a poet and Wisconsin Master Naturalist volunteer he has offered interpretive hikes for conservancy groups and non-profit organizations at Lakeshore State Park, Lake Park Friends, Friends of Cedarburg Bog, Milwaukee Audubon Society, Milwaukee Public Library, Woodland Pattern Book Center, Friends of Lorine Niedecker, and the Lynden Sculpture Garden. He is an ARTservancy artist-in-residence with River Revitalization Foundation and has held residencies at Lynden Sculpture Garden in 2011, 2014, and from 2018 to 2021 ongoing.[if this is ongoing, then why is there a 2021 end date] Violette Wood photo.
Rob Erickson (music)
https://shimmy-disc.net/shimmy-2010.html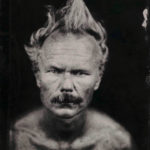 At times slippery like an energized Dada sound poet strapped to a bouncing electro-skank machine stuck in wannabe dub cumbia raga mode, all swathed in the psychedelic dark lord Kramer's exquisite wall of wonder, Language Learner is the eclectic electro-bounce art pop debut LP from scrappy, old sono-linguistic loop artist Lumberbob, mixed by the dark psychedelic lord Kramer for the resurrected Shimmy-Disc record label.
As an energetic force in the downtown New York performance art noise scene for over 15 years, Lumberbob is releasing his debut solo LP, Language Learner, on Shimmy-Disc. Having collaborated now for over 23 years, Kramer and Lumberbob understand how to make rather majestic messes. This music is urgent madness, overflowingly decorative, lusciously spastic, with an unpredictably eclectic sonic vaudeville energy. 
Lumberbob emerged from a year in Costa Rica with a bag full of pandemic recordings. As a rejuvenated yet still scrappy loop artist expanding his sound with synth bass and drum machines, yet still rooted in improvised vocal phrase looping and skanky guitar, Lumberbob insists this album, Language Learner, to be a bold exercise in genre discovery or genre blur, proudly assuming its position in high contrast to other recent gorgeously crafted Shimmy-Disc releases. It is this contrast that's reminiscent of the wildly divergent and inventive catalog curated by Kramer from decades past. This debut is an odd blend of ingredients, but the concept is relentlessly pure Lumberbob. Participants in Costa Rica include David Mendez playing nylon string, Alicia Cigna singing, Ariel Soto playing partial kit and conga, and Juan Jose Lopez playing bongos. Additional sessions in Brooklyn include Tobin Scroggins playing guitar and Becca Stabile singing. Kramer added bits and pieces throughout during his mixing and mastering of the album. Call it Dada Ska, a skanky electro-bounce. This is dance music for working things out. This is workout music for dancing things, and the live show is truly the daffy psychedelic roughneck business.