Black Opal,
born from a burden,
named by his
black, beady eyes,
he toppled in tree tops,
climbed in caverns
covered in clod and dust
he hid behind bushes
to shun the shine
from the ginger sun
and he creeped in circles
around conscious cicadas,
a ritual.
Patiently,
black opal.
Click to View Kate Reading at the Welcome to Boog City 15.5 Arts Festival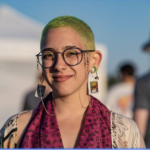 KATE BAZARSKY (Pennies – The Bangalore Review) is a 22-year-old queer poet from a small town in Massachusetts. When they're not writing, they work for an environmental canvas company in Providence, Clean Water Action. In their free time they enjoy traveling, painting, and playing guitar. In the past, Bazarsky's been published in The America Library of Poetry, The Watermark Journal, The Bridge, and The Bangalore Review. Bryan Lasky photo.