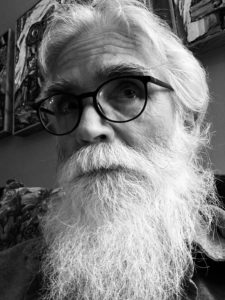 Colossus, also called The Upside

(
Manic Phase
)
Heart like a beehive, mind like a Kasai pagoda,
I am Theodore Roosevelt in a Marcus Aurelius onesie,
built for the long game, coming any minute
over a hill near you. I am Picasso scumbling
Colorform nudes on the shells at Saint-Tropez,
my baggy shorts apropos of an upper torso,
I am Ink in this pen that once stuck up the wig of a Geisha
and I flow like a Florida swale. You might ask
the opossum who shudders in dirt at the mouthfeel
and grease of my wrestler's togs. I spread cerulean
blue like butter. My straw straw hat vexes the sun
and climbs to the motif in a picture that burns in the War. 
Night
When I opened for Los Dildos at the Y,
I knew I'd get my ass kicked. They had horns
and huge cojones and a different guy
on drums. Their singer wore a crown of thorns
(a little heavy on the metaphor)
and introduced himself as Caliban.
"This isn't going to be your night," he said.
He grabbed a cold one from the garbage can
and greened-out where the spotlight turns to red.
Establishing the five chord on the four,
I couldn't feel the strings. I let it slide.
The loners at the bar looked good to go—
the singer's girlfriend actually cried.
I heard the one-time drummer moanin' low
beside the lowing Angels at the door.
Dead Catfish
Persistent crone. Your medieval grin,
(evoking Brueghel) settled in the stone
and switch grass sometime in the summer light
and stayed. The wind refused to throw you back.
The storm last week could not produce the waves
to reach you where you rotted in the shade
and petrified. I recognize this shade
of gray as semipermanent, your grin,
the rictus in a fevered dream that waves
and floats, as something of a childhood touchstone:
Once a bird, your image filters back
a catfish. Sick hallucinations light
such dreams in much the way that sunlight
draws your shadow where I step. A nightshade
in the day, you cultivate a switchback
atmosphere, a counter-Lohengrin
where hero is enchanter. Where the stone-
cracked stage shall have no magic swan or waves
of celebrants or swords, but tidal waves
of stagnant air; a concrete satellite
in static orbit fixed upon a stone;
a brittle plinth and monument to schaden-
freude. A luckless path. But here's that grin
and mockery of Cheshire Cat! A back-
and-forth along the frissoned razorback
of clowning time, you have the nerve to wave
me down and hold me here, to press your grin
into the mirror of the lakeblue light.
My eyes and yours, behind their carbon shade
of hardened death, are locked like mason's stone
as viral memory corrodes to breakstone
beach. The progress of your broken back
is mimicked in the cloudline where the shade
of crawling afternoon traverses waves
now audible and focuses the light
remaining on your curtain call. You grin
your bottom-feeder grin of stone, inert
and elegant, enlightened, coming back
to life in waves of shade across the dirt.
Peak Foliage
I score a Kojak at the tailor's shop.
The kids are gone, my dog is up to date.
I hit the morning with that rolling stop.
It's ten o'clock, the wife is working late,
I'm thinking that I have all afternoon.
I'm thinking that I have the pants I need,
and that they fit me better than my shirt.
I'm bringing my regalia up to speed.
I'm leaving my post mortem in the dirt—
Your readers will be hearing from me soon.
The orange and the red are on my side,
the flames of autumn suit me to a T.
The radio is syncing to my ride.
It's medication time. And look at me.
I'm shining like the dark side of the moon.
Lastly, Anaflaximab
….And finishing on carbon macrophages.
Data show sustained ability
to activate reverse cholesterol
in Chinese hamsters at the early stages
of vaccine-naive stability
analyses. We ran a blind control
on higher primates in adjacent cages.
Anaflaximab's utility
is illustrated clearly if you scroll
to slide 16 online or turn to pages
9 and 10. Despite sterility
in females, blindness, and a minor toll
on lungs in specimens between the ages
5 and 12, the drug's facility
in vivo constitutes a shot on goal
with first-in-human scheduled for June.
These metrics may evolve.
                                                     Good afternoon. 



Click here to see Rick Mullin's art page
RICK MULLIN'S 

poems have appeared in various journals and anthologies, including American Arts Quarterly, The New Criterion, The Dark Horse, Epiphany, The Raintown Review, and Rabbit Ears: TV Poems. His books include Soutine and 

The Basilisk 

(both Dos Madres Press), and Huncke (

Exot Books). He is also a painter. 

Largely self-taught, he attended night classes with Ernest Crichlow and Hananiah Harrari at the Art Students League of New York and was a member of Viridian Gallery, the oldest co-op gallery in New York City. Mullin's poetry is predominantly formal and his paintings are representational and figurative, in oil and acrylic.