Who's Performing and How and When to Watch
Live and In-Person at
Hypothetical Books in Exile
864 Nostrand Ave.
Crown Heights, Brooklyn
Directions: 3/4 to Nostrand Ave., 2/5 to President St.
Venue is between Union and President sts.
$10
There is seating, but, like on the bus, if someone who is elderly or infirmed comes you'll have to give them your seat. Thanks for understanding.
It's suggested that you bring a towel or sheet, just in case, because there is a nice sized patch of grass directly in front of the performers that can fit a good amount of people.
The event will also be streamed via Facebook Live
https://www.facebook.com/groups/115605743040
And it will be available online in full the next day at
https://www.youtube.com/channel/UCGD_RIKdy7P9fdpIugMgoLg/featured
5:45 p.m.  Andie W., Blue Balloon Songwriting School (music) Andie W. is a 7-year-old piano player, and a student with Blue Balloon Songwriting School.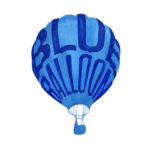 6:00 p.m.  Pareesa Pourian (poet)
https://pareesapourian.com/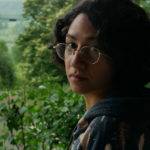 Pareesa Pourian is a painter and poet from Louisiana. She received an M.F.A. in painting from Rutgers University and did her undergraduate studies in painting and philosophy at Louisiana State University. She teaches painting and creative writing at Pratt Institute in Brooklyn and studies herbalism in the northern Catskills, where she lives. Her chapbook birth dirt is available from G L O S S.
6:10 p.m.  Jiwon Choi (poet)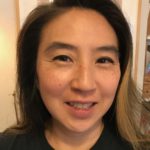 Jiwon Choi is the author of two poetry collections, both dealing with her identity as a Korean in the diaspora. She works with children and teachers on emerging curriculum at the Educational Alliance. She is also an urban gardener at the Pacific Street Brooklyn Bears Community Garden. She is a co-editor at Hanging Loose Press and is always excited to read new work by fellow emerging writers. 
6:20 p.m.  Cliff Fyman (poet)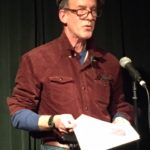 Cliff Fyman was born March 3, 1954 in St. Vincent's Hospital in Greenwich Village and grew up in Brooklyn; semi-rural eastern Long Island; and South Jamaica, Queens. Leaving school, he found his way to Berkeley in 1975 where he self-educated by relying on the used bookstores on Telegraph Avenue. In 1977 he attended the Jack Kerouac School of Disembodied Poetics (Naropa Institute). He attended several workshops over the years at The Poetry Project, where his mimeographed chapbook Stormy Heaven was published by Misty Terrace Press in 1981.
He studied drawing and artistic anatomy in 1978 and 1982 with Robert Beverly Hale at the Art Students League, and later he studied oil painting with Sharon Sprung at the Art Students League and The National Academy of Design where he was her monitor. In the summer of 1995 he was admitted to the human gross anatomy course at NYU's medical school. His travel sketch books earned one semester's credits at Empire State College. His drawings have appeared in Lungfull! and Blue Collar Review. His recent drawings are planned to be shown at the Ninth Street Espresso from Oct. 21-Dec. He has lived in the East Village since 1979 by holding on tight to a rent stabilized lease and working as a busboy, waiter, bar back, bartender, cab driver, and host at Top of the Rock, the observation deck at Rockefeller Center. Rachel Freund photo.
6:30 pm Sheila Maldonado (poet)
https://www.sheilamaldonado.com/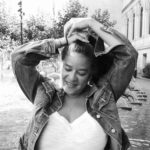 Sheila Maldonado is the author of the poetry collections that's what you get (Brooklyn Arts Press) and one-bedroom solo (Fly by Night Press / A Gathering of the Tribes). She is a CantoMundo fellow and a Creative Capital awardee as part of desveladas, a visual writing collective. She teaches English for the City University of New York. Born in Brooklyn, Maldonado was raised in Coney Island, the daughter of Armando and Vilma of El Progreso, Yoro, Honduras. She lives in El Alto Manhattan. Nikki Johnson photo.
6:40 pm Christmas Eve (poet)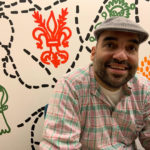 Urayoán Noel is the author or translator of a dozen books, including Transversal (University of Arizona Press), a New York Public Library Book of the Year; In Visible Movement: Nuyorican Poetry from the Sixties to Slam (University of Iowa Press), winner of the LASA Latino Studies Book Award; and the forthcoming islas adyacentes/adjacent islands (Ugly Duckling Presse) by Nicole Cecilia Delgado. A National Translation Award finalist, Noel has performed at Poesiefestival Berlin and Barcelona Poesia, and his work has been exhibited at The Museum of the City of New York and The Museo de Arte de Puerto Rico. He lives in the Bronx and teaches at NYU. Charlie Vázquez photo.
6:50 p.m.  Emily Frembgen (music)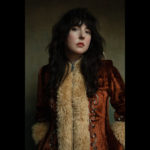 Emily Frembgen is an NYC-based singer-songwriter with "an angelic voice, ethereal songs, and a poetic sensibility that recalls the minimalism and genius of Emily Dickinson." In September of 2021, she released a long-awaited studio solo album with Hugh Pool that was met with an outpouring of critical acclaim. The two are working on a follow-up. Adrian Buckmaster photo.
__________________________________
18th Boog Poets Theater Festival
7:20 p.m. Sekai'afua Zankel, It's Great to be Alive
A joyous depiction of neighborhood characters. Life in the city.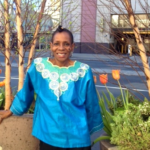 Sekai'afua Zankel is the author of two books of poetry, Behind These Eyes/Optical Poems and What I Heard. Her poems have been published in the CAP literary magazine, Poetry Ink, and Apiary. 

7:30 p.m. Wanda Phipps, Cloud Mirror
A woman examines her reflection, moving deeper into the images she finds.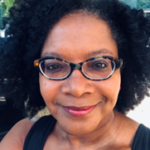 Wanda Phipps (www.mindhoney.com) is a poet and translator living in Brooklyn and the author of Mind Honey (Autonomedia), Field of Wanting: Poems of Desire (BlazeVOX[Books]), and Wake-Up Calls: 66 Morning Poems (Soft Skull Press).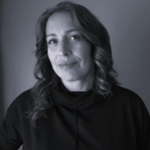 Wendy Leigh is an actress, filmmaker, and a creative collaborator from Atlantic County, N.J.
7:40 p.m. C. M. Crockford, Now I Sit Here Bloody
Now I Sit Here Bloody is a tour through dysfunctional love, past and present.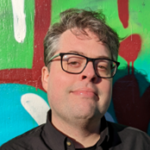 C.M. Crockford (www.cmcrockford.com) is an autistic/ADHD poet whose work has been featured in Vastarien, Neologism Poetry Journal, Better than Starbucks, and Vast Chasm among others. He lives in Philadelphia but has been all over.

Paul Pirozzi is a producer, musician, actor, and lighting designer. He is a theater riger of the highest caliber. He has collaborated in many different iterations with Dennis Moritz.
7:45 pm Barbara Henning, Ferne, a Detroit History
Barbara Henning will be reading from Ferne, a Detroit Story, a hybrid, novelized story of her mother's life, as well as a history of Detroit, 1921 to 1960.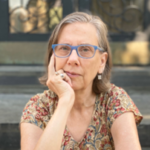 Barbara Henning (www.barbarahenning.com) is the author of five novels and eight collections of poetry, most recently Ferne, a Detroit Story and Prompt Book: Experiments for Writing Poetry and Fiction (both Spuyten Duyvil), and Digigram (United Artists Books). She has taught for Naropa and Long Island University, where she is professor emerita. Born in Detroit, she lives in Brooklyn. Micah Saperstein photo. 
7:55 p.m. Katt Lissard, Ring of Fire, a monologue from The Law of Falling Bodies
Ring of Fire is a monologue from The Law of Falling Bodies, a play about gravity, desire, and the consequences of juggling.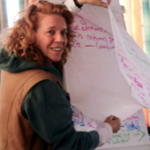 Katt Lissard (www.wsimaketheatre.org) is a teacher, writer, activist, and artistic director of The Winter/Summer Institute, an applied theatre project based in New York and Lesotho, southern Africa. Most recent work: A Grassroots Leadership and Arts for Social Change Primer (International Leadership Association). She teaches in CUNY-BMCC's ethnic and race studies department.
Ralph Martin (Leopold) has worked with Philippe Gaulier, Gregor Paslawsky, and Nola Chilton, among others, and appeared in bilingual performances of poems by Rumi and stories from Ferdowsi's Shahnameh with Iraj Anvar, at the Metropolitan Museum of Art, Asia Society, and elsewhere. Martin's poetry has been published in Ireland and in Brooklyn, too.
8:05 p.m. Be LaRoe, Up – A Word Play (excerpt)
Up – A Word Play is a performance poem for three voices that cleverly explores the multiple uses of a surprisingly dexterous word.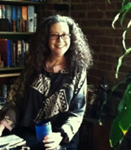 Be LaRoe (1952-2020) was a producer, director, actor (AEA), and the proprietress of Chez LaRoe, a theatrical salon. A talented writer of prose, plays, and poetry, her favorite collection was Cypress Knees and Palms. She performed with The Living Theatre, Talking Band, Mabou Mines, Linda Mussman's Time & Space Ltd., and DADANewYork. In 2018, she received an Acker Award solidifying her status as a "true avant-garde artist."

Deb Auer (Singer) is a jazz singer and theater performer in New York City. She was inspired by writer-performers Be LaRoe, Jim Neu, and the great jazz pianist and teacher Barry Harris. Auer had a recent gig at the East Village Pangea and has been singing at the Sunday Jorei Jazz Session at Sour Mouse.

Tanya Perez (You) is a Latinx performer, writer, and filmmaker. TV appearances include Evil, OITNB, and Jessica Jones. Stage credits include performances at Seattle Rep, Carnegie Hall, Lincoln Center, and touring throughout Italy. It's an honor to be performing my dear friend and mentor's words today. I love you Ms. Be. www.sociatap.com/TanyaPerez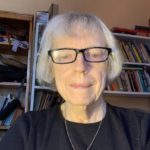 Carol Mullins (Me) has been a longtime fan of Be LaRoe's poetry. She has performed in early Robert Wilson works and short scenes of Jim Neu's. She's received three New York Dance and Performance Awards and one Obie for her lighting designs.

8:10 p.m. Valerie Fox, Vertigo
In Vertigo, a woman tries to make sense of conflicting memories about her erratic partner.
Valerie Fox recently won The Phare's 2022 WriteWords competition (for flash) and her stories have been in the Best Small Fictions and Best Microfictions anthology series. Poetry books include The Rorschach Factory (Straw Gate Books) and Insomniatic (PS Books).
8:20 p.m. Will Rittweger, Cottage Condensed monologue taken from upcoming feature film.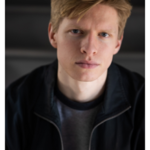 Will Rittweger (www.youtube.com/user/Jr24ization) is an actor, writer, director, and filmmaker from Howell, N.J.


8:25 p.m. Melissa Sabater, My Father's Journey
Melissa speaks with her father.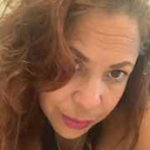 Melissa Sabater is an actress and writer living in Philadelphia.
8:35 p.m. KB Nemcosky, 40 Starts to an Autobiography
Day by day – written afresh – starting over – written backwards.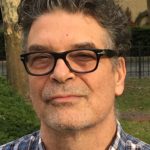 KB Nemcosky is the author of three books of poems, Drift (Ten Pell Books), dear friend (Straw Gate Books), and Early Exits (United Artists Books). (www.greetingsreadings.org/Greetings_Readings/KB_Nemcosky.html)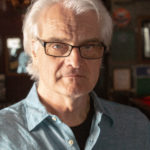 Peter Bushyeager's poems have appeared in New American Writing, Local Knowledge, Sensitive Skin, Live Mag, Brooklyn Rail, and other journals. He edited Wake Me When It's Over, Selected Poems of Bill Kushner (Talisman House, Publishers), and his reviews have been published in Gathering of the Tribes, Talisman, and elsewhere.

8:45 p.m. Dennis Moritz, Love Luv
Shel creates a ritual to overcome emotional and metaphysical stress.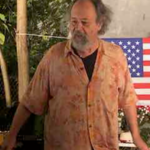 Playwright/Poet/Director/Producer Dennis Moritz is a poet who writes a lot of plays. Producers include the Public, Painted Bride, Freedom Theater, Nuyorican Poets Cafe, St. Marks, Bowery Poetry Club, and HERE. He prefers to work in bars and art galleries. United Artists Books, the longtime poetry press, published two collections of his theater works, the only plays in that catalog. Wanda Phipps photo.
8:55 p.m. Dennis Moritz, Love Song
Love and transcendence at a Dive Bar. "It's the Movies. It's the movies. It's the made for TV movies."
Dennis Moritz 
(see 8:45 p.m.)
Will Rittweger, director and actor 
(see 8:20 p.m.)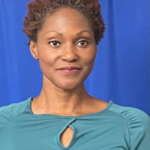 Beverly Gunn is a Jamaican-American actor, writer, singer, and director who has performed in many plays, films, and commercials.



Wendy Leigh
(see 7:30 p.m